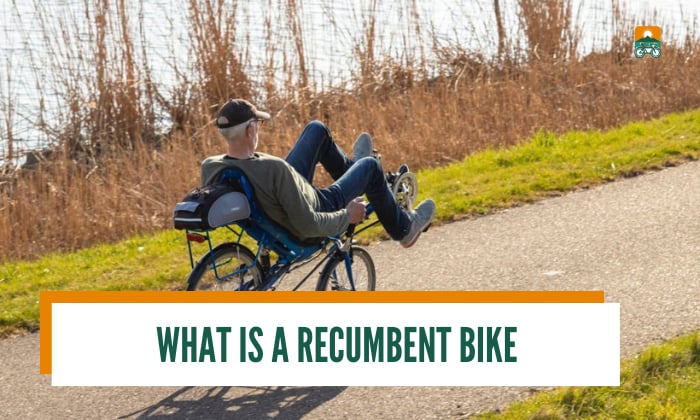 Most of us are aware of regular bikes that require us to sit upright, but do you know some designs that allow you to lie back while cycling? Yes, they exist! And they live in the form of slant-positioned bikes called recumbent bikes.
So, what is a recumbent bike? A recumbent bike is a type of bicycle that allows its rider to sit lower to the ground on a large comfy seat in a semi-reclined position. It's basically a bike that you lay down on while riding.
Introduction to Recumbent Bikes
1. Recumbent Bike Definition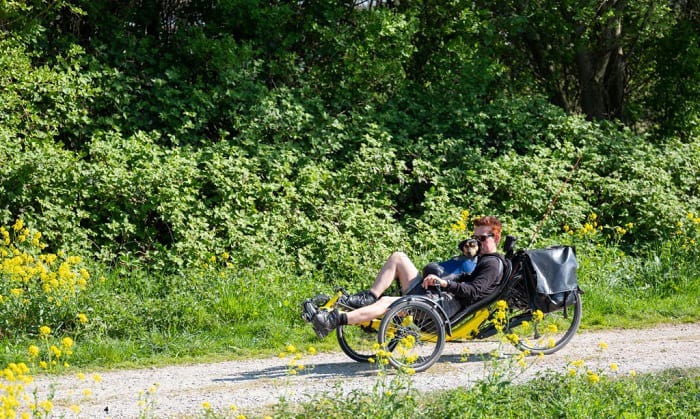 The recumbent bike meaning comes precisely from the name itself–a bike positioned in a recumbent way. It's built like this to provide extra comfort and support for your back. It's used mainly by people who bike to calm themselves down & just simply relax.
Recumbent cycling is best for:
People with disabilities or of old age
Injured bikers or those with health conditions like arthritis
Bikers or people aiming to improve posture
2. Recumbent Bikes & Their History
Where did these laying down bicycles even come from? It was during the 1980s when they began to rise in popularity. However, the first-ever recumbent bicycles actually go way back. They already existed as early as the 1890s!
But the first notable design was created by the famous French inventor, Charles Mochet, who is also the pioneer manufacturer of power-pedaled vehicles.
What sparked the invention of this unique sit down bike was the economic decline caused by World War I. Charles Mochet wanted to invent an alternative to traditional cars, one that was more affordable yet still fast in speed.
Mochet then came up with a four-wheeled bike called the Velocar bike. Inspired by the Vecolar bike added with a few changes here and there, the birth of the first recumbent trike came right after.
3. Key Features and Design Elements

What makes the famous laying down bike stand out the most is its features and elements. Aside from the most obvious one, its position and angle, here are some of its features & designs that you should know about.
Short Wheelbase – The front wheel is found behind the pedals.
Long Wheelbase – The front wheel is found at the front of the pedals.
Adjustable seats – The seats can be positioned to the rider's best comfort.
Forward pedal – Rider's legs are extended for added comfortability.
Numerous wheel configuration options – you may choose from a two-wheeler or a three-wheeler vehicle (aka a recumbent trike)
4. Steering Mechanisms Types
Just like every bike, a recumbent bike also has various steering mechanisms. Some of them are:
In under-seat steering, the steering wheel is located just below the rider's seat. This is known to be one of the most comfortable steering mechanisms for recumbent biking as there is less pressure on your elbows.
Above Seat Steering (aka ASS)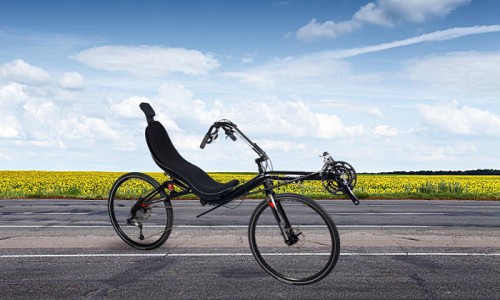 In above-seat steering, the steering wheel is placed just above the rider's seat and his lap. It allows for easier mounting of accessories, unlike under-seat steering. This type of design is also narrow and suitable for busy roads, though it has a limited turning radius.
Note that both under-seat and above-seat steering can fall under direct or indirect steering, depending on the design.
Direct steering is a type of mechanism wherein the handlebars are directly connected to the fork through the stem that holds it. This is the commonly used steering mechanism in many traditional bikes.
Indirect steering is the opposite of direct steering. It uses some kind of linkage, such as a rod or a lever, to work. The linkage connected is what controls the fork to make the necessary movements.
Types of Recumbent Bikes
1. Commercial Recumbent Bike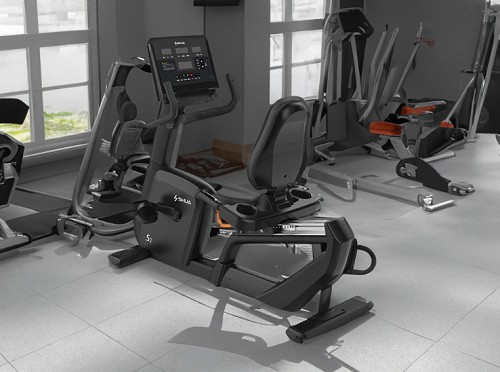 A commercial recumbent bike is similar to the usual recumbent bike. It is still in a reclined position, but the only difference is that it is a sitting stationary bike specifically used for working out.
These types of stationary bikes have sturdy frames, making them exceptional for long hours of exercise. With its reclined position, working out becomes more comfortable. Plus, with its high resistance level, you can count on this recumbent bike to aid in building muscles.
These usually belong in gyms, health facilities, and other public establishments that allow large volumes of people to use them.
2. Dual Action Recumbent Exercise Bike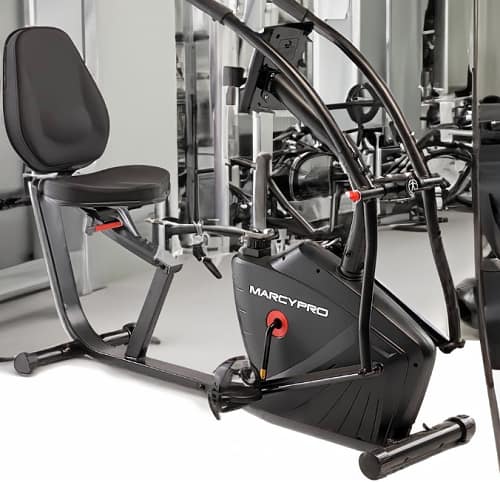 The dual-action recumbent bike is just as the name suggests. It's a recumbent bike that performs dual-action activities that both work the upper body and the lower body.
In this type of bike, the handlebars move along with the pedals. The pedals beneath are attached to the handlebars which enable shoulder, arm, and leg movement. Dual-action bikes also have adjustable seats and varying resistance levels.
3. Semi-Recumbent Exercise Bike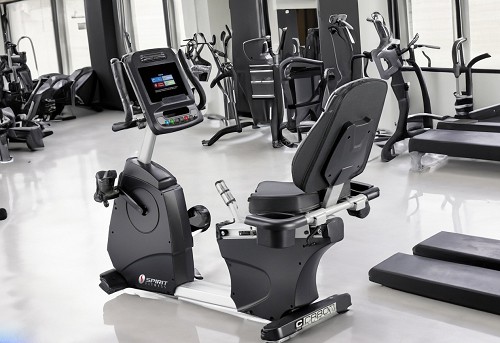 While it's still a bike where you lay down, a semi-recumbent bike is a balance between an upright bike and a recumbent bike (the latter of which has the knees, hips, and feet in a straight line while pedalling).
With a semi-recumbent design, you are not seated in a reclined position all the way, but your legs remain angled downwards up to 60 degrees.
Bikes like these allow you to exercise while focusing and getting some work done at your desk!
4. Tandem Recumbents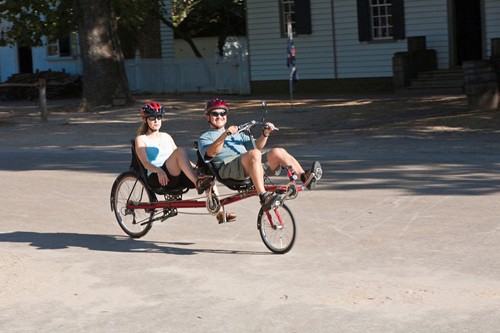 A tandem recumbent bike is a type of vehicle that allows two people to ride at once. Tandem recumbent bikes often have one upright seat and one reclined seat.
The reclined seats make use of straps and belts to ensure safety while allowing comfort. The design is perfect for family bonding and activities.
5. Handcycles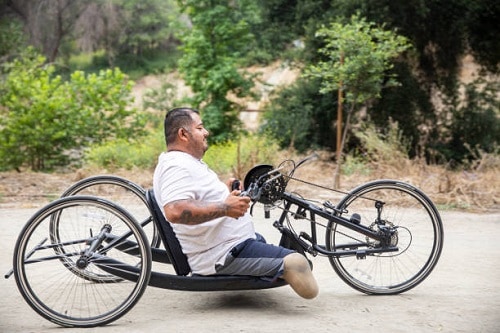 Handcycles are three-wheeled vehicles that are powered through the use of arm movement instead of legs. Some handcycles let you rest in a reclined position, while others have you lie on your back as you hold on to the hand cranks for control.
They are usually made for those who may have lower body disabilities.
Recumbent Bike Benefits & Drawbacks
Extremely comfy and provides great back support
Great visibility, making you more aware of your surroundings
Less stress & fatigue for your body
Easy to re-maneuver
More likely to tumble in accidents than to get thrown over
More expensive
Heavier weight
Recumbent bike speed is slower.
Unfit for stunts and off-roading (you may need to purchase a specific recumbent mountain bike instead of a recumbent road bike)
Bike parts are expensive.
Are Recumbent Bikes Good Exercise?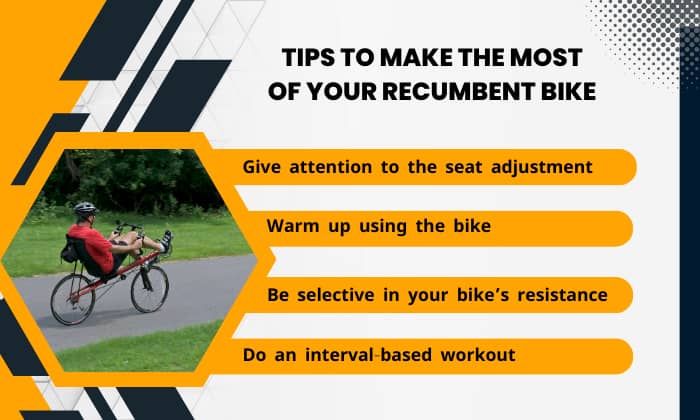 Do recumbent bikes work for fitness? Recumbent bikes are known for being great cardiovascular workout equipment because of the comfort it offers, plus the great results it delivers.
If you want to make the most out of your recumbent bike, keep these tips in mind:
Give attention to the seat adjustment
Remember that adjusting your seat is the number one thing you should do before beginning your exercise routine. Some may disregard this, but it actually makes your recumbent bike workout more effective and comfortable.
Slide the seat either forward or backward while ensuring your back is straight and you're not slouching.
Before beginning your workout, stretch then warm yourself up by lightly pedaling on your recumbent bike. Why is this important? It increases blood flow and reduces your risks of injury.
Be selective in your bike's resistance
When you choose a high resistance level, make sure this is something you can handle with comfort. It's easy to get carried away, but remember that overly intensive exercise can cause dizziness, nausea, and joint pain.
Do an interval-based workout
Interval training is beneficial for cardiovascular health and more effective than regular long workouts. So, have small intervals yet high-intensity activities.
Try this:
First, warm up for 5 minutes or more.
Select a high resistance level and perform the workout for 30 seconds.
Switch the resistance back to moderate for 30 seconds or more.
Repeat the cycle of high and low resistance and exercise until you're ready for a break.
Frequently Asked Questions
Choosing the right recumbent bike
Whether you're looking for a recumbent mountain bike, recumbent road bike, or just a regular one, you should always choose one that's best for you.
To make shopping a little easier, here are the top recumbent bike brands & models that have proven their quality over time.
Schwinn Fitness 290 Recumbent Bike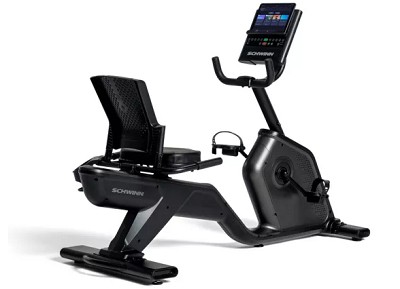 The Schwinn Fitness 290 Recumbent Bike is a great bike because it incorporates Bluetooth technology with its use. You can use your phone and have trainer-led classes with a coach.
Sunny Health & Fitness Essential Recumbent Exercise Bike
The Sunny Health & Fitness Essential Recumbent Exercise Bike tracks your time, distance, speed, and calories burned, so you can keep track of your weight loss and fitness goals.
Marcy Recumbent Exercise Bike ME-709 with Resistance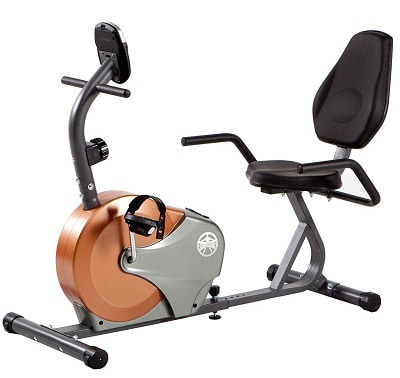 The Marcy Recumbent Exercise Bike ME-709 with Resistance is the perfect choice for small spaces. It features a magnetic wheel that has about eight different resistance levels and a monitor to track your progress.
Cruzbike V20 (Dynamic Boom Front Wheel Drive)
If you need a recumbent bike for trips, the Cruzbike V20 is a road bike worth examining. Its speed is top-notch, and it has the lightest weight because of its carbon fiber front end that features an aerospace-grade aluminum alloy frame.
If you're looking for recumbent mountain bikes, AZUB Max and Rans Vivo are worth considering. From their speed, material, to form, these brands have long proven their greatness in the realm of mountain biking.
Are recumbent bikes suitable for people with back pain?
Yes. The definition of recumbent bike is to allow the back to be angled in a way that best gives comfort & support. It works even better for lower back pain because of the sitting position it provides.
Compare & contrast: Recumbent bikes vs Upright bikes
Upright bikes are basically the conventional bikes we see everywhere. They make you sit prim & upright. Yes, just the opposite of a recumbent bike. Now, what's the difference?
Recumbent Bike
Upright Bike
Comfort
Comfier – reclined seat & gentler on the joints.
Not so comfy
Seat size
Large
Small
Muscles worked
Fewer muscles are worked.
More muscles are worked.

Abdominal and arm muscles position the body upright.

Overall size
Large
Small
Experience level
Beginner-friendly
Challenging
Calorie burn
Same calorie burnout
Same calorie burnout
Recumbent bike maintenance and safety
To maintain a recumbent bike, all you need to do is to clean it daily or weekly, depending on your usage frequency. Inspect parts such as the nuts, bolts, seats, handlebars, etc. as much as you can. Make sure to also lubricate and polish the bike.
How much does a recumbent bicycle cost?
A typical recumbent bike has a price range of around $2,000 to $3,000. Premium models can cost 5,000 to 8,000 dollars.
Conclusion
Can you now define recumbent bike? We hope this article has provided all important details about this vehicle.
And now that you know what it is, do you think it's worth the splurge? With its pros and cons, it's definitely something to think about. But hey, if it's what you need, then it's an investment you won't regret!
So the next time someone asks, "What is a recumbent bike" just send them this article, and they're sure to have answers to their question.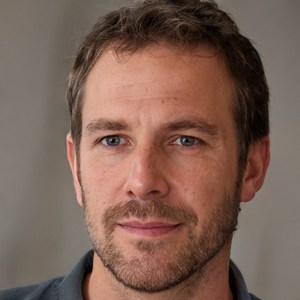 "I ride my bike to work for years, but is that enough? Our carelessness towards our surroundings has taken a toll on the environment. And now, everyone is responsible for changes; even the most minor contribution is counted. With this hope and spirit, I started with my partner to establish Biketoworkday to help more individuals commute to their work sites on their bikes."