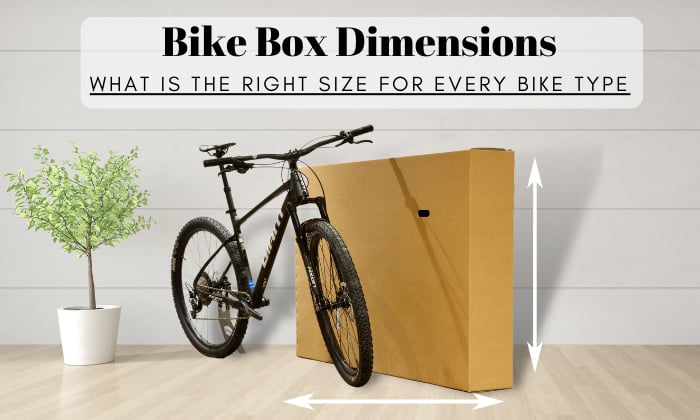 One thing to keep in mind whenever you need to ship out a product is the packaging. It's the same case for any bicycle. Whether you need a courier or you have to deliver it by yourself, a suitable encasing is beneficial to secure your bike while on the route.
So, how should you do it? Start by identifying the bike box dimensions apt for your bicycle. Learn more about it here.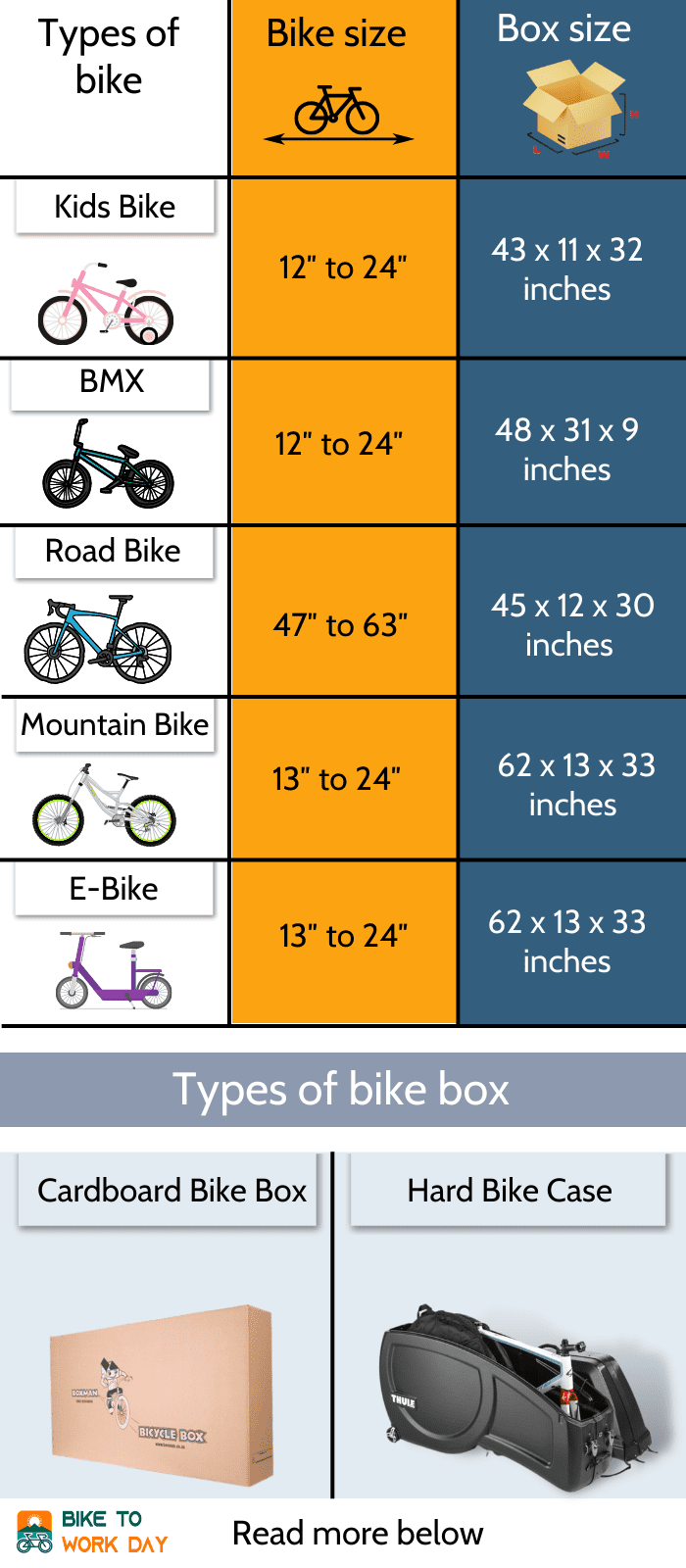 What Size is a Bike Box?
There is a proper size for every bike type. A standard bike box is 43 x 11 x 32 inches, which follows the international shipping size regulations of 130-inch length limit.
However, based on different bike box dimensions, bike shipping box variations are available in the market. Here are the sizes for every bike type and box to guide you:
1. Types of bike
Since measurements vary based on bike type, determining the right size will help you choose the right kind of bike box.
Kids' bikes usually differ in size, with most manufacturing brands offering distinct component proportions. These are measured through their bike wheel size, contrasting to adult bikes.
The size ranges from 12″ to 24″ in wheel diameter, although there are specialized 26″ bikes; fit for adult bike transitioning.
The size of bike box for this bike type is standard at 43 x 11 x 32 inches. Yet, there are boxes from brands link BikeFlights that provide compact bike boxes fit for shipment of such an item size with its 45 x 13 x 29 inches dimension.
Bicycle motocross, abbreviated as BMX, is designed for off-road racing and trick-riding on dirt tracks. Similar to kids' bikes, BMX sizing varies based on wheel size.
Multiple wheel sizes are available for BMX bikes, ranging from 12 to 24 inches. However, the standard wheel is 20 inches, which is usual for all bicycle motocross.
A BMX bike box has a 48 x 31 x 9 inches dimension.
On the other hand, the measuring basis for road bikes is the frame size.
Road bikes are available in XX-Small to XX-Large bicycle size variations, with dimensions ranging from 47 inches to 63 inches. According to your height and manufacturer's size guidelines, you can purchase a fitting road bike based on your needs.
The BikeFilghts road bike frame box has dimensions of 45 x 12 x 30 inches (or 114 x 30 x 76 in cm).
Akin to road bikes, mountain bikes use their frame size to gauge their measurement.
From X-Small to XX-Large, mountain bike sizing varies from 13″ to 24″.
Although most mountain bike boxes differ in size per courier, it is worth noting that getting a large one meets almost all mountain bike sizes.
A large MTB bike box from BikeFlights has 62 x 13 x 33 inches in dimension, optimized to carry size 29er on the route.
Electric bicycles, or e-bikes, are electronically powered cycling machines. It comes with a built-in battery that assists the cycling experience more efficiently.
E-bike frame sizes vary from X-small to XX-Large, from 13″ to 24″.
The bike frame box used for this bike type is commonly larger in length shipping box variants. A large bike shipping box from BikeFlights has a 62 x 13 x 33 inches dimension that can carry all e-bike classes.
2. Types of bike box
The built of bike boxes differ based on their size and form. Customary to your needs, here are several types of bike boxes to choose from:
With its corrugated cardboard material, a cardboard bike box is a lighter packaging option that you can opt to take.
This bike box type has uniform dimensions, with an average of 140 x 79 x 20 cm size. However, there are smaller or larger variations available at most.
A trek bike box, for example, has different dimensions according to the bike type they hold. The generic cardboard bike box size from trek has 148 x 24 x 86 cm dimensions.
This type of bike casing is ideal for longer shipment duration. With its material made of a hard plastic exterior and a soft padding interior, hard bike cases ensure your cycle's safety throughout the shipping journey.
The variations of this bike case type ranges from S to XL.
How Heavy is a Bike Box?
Whenever shipping a bicycle, determining the dimensions and weight of the package is significant to point out the costs required for dispatch.
For cardboard bike boxes, the standard weight is 2kg and is estimated to weigh 23 kg alongside the bicycle. Conversely, a hardcover bike casing has a 12 kg approximate weight and could reach 33 kg with the bicycle.
To estimate your shipping bike size, you can add 4 kg (2 kg for packing weight & another 2 kg for the box weight) and the bicycle weight.
FAQs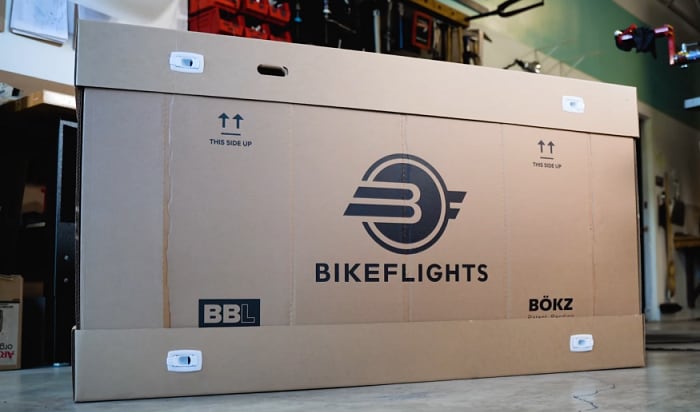 How much does a bike box cost?
The average bike box size of 43 x 11 x 32 inches costs anywhere between $15 to $40, which in some cases, prices can go beyond.
Will a bike in a box fit in my car?
Depending on the size, a bike in a box could fit in your car. However, extend the trunk by adjusting the seats if necessary (especially for an xl bike) to give room for the package.
How do you measure a bike for shipping?
To find out how big is a bike box you should prepare for shipping, check the bike measurements.
The measurement system for bike shipping uses inches to cm units. You can also use imperial or metric units for accurate weighing and measuring gauges.
To determine your package's length, width, and height, you can wield a tape measure for precise results.
In weighing your bicycle package, you can utilize a bathroom scale (digital or analog) to check its mass. Round up the result to the next decimal for proportionate shipping cost.
What bike box dimensions and weight do airlines accept?
For airlines, Every passenger has a maximum weight of 50lbs restriction, with 62 inches total dimension limit per checked bag size.
Most airlines prefer to keep the bicycles in a hard-shelled casing. But, if not available, you can opt to use a cardboard box, provided you use loads of padding to support it.
How can I ship a bike without disassembly?
It is space efficient to transport a disassembled bicycle. Although, it is possible to ship a bike without doing so.
Request quotes from your LTL transporters with experience transporting bicycles. Having your bike prepared, packed, and handled by a business with expertise in managing an assembled bicycle throughout each transport stage assures its safety.
Do not forget to pack the bicycle frame, handlebars, and pedals using bubble packaging wrap for surface protection against abrasion.
What is the best way to pack a bike box for shipping?
Whether you opt to disassemble it or ship it fully, here are some of the things you have to put in mind before your machine's freight transport:
Detach the seat post, pedals, front wheel and handlebars.
Place a fitting block of wood between the front fork dropouts.
Adjust both the fork and stem backward
Secure the bike's tubes and loose parts by putting a wrap or cushion, along with tapes and zip ties, to fasten it in place.
Safely stow the bike into the box.
Seal the box and put the label according to courier guidelines.
Conclusion
Determining the accurate bike box dimensions will ensure your bicycle's safety on transport. With different sizes to suit every bike type, you can choose a material that will complement your needs.
For freight transport on the ground, you can opt to place your bicycle in a cardboard bike box, while airlines prefer using hard case packaging for bicycle shipment.
Since there are distinct guidelines for each shipping courier, it is best to follow their regulations, starting with identifying the weight and measurement corresponding to your package.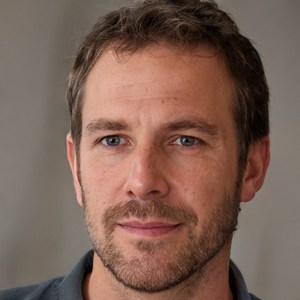 "I ride my bike to work for years, but is that enough? Our carelessness towards our surroundings has taken a toll on the environment. And now, everyone is responsible for changes; even the most minor contribution is counted. With this hope and spirit, I started with my partner to establish Biketoworkday to help more individuals commute to their work sites on their bikes."