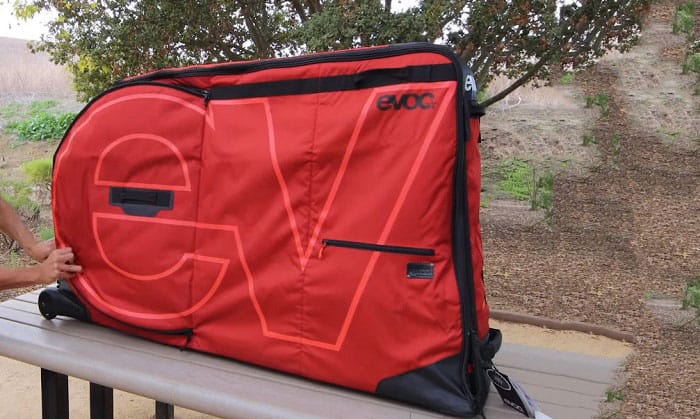 If you plan to travel on your bike, it is important to invest in the best bike travel case as it will give your bike the excellent protection it needs from scratches and bumps. So, you should consider the following features:
Soft Bag Case: Soft bags or bike travel cases, like the cardboard bike box, are the most versatile options. But, don't be fooled by the word "soft" in the soft case because these bike boxes combine hard elements with soft bike bags to strike a balance between compressibility, weight gain, and protection for your bike.
The great thing about soft bike bags is that when you reach your destination and get off your downhill bike, you can fold the bag neatly and out of sight without taking up a lot of space.
Hard Case: Although soft bags strike a good balance between weight reduction, packability, and security, they are not as powerful as hard bike boxes. The decision to use a hard shell is almost entirely driven by a desire to provide the most robust protection for your bike.
The hard bike travel cases can almost guarantee that your bike will reach its destination unscathed. If you are on an adventure trip in demanding conditions, a rigid frame may suit your needs.
Hard bag cases are much heavier than soft bike bags and are inflexible or challenging to pack. But it provides the best sturdiness.
Check out the complete "Buying Guide" for more features that buyers should know about. Check the list of carefully selected travel bike boxes below.
---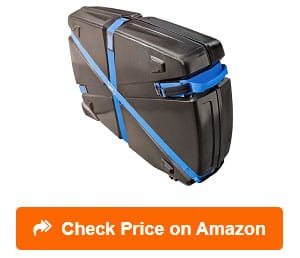 B&W Bike Case
Four wheels and four handles
Sophisticated design
Lightweight
---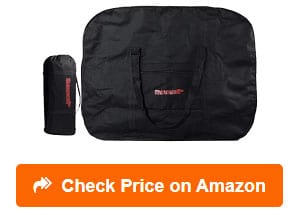 CamGo Folding Bike Bags
Waterproof
Multi-purpose handles
Durable and lightweight
---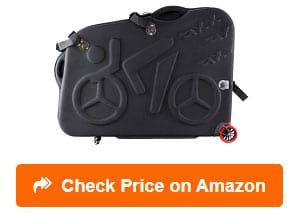 Cycling Travel Bag Pro
Clamshell design
EVA materials
Strength zips
---
Top 15 Bike Travel Case Reviews
1. B&W International Bike Cases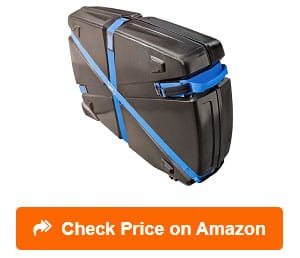 This B&W bag is an entry in this list that I am eager to review because it showcased something that every buyer wants for a perfect bike case.
It is an interlocking case that ensures extra security; the self-reinforced curve structure is suitable for road and gravel bikes, mountain bikes, and downhill bikes. The best feature of this bike case is its impact-resistant, abrasion-resistant, and tough, even at low temperatures.
Also, this bike case is so hassle-free when walking, as it is designed with four easy-rolling wheels. The two are freely rotatable, while the other two fixed wheels guarantee smooth transportation. The four handles are also durable and handy, and the straps on wheels were put together perfectly. Never worry about a broken wheel.
Its sophisticated and modern design gives out the finest quality with the topmost functionality. I could never get enough of this waterproof bicycle box that I can take even on rainy days.
Heads-up:
There are no more bike boxes like B&W International Bike Case. It is extremely lightweight and has an incredible lifespan. However, this bike case is somehow called "oversized" in some airlines so you might have an issue with the limit of luggage when traveling.
What We Liked:
Interlocking bike bags and boxes from B&W
Made of self-reinforced Curve material for great versatility
Highly impact resistant, abrasion resistant, tough and durable
Four wheels and four handles to make the carriage comfy
Sophisticated design and waterproof
Lightweight and has an incredible lifespan
What We Didn't Like:
Some airlines called it "Oversized" luggage.
Bottom Line:
The bottom line is, this is the most affordable bicycle travel case I have. And I highly recommend it for riders to experience the top-rated bike case ever.
2. CamGo Folding Bike Bag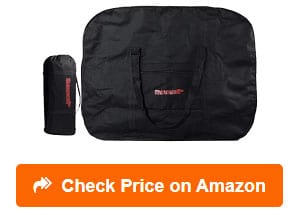 CamGo road bike travel bag is perfect for carrying bicycles on trains or cars. Use excellent storage solutions to ensure our bike is safe and complete.
This folding bike is thickened and reinforced with nylon fabric equipped with a 300g high-end 600D thick non-woven fabric interior with high tensile and abrasion resistance. With a dual-purpose low frame design, it is very convenient to load and unload bicycles. When the zipper is fully opened, it can be used as a picnic mat.
I also don't worry about my bike getting wet while it is in the bag because it is waterproof and wrapped with high-density webbing, enhancing the bag's strength to cope with the heavy carriage multiple times. This feature makes it a good choice for travels and tours.
The storage buggy bag is equipped with a multi-function handle, which can be used as a shoulder strap or a strap to fix the bag on the handlebar or frame. Also, there is a small bag outside it where you can put some convenient bicycle tools or other things.
Heads-up:
However, this bike bag is a bit smaller for a 29-inch wheel guard. We never have to worry, though, because it is still suitable for 14 inches to 20 inches folding bikes.
What We Liked:
Reinforced nylon makes it durable and lightweight
The dual-purpose low frame design makes this bike cardboard box convenient
Waterproof and has high-density webbing for added strength
Multi-purpose handles make this one of the top-rated bike boxes easy to carry
Fits 14 inches to 20 inches folding bikes and mountain bikes
What We Didn't Like:
Not suitable for 29-inch wheel guard folding bikes
Bottom Line:
I've never been worried about performance because I have been using this incredible CamGo traveling bag for so long.
3. Cycling Deal Road Bike Travel Bags Pro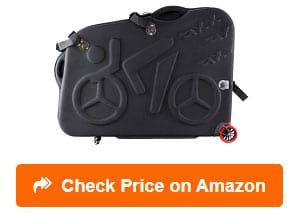 A high-quality and outstanding road bike traveling case is on the list, constructed using high-quality fabrics. I have used this CyclingDeal Bicycle Travel Hard Case for quite some time now.
This bike hard case is manufactured with EVA materials under 200-degree heat; the surface is 1cm, and the hardness is up to 80. It has high impact strength and good wear and abrasive resistance.
The layer can protect the wheels and the frame from colliding with each other. Various buckles and sturdy straps can protect the safety of the bicycle parts, so there is no need to worry about them falling off during transportation.
Its clamshell design enables the case to be fully opened for easy stowing of the bike, and it is compatible with 29" bikes. The front two 360-degree spinning wheels and rear rubber wheels, its wheel can be horizontal pushing. It has strong integrated industrial strength zips and is backed up by quick-release buckles.
Heads-up:
However, when packed, the weight is not centered on the rollers and will fall over if it is not leaned against a wall or another piece of luggage. This travel case will never let anyone down as it is designed and developed with premium and good value materials.
What We Liked:
Formed with EVA materials that resist tear for optimum durability
Has various buckles and straps to keep bike parts safe
Clamshell design guarantees easy stowing.
Compatible with 29" bikes and has wheels for horizontal pushing
Has strong integrated industrial strength zips with quick-release buckles
What We Didn't Like:
The weight is not center on the rollers will fall over
Bottom Line:
Despite its minor downside, I never saw issues with
this bike travel case
as all my belongings are free of any defects in workmanship.
4. Aophire Bike travel bag-002 Folding Bike Bag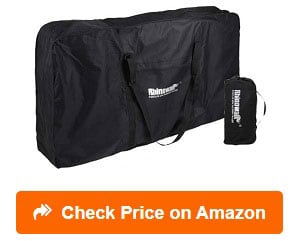 This bicycle travel bag is also loved by bikers, as this folding bike bag applies to almost all road models in the market.
It is made with high-quality materials—a heavy-duty 600D oxford fabric plus 300g non-woven fabric, which is thick and sturdy. The separate compartments inside separate the bike and the front wheel to prevent scratches from a possible crash.
This Aophire international bike box is equipped with handles to minimize our burden and make traveling on the road and downhill bikes easier. Depending on our bike size, we may have to get rid of various components.
It also has adjustable shoulder straps which makes it convenient to carry by hand or shoulder. Its high-quality dual zippers are also smooth and durable; the ¾ position of the zipper design makes it more convenient when loading and unloading folding and road bikes. The front zip pocket outside the bag is also a nice bike tool accessory.
Heads-up:
It is a convenient folding bike bag, and I am so happy with it. However, this bike bag doesn't offer much protection, unlike hard cases or a used bike travel case. So, I need to wrap my gears and pedals before loading.
What We Liked:
Bike carrying bag suitable for almost all folding and modern mountain bikes.
Made of high-quality fabric thick and sturdy.
Handles that make the bike box comfortable and easy to carry.
Tough shoulder straps for carrying big load
Comes with a ¾ zipper design for easy packing
What We Didn't Like:
Requires some extra reinforcement
Shoulder straps aren't padded
Bottom Line:
It is a real deal for bike transfer, carrying our bikes on cars, trains, and subways. It is a highly recommended one for those who love soft and easy-to-carry bags.
5. Dakine Bike Roller Bag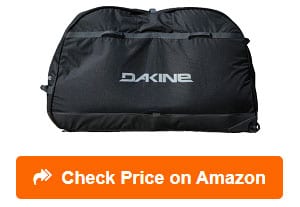 Unwind during our travel on our bike through the most durable bike travel bag that's filled with incredible features. This Dakine roller piece indeed suits my liking.
This 29er mountain bike travel case is designed to make stuffing easy. It also helps keep our bicycles protected during transportation. It offers full coverage for downhill, mountain, road, and fat bikes.
The fastening and bag's frame designs are interlocked to keep physical integrity and bicycle safety. EVA padding and bicycle-specific wads shield critical parts, including discs, dropouts, and drivetrain.
The gear comes with a fork, a wheel, and a roll-up tool bag to store important tools. Also, there are bomber wheels and multiple grab handles that make up for suave transitions. I am very comfortable on the seat post when I bring this bag along with me, even on long travels.
Heads-up:
I bought this bag for our trip to Europe, and I tell you that it is tremendously worth it. Placing our bike inside this bag is fool-proof as all the clips and flaps are color-coordinated. However, the design is simple. So, people who prefer elegant designs may not find this travel case ideal.
What We Liked:
Makes packing easy and secures the luggage during transit
Delivers 360-degree coverage for different bike types
Anchoring system and bag structure maintain structural integrity and safety
Comes with EVA padding for extra protection and rolls up for compact storage
Has bomber wheels and multiple handles for a smooth transition
Fool-proof and color-coordinated flaps
What We Didn't Like:
A simple design, not ideal for those who want elegant bike bags
Bottom Line:
Overall, this product is worth the money to protect our bikes while traveling rather than paying for a bike travel case rental.
6. Evoc 100407512 Bike Travel Bag Pro
Another item on the list has one of the great bike travel case reviews. It saves extra weight for riders who push their airline's weight limits.
This Evoc bike travel bag adopts a hybrid structure, which combines the advantages of a hard bag with the ease of use of a soft bag. It protects our bicycle so well as its support elements provide maximum protection with minimal weight when traveling by air.
I also found out that this Evoc bike travel bag is suitable for most off-road, all-mountain, endurance, free riding, downhill, 26-inch, 27.5-inch, 29-inch, gravel road, and modern mountain bikes. It has a capacity of 285 liters, two-wheel compartments, reinforced forks, smooth wheels, and multiple handles.
The Evoc bike travel bag is foldable for easy storage; I can remove plastic bars from the slots around it. Specifically, it has two on every end and another two over the wheel pockets. Riders who only want to ride a bike or two should not look elsewhere.
Heads-up:
My only concern about the Evoc bike travel bag is that it is the second most expensive bike travel bag in the test class, especially when talking about value. This is a huge change and certainly an investment. However, it is truly understandable given its excellent versatility and quality.
What We Liked:
Hybrid-constructed international bike box ii
Elements provide protection with minimal weight when traveling
Collapsible bike cardboard box that guarantees easy storage
Has two-wheel compartments, forks, and multiple handles for comfort
Offers excellent versatility
What We Didn't Like:
Second most expensive bike travel bag in the test class.
Bottom Line:
Evoc delivered another killer product with the travel bag pro, as its sturdy gear can carry anything from carbon fiber road and gravel bikes to downhill mountain bikes.
7. B&W 96250/N International Bike Travel Bag Pro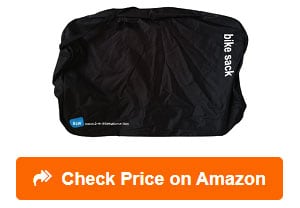 Let me introduce another high-quality B&W product in this review. This design is a bike bag that I often used with my bikes while traveling across the country.
The bike sack is a high-quality product from B&W international, particularly suited for safe transportation of valuable bikes like mountain bikes and others. It has an excellent design with a perfect angle. Hence, we can take our own high-end bike safely on holiday with ease.
I am so amazed by this mountain bike travel bag because it is made from nylon material, so it resists tearing and ripping. Besides, the sake features a wheel aid so I can roll it around.
It has incorporated wheel bags, so it's great for road and train travel. It is large enough to accommodate a big range of bikes. But still portable enough to get through check-in gates.
Heads-up:
And for even more comfort while traveling, it was designed with a detachable shoulder strap that lets me bear the weight on my shoulders. However, it doesn't have a hard shell but will adequately take our bike across the country.
What We Liked:
Big bike bags that guarantee safe transportation of valuables
Comes with a great design, easy to roll around
Made of nylon material that resists tearing and ripping
Incorporated wheels bags for road travels
Have spacious yet portable storage
Removable and adjustable shoulder strap, easy to carry
What We Didn't Like:
Doesn't have a hard shell
Bottom Line:
The first time I owned and used this B&W International Bike Sack, I knew that there is nothing more I could wish for in this bike sack. For those who love a convenient and foldable sack, this is it.
8. CamGo 26-inch Folding Bike Travel Bag Pro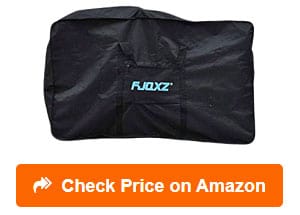 Another exciting option is a 26-inch waterproof travel case that can take your bike in the rental car while keeping it secure with good storage.
This foldable item has a high-grade 1680D condensed fabric, a non-woven interior, high tensile strength, and scratch resistance. We can see no compromise for frequent and heavy-duty use due to its construction.
It features a bottom zipper design, ideal for putting and taking out the bike. When I unzip the zipper, I can use it as a picnic rug.
The entire bag is covered by high-density webbing that enhances strength. This detail can cope with carrying a heavy load under severe conditions for prolonged times.
Besides, the storage is attached with a multipurpose handle. I can use it as a shoulder belt to fasten the bag onto its casing or handlebars.
This bag is also effortless to use. We just need to disassemble the bike's front wheel and the bike handle, put the bike parts into the bag, and zip up the bike bag. It is also very convenient with the storage bag inside.
Heads-up:
However, the handle and the space provided to fit on the shoulder is somehow tight. I noticed that I felt uncomfortable with prolonged wear. I have a heavy bike which adds to the discomfort. Nevertheless, it is still manageable.
What We Liked:
Packed with high-grade thickened fabric with great strength and resistance
Convenient zipper design
Comes with thickened and reinforced nylon fabric that resists abrasions
Lowest zipper design for loading and bike take-outs
High-density webbing for added strength
Multi-functional handles and straps make this one easy to use
What We Didn't Like:
Space provided to fit on the shoulder is somehow tight
Bottom Line:
I highly recommend this very nice and sturdy bag for frequent travellers. It will be worth the purchase.
9. Sci Con TP053105013 Bike Travel Bag
This next item on the list features a good bike fit that will leave any bikers in awe. For the vast majority who love to go on long rides, this is a good option.
Never worry about removing handlebars or aero bars and an integrated seat post. The multi-axle system allows transportation of bikes with quick release and 12mm through axle skewers. It also has low weight, only weighing 8 kilograms. Besides, the SCICON Twin-Wheel System provides better mobility.
It also comes with a TSA-approved lock that ensures the bike's safety and access to the customs authorities in the USA, Canada, and many other international airports. I was able to transport my luggage conveniently thanks to this bike box.
We can also buy extra padding to surround the derailleur for extra safety. It is easy to secure to the case frame, and the straps support the bike so well. I can rest easy knowing my belongings are safe.
Heads-up:
Even though this bag offers a simple way of packing and unpacking our bike, it does not guarantee enough protection against the wild baggage handlers in some airlines. The existing guard doesn't fit so well, and damages may happen to the derailleur if the bag were hit hard in that area.
What We Liked:
No need to remove the handlebars and the seat post
Multi-axle system allows easy transportation of bikes
Has low weight and provides better mobility
TSA-approved lock for optimum safety
Case frame and straps make this bike box easy to secure
What We Didn't Like:
The existing guard does not fit so well,
Bottom Line:
Overall, this bag from Sci Con is easily one of the top-tier in terms of convenience and weight.
10. ROCKBROS D33 Folding Bike Travel Bag Pro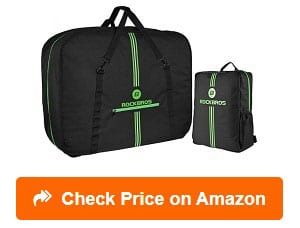 In this entry, another original top-quality and comfortable cycling equipment from ROCKBROS will be introduced.
I noticed this is one of the top-tier road bike travel cases that has padded wheel pockets. A thickened plate also offers protection and prevents scuffs and bumps to our folding bikes from an outside force.
The dirt is easy to remove because of its easy-to-clean coating. Just wipe off the dirt or mud with a wet cloth.
It's very convenient as this bike suitcase is also foldable, so the extra padding keeps the parts unaffected when it's folded into a more compact form, it could be folded as a case, carried across your shoulders, or attached to the handlebars. Our hands are free to carry out other tasks during traveling as this bike bag is hands-free movement.
The design of this bike bag is more than outstanding. The black and green color is simple but beautiful. The pocket outside the bag could store some small items like bike repair tools, a track pump, or maintenance oil.
Its high-quality zippers ensure the long-lasting life of the bag and make it easier to access your folding bikes. This folding bike carry bag fits 16″ to 20″ folding bicycles.
Heads-up:
However, the package has only two straps that could be used as
a backpack
and
handle bag
.
What We Liked:
Two bikes carry bags with padded wheel pockets
The thickened plate offers protection and prevents scuffs
Has an easy-to-clean coating
Black and green color is simple but beautiful
Extra pocket outside for small items: bike repair tools, or maintenance oil
A foldable and portable design for traveling
What We Didn't Like:
It has only two straps, unlike other bike traveling bags (no shoulder strap).
Bottom Line:
I am so overwhelmed with this bike bag; even my friends are delighted as it is also durable and it has lasted for years now.
11. Trico 9904990 Iron Case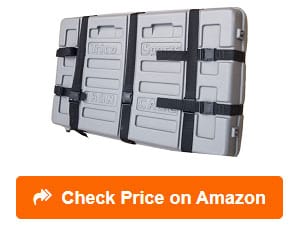 For bikers who seek a durable case, this Trico Iron Case is the special piece they need to check out.
This hard bike case comes from Triconium Clamshell that provides bikers with reliable bicycle protection. Its seven robust belts run from above to the bottom and each side to ensure the item case stays sealed. Another thing that excites me with this case is its feet to put the item upright.
It comes with Fed-Ex and UPS permitted sizes. This incredible iron case also has a 31-pound lightweight structure that guarantees cheaper transport costs. Never worry about baggage fees that go way out of our budget. Trust me; this one will save buyers a few bucks during travels.
This also comes with three layers of two-inch foam that absorb energy for optimum bike protection. It comes with 7 straps that keep the case shut tight. The frontal fork and back trio propagator retain the frame's wholeness during its full vulnerability.
Heads-up:
However, closing it is not as easy as the other soft cases. It took me minutes to get used to the process for the step-wise fashion of securing each strap.
What We Liked:
Hard Shell Triconium Clamshell Case provides bikers ultimate bike protection
Seven heavy-duty straps
2" wide straps to ensure the Iron Case stays closed and can stand upright
UPS and Fed-Ex approved size and extremely lightweight
Three layers of 2-inch energy-absorbing foam
What We Didn't Like:
Closing it is not as easy as the other cases.
Bottom Line:
This case fits my bike with a little bit of room to spare. Its sturdiness assures me that I can throw it around the hotel room and receive no damage.
12. Thule 100505 RoundTrip Pro XT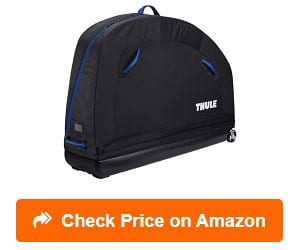 This design from Thule is a good buy for those looking for a bike transportation bag with a built-in repair stand. It has been a good companion for many of my travels.
This soft bag is made up of a Ripstop-Nylon coating mixed with a robust polyethylene cask and a steel base that protects the bicycle during travel. This design is also very compact, with optimum bike protection for travelers who worry about spaces.
What I admire the most about this bag are its innovative solutions. It has an integrated bike stand that also acts as a bike vessel and as a work stand. It also has integrated wheels that will make transport easier. This oversized wheel bag keepsMTB wheels.
It weighs much less than most bike cases I have used, with handles that guarantee easy carriage while traveling.
Furthermore, there are also 15mm and 20mm axle adapters for compatibility. Such a design can fit mountain bikes with a wheelbase up to 46 inches. The compatibility that this bike offers is just really incredible.
Heads-up:
However, the side panels might be too large and not fit very well in the side and wheel pockets. However, this is overpowered by the quality of this bike cardboard box.
What We Liked:
Rugged nylon shell expands for protection
Compact design and has optimum bike protection
Bike assembly work stand also acts as a convenient bike holder
Integrated wheels and handles for maneuverability
Oversized and has low weight
Comes with axle adapters and is a versatile bike case
What We Didn't Like:
Side panels might be a bit too large.
Bottom Line:
I would recommend this bag. I have many biker friends who are using this one, especially when they go all together abroad.
13. Richkasun Bike Travel Case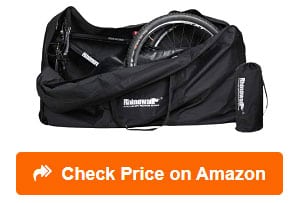 I am excited to recommend this Richkasun Bike Travel Case to many bikers who love to travel to different places. It is an excellent substitute for a bike box for flying.
It is indeed a very convenient, durable, and one of the best-rated folding bicycle transport bags. The insulating bottle holder is also an excellent addition to the overall quality of this item.
Furthermore, the bag is also ideal for bike transport. This folding bike bag is suitable for regular 26 to 27.5 inches bikes with wheels and handlebars. For bikes like a 700C road bike, we only have to take out the anterior wheel. This bag is so portable to carry. When folded up, the bag can be attached to the handlebar for easy carrying.
It is made up of high-quality material – a long-lasting 600D oxford fabric and 300g non-woven fabric. It also has a strong shoulder strap and two accessories' pockets. Two Velcro straps on the bottom and one facing the seat post is more than enough to secure the bag.
Heads-up:
However, this bicycle shipping case requires you to remove the front wheel's handlebars. We will also need to cushion a 27.5 inches folding bag for this item to fit perfectly.
What We Liked:
Convenient, durable, and one of the top-rated products on the list
Insulating the bottle holder gives a good touch.
Ideal for bike transfer and different transportations
Has high compatibility and is easy to carry
Made of a heavy-duty 600D oxford fabric + 300g non-woven fabric
Has durable shoulder straps to secure the bag properly
Comes with two accessories' pockets
What We Didn't Like:
Will require to remove the handlebars front wheel
Needs to cushion a folding bag to fit in
Bottom Line:
Surely, this bag is an incredible alternative to bulky and expensive cases that hinder my riding clothes.
14. AMOMO Folding Bicycle Bag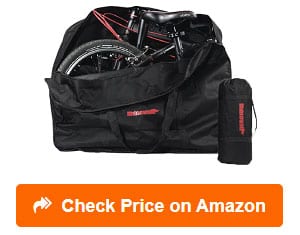 For those with a 14-inch to 20-inch folding bike, this folding bike bag from AMOMO that comes with a carry pouch is an amazing option.
This 1.18-kilogram bag is made up of 600D double-layer polyester fiber that provides durability and comfort. Furthermore, the bag can also fit a 14 inch to 20-inch folding bike. I never have to worry about its compatibility and what things I can store with it.
I can also carry the bag easily on my shoulders thanks to the adjustable strap with this bike box. Besides that, I can use it as a picnic pad. The versatility that this item offers is just incredible. I also store my keys, a few coins, phone, and other small accessories in the outer pocket of this bike box.
For the carry pouch, I can easily fasten it on the bike's handlebar or any other area of the bike. I cannot get enough of it. For adventurers, this bike box is a great company to store all their belongings.
Heads-up:
It provides a relatively easy way of carrying the bike without bulging handlebars and pedals. The material is practically tough and sturdy, so it offers some level of protection to the elements, too. However, the straps do not have padding or any double reinforcement.
What We Liked:
Made of 600D dual polyester fiber for durability and comfort
Fits a 14-20 inch folding bike and is easy to carry with its adjustable straps
Store accessories and easy to fasten on any handlebar
Provides an easy way of carrying without the bulge
Tough and sturdy for frequent travelling
What We Didn't Like:
Straps don't have any padding or double reinforcement
Bottom Line:
Overall, this bag provides comfort in making carrying a bike easier. In my opinion, it is totally worth the price.
15. Thule Round Trip Sport Bike Travel Case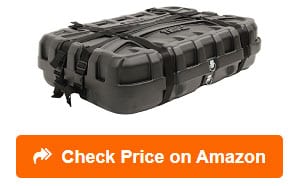 For buyers who want a sturdy, simple, and very light case, this Sport Bike Travel Case from Thule is worth checking out.
This 47 x 30.5 x 10.5 inches durable polyethylene-constructed case weighs 37 pounds, which comes at just the right weight to maintain a balanced and comfortable cycling experience. To keep me more comfortable, it features foam padding that protects my bike during transport. It's somewhat similar to a Polaris bike pod.
It has four heavy-duty straps that keep the case closed and secure its contents well. Top that with integrated wheels that make this bike box easier to transport.
I love how I keep my things organized with the dividers that separate the wheels from their frame. It truly comes with an incredible and space-saving design, like the PBK bike travel case.
I love this mountain bike travel case. It fits my 29″ MTB and is perfect for roof racks. As we do not use the bag to carry our bikes, we can use it as luggage or anything we want to protect during trips.
Heads-up:
However, the wheels come at a low angle. This poor angle is the reason why the rear straps rub together. Eventually, it would cause fraying and may damage the item.
What We Liked:
Polyethylene construction for durability.
Just the right weight of 37 pounds for balance and comfort
Foam padding that protects during transport
Four straps to secure contents well and wheels for easy transport
Dividers to keep wheels separated from frame
Space-saving and can accommodate 29'' TMB
What We Didn't Like:
The wheels are positioned to cause rubbing on the rear straps, eventually causing fraying
Bottom Line:
All in all, I like this bike travel box because it helped me ease my burden in carrying my essentials.
What to Look for When Buying Bike Travel Cases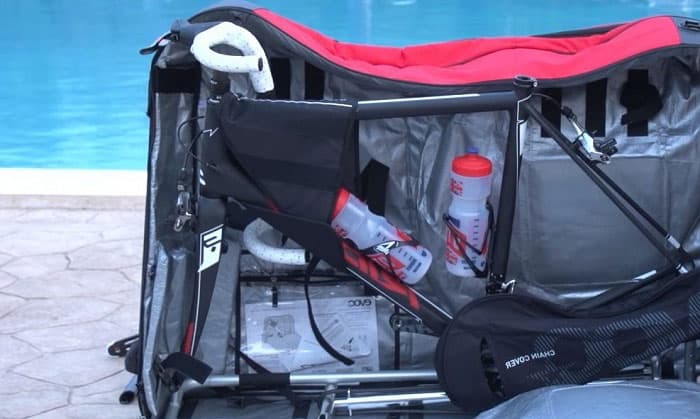 There are numerous factors to consider when looking for the best bike travel case. You might even have to remember various features that will help to choose to become easier and quicker.
A bike box is a great investment when you plan to go across the country or the globe. It also preserves your bike for future use, and you never have to worry about damages caused by bumps or the like.
Investing in this product is better than stuffing your bike in a cardboard box and simply hoping for the best.
For a biker to pick the right case available in the market, it is vital to look into its performance, price, and how much disassembly/assembly is needed.
Hard shell and soft shell – Protection must also be prioritized in selecting the right bicycle bag. Hard-shell cases commonly have highly durable outer shells from plastic. Such a feature adds extra protection to your bike. On the other hand, softshell cases come from highly durable nylon. They mostly rely on paddings to keep your bike protected.
Aside from padding, softshell cases come with firm internal frames that give precise structures and defend your bike from severe forces.
The last type is a mix of two incredible features from the previous types. A hybrid case comes with a fabric exterior lining filled with foam and plastic sheets.
Size and weight – are also essential to consider. Remember that it relates to the overall load of the bicycle you wish to transport. Airlines come with a 50-pound weight limit, so I suggest never to reach this limit as you have to pay an overweight fee.
Consider all the things you are about to put in the case and assess if the case can accommodate all of it without compromising your comfort and ease of carriage. Besides that, also consider learning some of the crucial packing tricks and tips.
Extra paddings – You can also have the option to use extra padding, which effectively adds protection during your travel. The storage design with the right padding at critical areas helps minimize bumping and damaging our bike parts.
Aside from that, it is also important to consider the cycling apparel and ensure that it goes well with your trip and keeps you comfortable all day long.
Pipe insulation – Another alternative is adding pipe insulation for your case. It is an inexpensive option that does wonders for your ride. Plus, you can easily purchase this at a local bike shop or a home supply store.
Compatibility – This is the basic requirement regarding the dimensions of your bicycle and the bag. Make sure you choose one that fits all the most extensive parts of the bike that cannot be disassembled. Besides, it also helps if the pack comes with extra pouches to store smaller accessories.
Lastly, it would help if you were wary of the tools you need to bring to get your bike correctly working. It also helps you avoid being stuck in certain areas caused by damaged bicycles. You can keep running to your destination with no issues.
How Do I Pack My Bike for Travel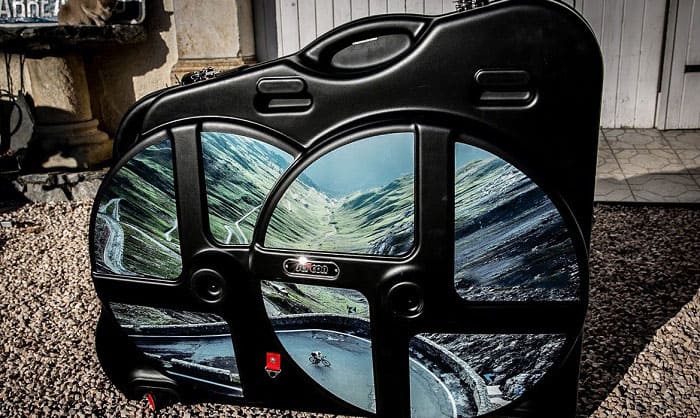 Follow these simple packing tips to make wrapping a bike box easier.
Step 1: Remove the pedals and the wheels from the bike's frame and put the chain in the outer chainring.
Step 2: Take off the rear derailleur using a 5mm Allen key. The cable need not be disconnected. Then, wrap the rear derailleur using bubble wrap.
Step 3: Next, insert a forked spacer into the front fork. An old pair of used hubs can be of use for maximum protection.
Step 4: If packing a bike using a box, the handlebars will be removed from the fork. Loosen the stem cap bolt using all the tools and pull the stem upwards so that they no longer attach to the bike. Don't forget to put the stem cap back into the bike.
When packing into a bag, there is a need to turn the bars. Put a mark in the position of the bar using tape. Ensure that the package does not rip off the disc brake rotors.
Undo the front clam bolts and the stem clamp. Rotate the stem by 90 degrees while keeping the forks facing forward. Then, rotate the bars and hook under the top tube. Lightly tighten the bolt once the bars are in position.
Step 5: Protect the frame from chips using a length of pipe lagging. Then, using bubble wrap, wrap the front forks and secure them using tape.
Step 6: In the base, place the frame with the handlebars next to it. Then, cover the frame using foam.
Loosen the smaller bolt from the skewer. Place the wheel in the arch inside the box. Push the quick release skewer through the hole in the box. Then, tighten it on the opposite side of the box.
How to Clean a Bike Travel Case
There isn't much difference in how to clean bike travel bags and cases. Both activities require minimal effort to ensure these products remain in good condition.
Let's start by vacuuming any loose dirt on the bag's interior.
Once all the loose debris is gone, use a damp cloth to remove any caked-in dirt. I wouldn't go too overboard, as too much water only extends how long it takes to dry. Don't forget to check the outer surface for dirt, as well.
Your next step is letting the bag or carry case dry and putting it away. With proper storage, the travel bag/case will be more than ready for your next trip.
I must also mention that some bicycle travel bags or cases require special cleaning procedures. So please, read the tags or packaging before ever attempting any cleaning process. It'll save you from making a massive mistake that could cause structural damage.
How Long Does a Bike Travel Case Last
The longevity of bicycle bags for travel will vary considerably. Some options will start falling apart in only a year, while others will last a decade or two. It's why I put such an emphasis on making sure people buy durable options.
For instance, Evoc's 100407512 Bike Travel Bag Pro has a known reputation for lasting several years without issue. Therefore, anyone looking for a long-term bike bag or bike case for flying should consider it a top option.
Where to Buy a Bike Travel Case
Finding a suitable location to buy a travel airplane bag for bikes won't be difficult. But I would suggest using Amazon as its selection is much better than any other online store. Plus, it offers the best prices that aren't found anywhere else.
If a buyer doesn't want to use Amazon, Walmart has proven to have some excellent options. I've found their prices for numerous bike shipping case products reasonable. You could also find several high-quality items at almost any sporting goods store.
Bike Bags vs. Bike Cases: Which is Better
Bike cardboard boxes and cases have their advantages and disadvantages to all the bikes. All the bike boxes have an ideal feature that makes them unique from other bike boxes or travel bags/cases. You can also notice all the differences personally, which can be seen at a local bike shop.
How Do I Check My Bike on a Plane
After packing an international bike box ii, or case, you have to consider the airline weight limits. An anti-crush pole also makes your luggage more protected.
A checked savage bike bag can measure up to 50 pounds in airline weight limits, with a combined size of 62 inches.
Conclusion
In making sure that you travel while bringing and storing your bike securely, you have to choose the best bike travel case while considering the following: performance, protection, size, weight, price, and how much disassembly/assembly is needed. You can also ask for advice from a local bike shop.
The bike bag is a worthy investment to purchase a travel case that will give your bike the best protection.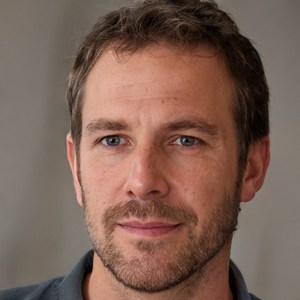 "I ride my bike to work for years, but is that enough? Our carelessness towards our surroundings has taken a toll on the environment. And now, everyone is responsible for changes; even the most minor contribution is counted. With this hope and spirit, I started with my partner to establish Biketoworkday to help more individuals commute to their work sites on their bikes."