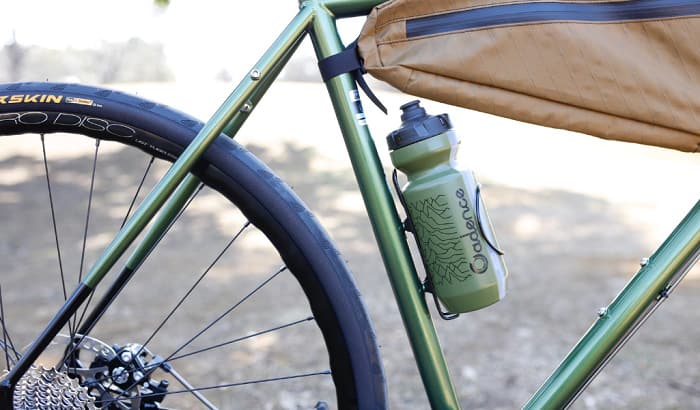 Bottle cages are ideal for storing water jugs on bikes. It comes in varieties, but a side-loading cell is the best choice for full-suspension bikes due to its unique structure. A good cage should not scratch the biker's legs and must fit well on the bike frames.
What are the features of the best side load water bottle cage? Check three of them below.
Easy Access: A biker would love to go on trips with a bottle cage that's easy to access. That's why this feature stays on top of the list because an easy access water bottle cage allows us to efficiently multitask, grabbing a quick drink while continuously cycling on the road.
Lightweight: It is crucial to choose a lightweight bottle cage around 22 to 40 grams. It should not weigh down the biker as he goes on incredible speeds. Carbon water bottle cages and Aluminum bottle cages have a slight difference in weight savings. It all depends on the biker's preference.
However, there are also plastic or resin cages. This material is ideal for bikers on a budget because their weight is comparable to that of carbon. It is lightweight and still offers a secure hold without compromising durability. This material is also available in different colors.
Suitable for Various Uses: There are bottle cages that are only suited for storing a water bottle, while other enclosures can accommodate in-can beverages like energy drinks, juices, and other carbonated drinks. We believe that choosing a bottle cage that can store different drinks is handy for any bike trip.
There are more things to know about a side-load cage that bikers should look forward to in the Buying Guide. But first, let's check out the best available.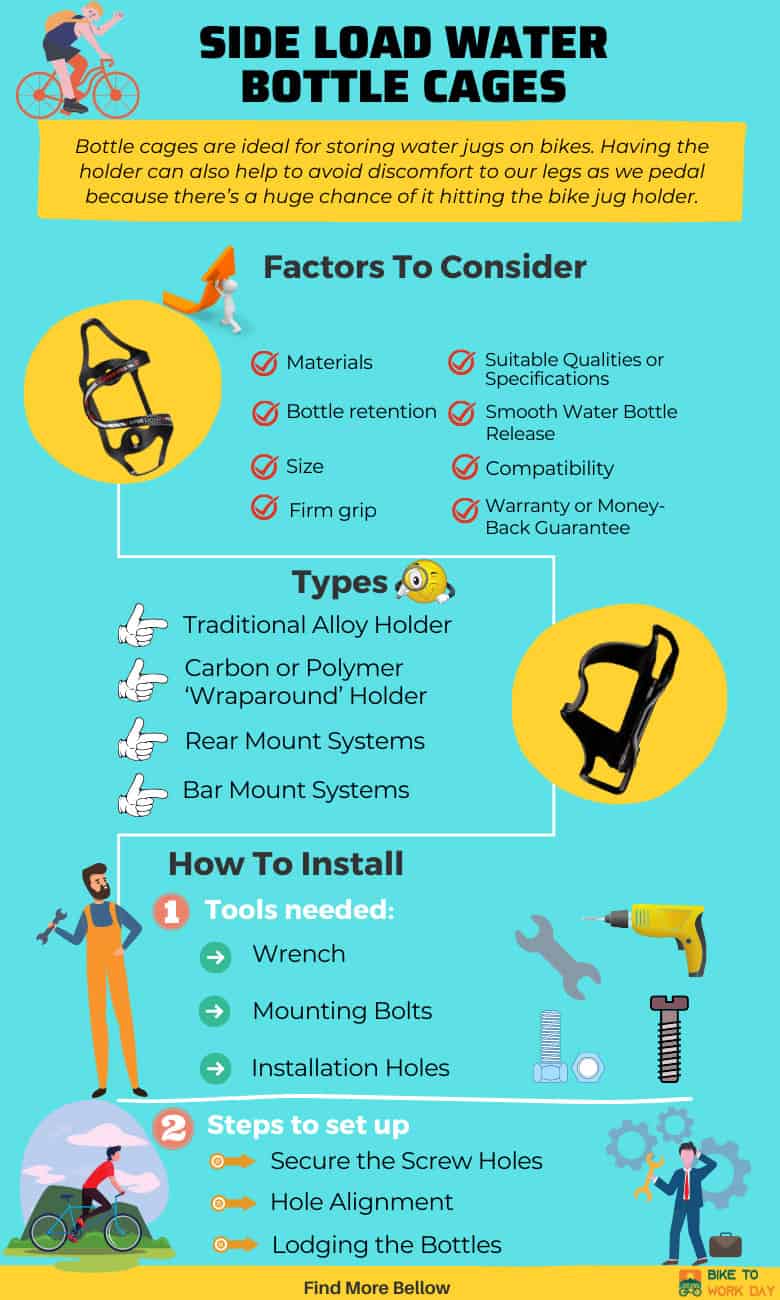 ---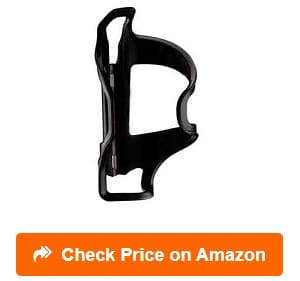 LEZYNE Bike Bottle Cage
6 various colors
Tiny 48g build
Easy installation
---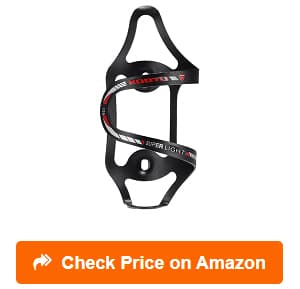 SAVADECK Bike Water Bottle Holder
Lightweight
Easy-to-clean bottle
Installation is simple
---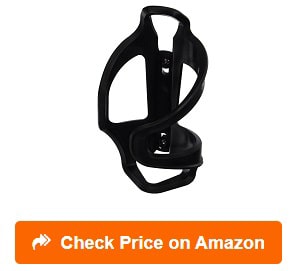 LEZYNE Side Load Bicycle Cage
Rib-like structure
Sturdy and long-lasting
Highly reliable and functional product
---
List of 11 Top-tier Side Load Water Bottle Cage Reviews
1. LEZYNE Side Load Flow Bike Bottle Cage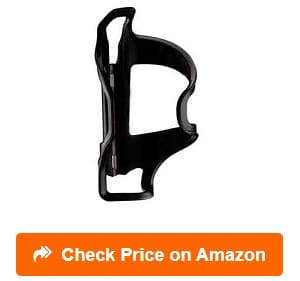 The first well-made design in this list is the LEZYNE Side Load Flow Bottle Cage, also known for its highly durable structure.
This item is highly flexible and robust, thanks to its major fiber-reinforced plastic component. This high-strength fiber is famous material for molding injected parts in professional cycling items.
It comes in six colors, which all have a clean design, pairing with its simple appearance. Such a minimal structure perfectly blends when mounted to any bicycle. Aside from the colors, the model is available in both left and right variants so that a biker can choose the most convenient style.
Even on bumpy rides, I haven't seen drinks fall out of my sideloader water bottle cage. Thus it's safe to say the holder has a good grasp. With a tiny build that only weighs 48 grams, this item is ideal for bicycles with limited clearance because it won't add extra bike weight.
Heads-up:
Although no bolts are included in the pack, the fittings are standard-sized, so finding a compatible bolt at a bike shop will not be an issue. Bikers can also alter the screw placement on the oval openings to fine-tune the cage at their leisure.
What We Liked:
Highly durable and flexible structure made of fiber-reinforced plastic
6 various colors and simple design for easy blending with any bike
Available in the right and left variants with a good grasp even on bumpy rides
Tiny 48g build, adding no extra weight for bikes with limited clearance
Standard-sized fittings for easy installation and fine-tuning
What We Didn't Like:
No bolts are included in the package
Bottom Line:
The LEZYNE Side Load Flow Bicycle Bottle Cage may appear a conventional holder, but its performance rivals high-quality items. I'd buy another one in a heartbeat.
2. SAVADECK Lightweight Bike Water Bottle Holder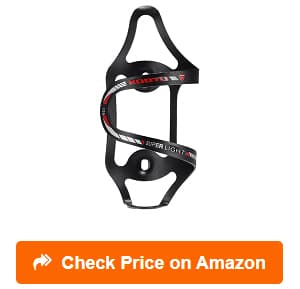 This lightweight side load bottle cage from SAVADECK ensures no scratches on my water bottle while holding it securely.
This bottle cage with a slim profile is one of my list top picks. Its CNC construction and thermal treatment make this enclosure super thin and lightweight at only 22 grams. But, the cage might blend under much pressure or when the water bottle is too big for its hold.
I also enjoy a rust-free and easy-to-clean side bottle cage thanks to its matte and powder-coated surface. Because it is sleeker and smoother than standard bottle holders, it also makes the bike cage a lot more appealing.
SAVADECK worked hard to create a design that is both versatile and adaptable. The item's tension may be adjusted in 0.2″/0.5cm intervals, making it suitable for big and small bottles. As a result, this side mount water bottle cage can hold drinks of various shapes and sizes, including insulated and single-use bottles.
Heads-up:
Taking my water bottle in and out of the bicycle cage was never tricky, thanks to the cage's ergonomic design. Everything appears to be in order, and installation is also simple, mainly because the kit includes two mounting bolts.
What We Liked:
Lightweight and slim with CNC construction and thermal treatment
Rust-free and easy-to-clean bottle
Matte and powder-coated surface gives off a sleek and smooth look
Versatile and adaptable where tensions can be adjusted for various-sized bottles
Taking bottles in and out of the cage was easy due to its ergonomic design
Installation is simple due to the two mounting bolts
What We Didn't Like:
The cage might blend slightly with much pressure since it's thin
Bottom Line:
I love how this product accomplishes the task at hand. SAVADECK values practicality and flexibility, which makes the product worthy.
3. LEZYNE Side Load Bicycle Cage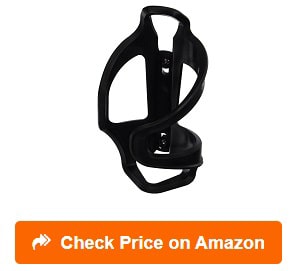 LEZYNE is known for its highly reliable and functional side loading water bottle cage, so check out why I included another one from this brand.
This new LEZYNE Side Water Bottle Cage comes in a set of two, easily installed onto each side of a bicycle. As a result, left-handed cyclists can use this keeper and ride with complete convenience.
This bottle cage pair has a sturdy and long-lasting barrier to keep bottled beverages secure even on rough travels. Such a design is also ideal when I want both sides to have a drink at their disposal.
Both enclosures are composed of high-strength reinforced fiber, making them highly durable. This composite matrix architecture can withstand bigger water bottle weights of 700mL and above.
The LEZYNE bottle cage also uses a side-loading method to create a rib-like structure. As a result, I can reach the drink bottle from two sides and remove it. I can also flexibly alter the placement of the product for accessibility, thanks to the design of oval openings.
Even though the item is a tad smaller than standard cages, it still comes with a functional design, allowing me to place more holders on my bike's frame.
Heads-up:
Sadly, this LEZYNE flow bottle cage side load has arms that are not bendable, so I can't fit extra-large bottles as it may cause a slight deformation.
What We Liked:
Highly reliable and functional product
Comes in a set of two for left and right-handed bikers
Sturdy and long-lasting barrier for added safety during travels
Made of high-strength reinforced fiber for durability
Can withstand a large water bottle weight of 700mL and above
Rib-like structure with flexible placement due to oval openings
What We Didn't Like:
Unbendable arms might deform a bit due to too large bottle
Bottom Line:
Thanks to this product, I saved some extra bucks because of its low pricing and availability to come in pairs.
4. N+1 Side Load Bike Water Bottle Cage
N+1's Side Load Bike Water Bottle Cage is one of the more convenient choices among MTB bottle cages on the market. It earns this title by incorporating an L-shaped adaptor, which allows each biker some customization. The adaptor helps users pull drinks out, whether they're left or right-handed.
Bikers might assume this customization would make the installation a bit more challenging. But it isn't the case with this behind the seat water bottle cage. Instead, this model comes with everything a person would need to get the job done without issue. I've even seen a few newbie bikers praise its usage on Reddit.
Once installed properly, I found myself loving its durable and secure construction. It's made from premium material to ensure nothing causes damage or stability issues. I can ride through bumpy areas or terrible weather without worrying about my water bottle cage.
The product's user-friendliness was another area that exceeded my expectations. I couldn't believe how little impact this bottle cage had on my riding experience. Its weight is unnoticeable and therefore perfect for races.
Its attractive qualities only increased with its application versatility. After all, this holder is compatible with almost all standard water bottles between 20 and 25 ounces. So it's hard to imagine a biker who wouldn't benefit from this side load water bottle cage.
Heads-up:
My one gripe with this specialized side entry bottle cage is its slightly rigid plastic material. This aspect means it takes a few more seconds to remove a water flask.
What We Liked:
Convenient L-shaped adaptor allows users to choose their preferred side
Ideal for newbies with tools for simple installation
Durable, secure construction made from premium material
Easy to transport with a lightweight design
Usable for almost all standard water bottles (20-25 oz)
Bottom Line:
But overall, I don't consider this rigid plastic material a deal breaker. It is more like a minor hassle that becomes easier and easier to endure with time. Due to this, it can be a satisfying option for almost any biker.
5. IACTIVE Side Load Water Bottle Cage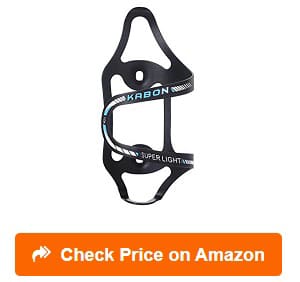 The IACTIVE specialized water bottle cage is my favorite go-to product because of its user-friendly design.
The design of a side open with a double pull allows flexible expansion to accommodate a slightly bigger water bottle. Thanks to this feature, users can easily bend the cage to open and close from -0.2 to +0.2 inches or 0.5 cm, allowing it to hold water bottles of various sizes.
As we go biking in different weather conditions, the bottle cage's durability should be decent. Luckily, this bottle is rugged enough for frequent use, thanks to the CNC-machined aluminum alloy with heat treatment. Besides, it is an ultra-lightweight cage at 22 grams.
Notably, the powder coating and matte finish on this cage look sleek and allow easy cleaning. Any dirt stick on the cage after a muddy road can be wiped off with a dampened piece of cloth.
I also appreciate its robust retention system, which ensures that my filled water bottle firmly stays in place during my bike trip. Because of this, I can go at full speeds or don't have to worry when biking on rocky terrains.
Heads-up:
I love this side entry bottle cage MTB because it oozes with excellent quality that lasted me for years of use. However, I noticed that the product requires a bit of strength upon installment.
What We Liked:
User-friendly design with a side open and a double-pull structure
Expandable cage to fit standard and slightly bigger sized water bottles
CNC-machined aluminum alloy for rugged use against weather conditions
Lightweight structure at 22 grams only
Powder-coated and has a matte finish for a nice look and easy cleaning
Retention system keeps the bottle in place
What We Didn't Like:
Requires more strength during installment
Bottom Line:
I get to appreciate this straightforward and high-quality product that perfectly lightens up my load during the trip.
6. KABON Bike Water Bottle Holder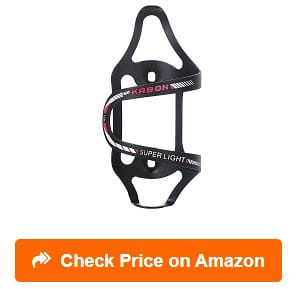 Veteran and beginner bikers will love this easy to install cage from KABON. In truth, this KABON Bike Water Bottle Holder comes with an Allen wrench and two standard attaching bolts for fast assembly.
This cage's compatibility with multiple bike types is another notable thing about its flexible design. We can attach it to MTB, hybrid, electric, and even triathlon bikes with minimal effort.
Bikers who know how to install cages will love this product because it comes with oval fittings that allow them to fine-tune the holder to their liking. Bikers can change the tension provided to bottles by bending the cage's arms. The holder can be adjusted in 0.2″ intervals.
Since the cage is made from high-quality metal alloy and CNC machining, it can survive a variety of poor weather conditions. Also, it only weighs 24 grams, making it one of the lightest items in the market.
The item also has a good hold, so I never worry about losing my favorite bottle over bumpy terrain. KABON ensures that all corners are smooth so it can avoid damaging and scratching water bottles.
Heads-up:
Keep in mind that the cage's height is taller than
other models
, so there's a chance of it hitting our legs while cycling.
What We Liked:
Easy to install with an Allen wrench and 2 standard bolts
Has oval fittings to fine-tune the cage with an excellent grip
Compatible with hybrid, electric, and even triathlon bikes
High-quality metal alloy and CNC-machining to last in harsh weather.
Weighs only 24g, and tension is adjustable in 0.2″ intervals by bending the arms.
All corners are smooth to avoid scratching water bottles
What We Didn't Like:
Cage is taller than other models, which gives the tendency to hit biker's legs
Bottom Line:
This side load water bottle cage MTB from KABON meets its goal with minimal difficulty, proving it appeals to first-time buyers.
7. PLANET BIKE Side-load Water Bottle Cage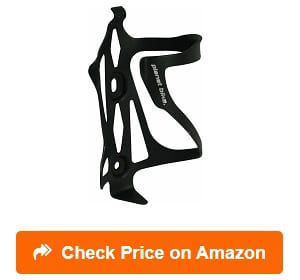 All aspects of the PLANET BIKE Sideload Water Bottle Cage are commendable, especially its cold-forged material that guarantees durability.
Planet Bike uses cold-forging for this water case, a production procedure that hardens the Aluminum body construction while improving overall quality. Thus, we have a holder that's both attractive and reliable. Besides that, I love how the brand offers its products for a cause.
The same goes for its long-term viability. Constant tension from severe pedaling doesn't tear out this cage as quickly as traditional bottle holders because it is durable. This 41-gram cage is light, thanks to the construction technology and superior materials utilized.
Due to its design, this bottle cage may be easily installed on small compact bike frames with complicated geometries. The container has a good grip, and it's not so tight that getting my bottle is tricky. Because I can bend the cage's arms, this item should hold a variety of bottle sizes.
Heads-up:
One downside is that mounting bolts are not included in the packaging, so you'll have to purchase them separately. However, because the cage features standard-sized mountings, this issue is not a problem.
What We Liked:
Cold-forged material that makes the product attractive and reliable
Manufactured for a cause and has good long-term viability
Doesn't tear out easily as traditional bottles
Lightweight item due to superior construction technology and superior materials
Basic design for installingonto compact frames
Good grip and bendable arms for an easy hold to different bottle sizes
What We Didn't Like:
Mounting bolts are not included in the packaging
Bottom Line:
It's the top-rated side entry water bottle cage that I brought along on my bike trip. Its frame geometries are simple yet functional, shielding the water bottle despite bumpy rides.
8. PORTLAND DESIGN Lucky Cat Bike Bottle Cage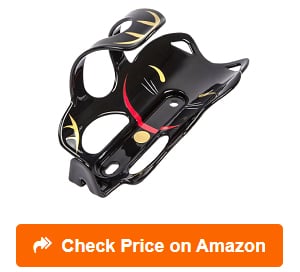 Another bike cage that's popular among riders is the PORTLAND DESIGN Lucky Cat Bike Cage due to its distinctive design.
PORTLAND DESIGN is recognized for its lovely items, so I'm already aware of how excellent the designs of their bottle cages are, just like this lucky cat bike cage inspired by Maneki-Neko. This Japanese cat symbolizes good fortune. Therefore, this bottle cage is charming and holds a good symbol for an ideal biking gift.
This attractive object lasts more than I anticipated. And I love how the company does not believe in sacrificing functionality for aesthetics. As a result, I'm in for the long haul, thanks to this excellent and durable model.
I can attest to the item's sturdiness and flexibility because it is made of 5052 alloys. The smooth surface finish allows me to pull out my water bottle without worrying about scratching the paint.
Attaching this holder to my bicycle is easy with the help of two attachment bolts offered. The entire procedure is easy, and matching the nuts with the holes is pretty basic.
Heads-up:
However, owing to shipment and packaging concerns, a bolt or two may be lacking from the box. Luckily, looking for a replacement at a nearby store is a piece of cake.
What We Liked:
Distinctive design that symbolizes good fortune
Ensures long-lasting and completely functional use
Excellent, flexible, and durable 5052 alloy construction
Smooth surface to release water bottles without scratching
Easy to attach thanks to the 2 attachment bolts
What We Didn't Like:
Bolts may be missing from the box upon shipment or delivery.
Bottom Line:
The Portland Design Lucky Cat Bike Bottle Cage makes an excellent treat for riders. It correctly serves as a holder, so the adorable look is not all it can offer.
9. BRKURLEG Carbon Fiber Water Bottle Cage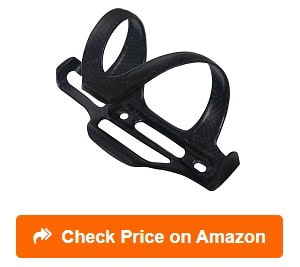 The BRKURLEG Carbon Fiber Water Bottle Cage is well-known for its exceptional adaptability and durability that can last for years.
The brand uses plastic fiber that includes more than 90% carbon for its production, guaranteeing excellent build and ruggedness for the overall holder construction.
I also love how this simple design is compatible with most bike types such as Mountain bikes, track bikes, road bikes, and BMX bikes. This bike bottle cage can accommodate water bottles having a diameter of 27.5 to 28.7 inches. This range is excellent for thick insulated jugs that keep our drinks warm as we bike during winter.
Thanks to the smooth sides of this bottle cage, I never worry about water bottle scratches. As I ride on rocky mountain routes, I notice how tight the holder keeps the water bottle in place. Even though it grips my water bottle firmly, my bottle is still simple to remove or insert.
The package comes with screws that guarantee a smooth installation. The only setback of this water bottle cage is that it's only available for left entry.
Heads-up:
During the use of this rather stylish and functional bottle cage, I find no issue.
What We Liked:
Compatible with BMX, MTB, and track bikes
Uses plastic fiber with 90% carbon for great durability
Can accommodate diameters of 27.5 to 28.7 inches, great for insulated jugs
Smooth sides that would not scratch bottles but still ensure a firm grip
The bottle is simple to remove or insert
Bottom Line:
Overall, the simplicity of this water bottle cage makes it suitable for a variety of bicycles. It goes with my MTB, so I am delighted with it.
10. CORKI Bike Water Bottle Holder
I was able to keep my performance optimum thanks to this thin and lightweight bottle holder from CORKI.
The Corki Bike Water Bottle Holder has a thin and lightweight design, weighing only 35 grams. With the fiber-reinforced polycarbonate construction, the product is strong enough to resist cracking and breaking.
Another thing that I love about it is how it comes in colorful variants in black, bluish alloy, white, blue, rose pink, red, and sunny yellow. As a result, bikers have more alternatives when it comes to finding one that suits their bicycle. It comes in a glossy finish that adds a classic look to my bike.
With every buy, I got two mounting bolts that fit standard-sized bicycle eyelets. The company caters to every customer's needs, including missing parts.
My water bottle is easy to put in the rack because the cage's arms release the drinks without damaging the surface, guaranteeing that no harm occurs even if they are inserted or removed quickly.
Heads-up:
Corki also assures that this bottle enclosure can fit a variety of container sizes. Although the arms aren't flexible, their firm hold and the base support are adequate to protect the beverages from tumbling even at breakneck speeds.
What We Liked:
A slim and lightweight cage that only weighs 35g
Fiber-reinforced polycarbonate construction resists cracking and breaking
8 different colorful variants with a glossy finish
Two mounting bolts included in one pack
Guarantees easy and safe bottle insertion and removal
Fits a variety of container sizes, has a firm hold and support
Bottom Line:
This bottle cage is already my second purchase because I appreciate the product's quality and functional design.
11. Seektop Bike Water Bottle Holder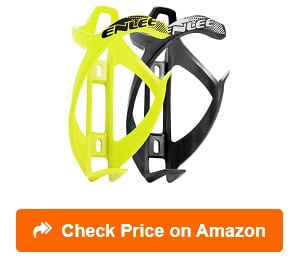 Seektop's Water Bottle Holder is a one-of-a-kind product known for being durable, lightweight, and unique.
Its plastic materials and glass fiber can endure weather conditions when we are on the road. The composite material also makes the bottle holder easy to use, so I never have to worry about loading and unloading my water bottle. It doesn't scratch my water jugs, too, which is a plus.
The product provides exceptional stability with its toughness, so I never have to worry about breaking due to strong vibrations or wind pressure. Yet, it is still lightweight at 40g only.
It also wraps around my water bottle firmly. I can attest to this because I love to go off-road, and my water bottle never popped out.
Installation is never a problem, thanks to the oval screw holes made ideally for the bike's cup holder. I can also fine-tune this frame position for my convenience.
The basic design of this water bottle cage goes well with different bicycle types such as a mountain, road, touring, and even electric bikes. Besides, the yellow and red models indeed make our bikes stand out.
Heads-up:
It's important to remember that this is only a side-load bottle holder. So, this bottle cage is designed to be mounted on the bicycle frame's seat post tube area. Bikers can also angle this item downwards.
What We Liked:
Durable glass fiber and plastic cage and lightweight water bottle holder
Easy to use and doesn't scratch water bottles
Good stability even on strong vibrations or wind pressure
Wraps around the water bottle firmly so it never pops out
Oval screw holes and fine-tuning features
Highly versatile, fitting onto mountain, road, touring, and even electric bikes
What We Didn't Like:
Only designed to be installed on frame saddle's post tube or angled downwards
Bottom Line:
I went for the red design but it looks like an orange side load water bottle cage. Still, I appreciate how it makes my bike stand out. Plus, its secure grip is excellent.
What to Look for When Buying Side Load Water Bottle Cages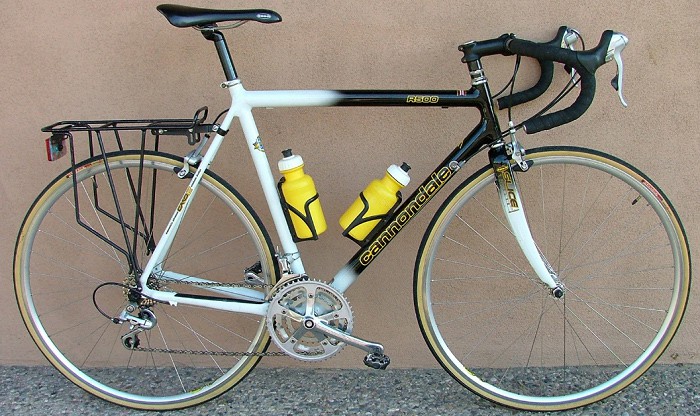 It is essential to know the basics first, such as the different cage types. Knowing these common types of water bottle cages greatly helps bikers know what style suits them best. So, before we go through the features, let us tackle these types.
Traditional Alloy Holder
A primary circular metal loop. Although heavier than space-age holders, they are safe, inexpensive, and twisted back to retain their shape.
Carbon or Polymer 'Wraparound' Holder
It is the racer's pick due to its low weight and sharp appearance, although top-end models usually come at a premium pricing.
Rear Mount Systems
Holders can be mounted behind the bike seat using installation brackets, which improves aerodynamics for TT and tri bikers. It also adds storage to tiny bike frames.
Bar Mount Systems
Aerobar installation plates permit bike cages and bottles to be placed close to the cyclist's face, which is a good and convenient feature. This allows TT and triathletes to sip (via a straw) while keeping the aerodynamic tucking posture.
Knowing the four types can go a long way in choosing the best one for us. And now that we know them, it's time to focus on the qualities and features of a good product. These qualities help us determine the product that can last for ages.
There are differences between a top-load cage and a side-load cage, as we already know. So, when we select our side-load water bottle cage, we must examine various factors. Here are some of the elements to consider while choosing the best side load water bottle cage.
Materials: Plastic or steel bottle enclosures are the biker's favorites, with Aluminum alloy as the most popular choice. Manufacturers also make bottle cages out of fiber-reinforced substances and also carbon fiber. Although each item has advantages and disadvantages, Aluminum Alloy is by far the most reasonable option.
While also being light, Aluminum Alloy has a lot of resilience and toughness. It's also the cheapest material available. A holder usually composed of fiber-reinforced plastic can also be a good option.
Suitable Qualities or Specifications: Bikers usually go for a top-load bottle cage. Still, due to its incompatibility with full suspension bikes, riders find a side-load water cage preferable.
We need to select a water bottle cage that fits our bicycle frame perfectly, just like the Bontrager side load cage. Before making the big purchase, it's best to double-check our bicycle frame and the cage dimensions.
Bottle retention: Because the holder's primary role is to secure the water container, it must firmly hold the beverage around the neck or the jug's body. Wraparound structures and the natural spring in the material are used among minimalistic carbon or plastic holders to grip the jug's body instead of the neck area.
Although, anyone biking on bumpy roadways or off-road enjoys the powerful hold of a 'conventional' style metal holder. Some models include silicone inlays or collars on the container's exterior to provide more traction and absorb roadway shocks that cause the bottles to break off.
Size: Some water bottle holders have conventional measures to hold both big and small containers. Their collars typically have the exact placement regardless of size). However, others incorporate flexible bottle stoppers to fine-tune the fittings and grip.
One benefit of Alloy cages is their ability to bend back into shape after losing their retaining hold over time. This usually happens when road shocks and full beverage bottles go together.
Firm grip: It's critical to get a bottle cage with a firm hold. Thanks to its peculiar structure, one product that guarantees a firm grasp is the Bontrager-left side load water bottle cage.
Since we are bound to meet a speed bump along the way, it is vital to have a bike cage that keeps our water bottles safe. It must never pop out of the cage simply because we don't want to lose them.
Smooth Water Bottle Release: Even a bottle holder with a tight grasp is known for scratching water bottle surfaces. Thankfully, some manufacturers have found a solution to overcome this issue. Bottle enclosures, especially the products listed in this article, can provide a solid grasp while swiftly releasing bottles.
Compatibility: Riders love to bring at least two water bottles on their trip, and the same goes for me. Water bottles come in different designs and colors, so choose one that fits various-sized bottles with expandable features.
Warranty or Money-Back Guarantee: the only way to effectively know if the holder can accommodate a water bottle is to buy and install it. That's why products having a warranty are preferable to those without it.
It allows us to try out the bike cage and return it if it's not compatible. Besides that, a warranty enables us to keep trying until we find the best side-entry cage for us. A warranty also comes in handy for products with missing parts upon package delivery.
Now that we know all the crucial things to remember in choosing a side-load bottle cage, it's time to understand how to install it. There are a few things that a biker must know and note down before the installation process starts. And before we go through the steps, we must prepare or consider a few things, especially if it's our first time.
How Do I Install Side Load Water Bottle Cage? Do I Have to Drill Into the Frame?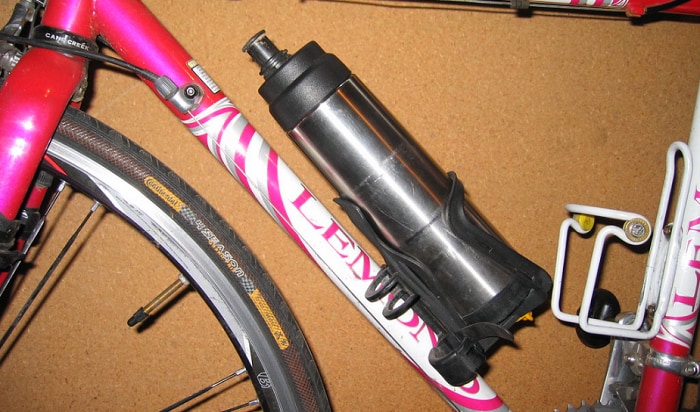 Here are the tools needed for a quick and easy installation.
Wrench: A Hex or Allen key can usually be used to tweak the securing rivets. We have to check the diameter of installation bolts to determine the critical size, whether it is 3mm, 4mm, or something else.
Mounting Bolts: Some bike cages in this listicle include installation screws. A standard one requires two bolts for installation. These mounting bolts also vary in size, and a biker may need a separate tool for each size.
Installation Holes: A bike cage's mounting holes are typically round, although some manufacturers ovalize the holes to allow for a few adjustments. Bottle holders with slotted installation openings, such as Blackburn's, are pretty rare.
Mounting a side-load water enclosure should simply take a minute or two.
Here's how to set up a side-load cage:
Secure the Screw Holes – the first step is to double-check that your bicycle frame has the essential openings for the bottle enclosure to be installed. If it's hard to find, I recommend visiting a professional rather than drilling holes alone, as this can compromise the bicycle's structural integrity.
Hole Alignment – next, take the bottle enclosure and place that against the bike frame's area where the gaps are. Ensure that the enclosure's screw holes line up with the holes on the bicycle.
Install Screws – after aligning the installation holes and bicycle holes, it's time to install the bolts. Afterward, clamp down the bolts and tighten them using a Hex wrench. This step requires carefulness because overtightening them harms the cage or possibly the bicycle.
Lodging the Bottles – although this isn't exactly a stage including installation, I recommend testing the holder's functionality by putting the bottles inside. Even a novice can attach a side-load cag holder with this.
Some bike frames would not require bikers to drill holes during installation, which is a good thing as it is less time-consuming.
Are Side Load Bottle Cages Good
Side loading bottle cage models are effective choices on specific bikes. In particular, full-suspension bikes are ideal choices to be fitted with one of these cages. LEZYNE's Side Load Flow Bike Bottle Cage would be a perfect example of a suitable choice for full-suspension riders.
But checking the bike frame and cage measurements is vital before deciding. It's the only way to ensure the chosen water bottle cage side load model is compatible. Otherwise, it could be a total waste of money and time.
How Tight Should a Bottle Cage Be
Providing a general answer for the proper tightness of a bottle cage is difficult since it has different styles and sizes. That said, the bolts of a bottle cage for small frame bike should be tightened with a force of 1-2 Nm. This recommendation applies to carbon frames, but you can go up to 5 Nm for other materials.
It is necessary to read through the directions before installing bottle cages. These instructions will provide detailed information about how to secure them. Bikers usually want these holders to be snug but not overly tight. An overly tight holder can cause various issues and weaken the structural integrity.
How Long Does a Side Load Water Bottle Cage Last
A side load water bottle cage's longevity will depend on its construction quality and how well the owner maintains it.
Buyers will want to research what materials were used in building the cage for this first factor. However, it will be pretty easy, considering most brands are very forward about it. Plus, other customers will offer a heads-up about any options that fail to meet expectations.
Meanwhile, taking care of side load bottle cage MTB or road bike options isn't tricky. It's a simple matter of checking on it regularly for loose bolts and other issues. From there, don't let problems linger to ensure no long-term damage occurs.
If a buyer knows these two factors, there's no reason an option can't last a decade. It's just a matter of choosing a solid option like PLANET BIKE Side Load Water Bottle Cage and keeping it in good condition.
Conclusion
We're done introducing the best features to look at when choosing the best side load water bottle cage. It is also accompanied by the top products, which have the most qualities of a good bike cage.
Remember to choose the right one to prevent losing our favorite water jug. Having the holder can also help to avoid discomfort to our legs as we pedal because there's a huge chance of it hitting the bike jug holder.
Now that we made it this far, the selecting procedure shouldn't be difficult or time-consuming. Hopefully, you will make a well-informed verdict that will enhance the riding experience for years to come.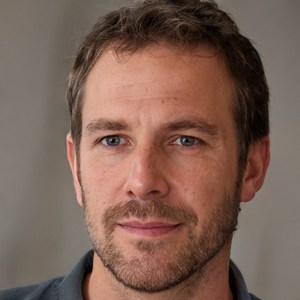 "I ride my bike to work for years, but is that enough? Our carelessness towards our surroundings has taken a toll on the environment. And now, everyone is responsible for changes; even the most minor contribution is counted. With this hope and spirit, I started with my partner to establish Biketoworkday to help more individuals commute to their work sites on their bikes."