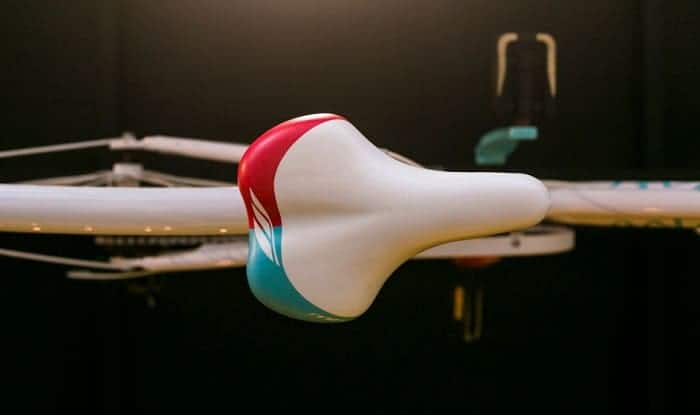 People who want to ensure a more comfortable biking adventure free from perineal discomfort and pain must consider getting the best bike saddle to prevent numbness. Riding for countless hours with the butt firmly pressed against the saddle can lead to a numbing feeling, robbing the cyclist of the pure joys of the ride.
Studies show that one's choice of a bike seat can impact overall riding comfort, particularly the occurrence of perineal numbness. Three critical factors play a role in one's choice.
Rear Saddle Width: The saddle must have a broader rear section than its front to support the rider's buttocks and reduce perineal pressure. While there are no ideal measurements, the tp[-rated saddle should accommodate the butt, particularly the ischial tuberosities or sit bones. Hence, a bike seat with a more expansive rear section is better than a narrow back.
Cushion: Similar to orthopedic beds, a saddle comfortable to the perineum must have sufficient padding. Most bike seats come with regular foam padding. The tip-tier products have gel foam, allowing for a more comfortable rest area for the rear end.
Center Channel: The perineum is at the body's centerline between the anus and the vagina or penile base. That is why the bike saddle should have a midsection channel, indentation, or slot that does not exert pressure on the perineum. It is a better design than seats with bulging center sections.
Bicycle owners can also consider other factors exemplified in the following bike saddles we reviewed. One can also check them out in our comprehensive buying guide.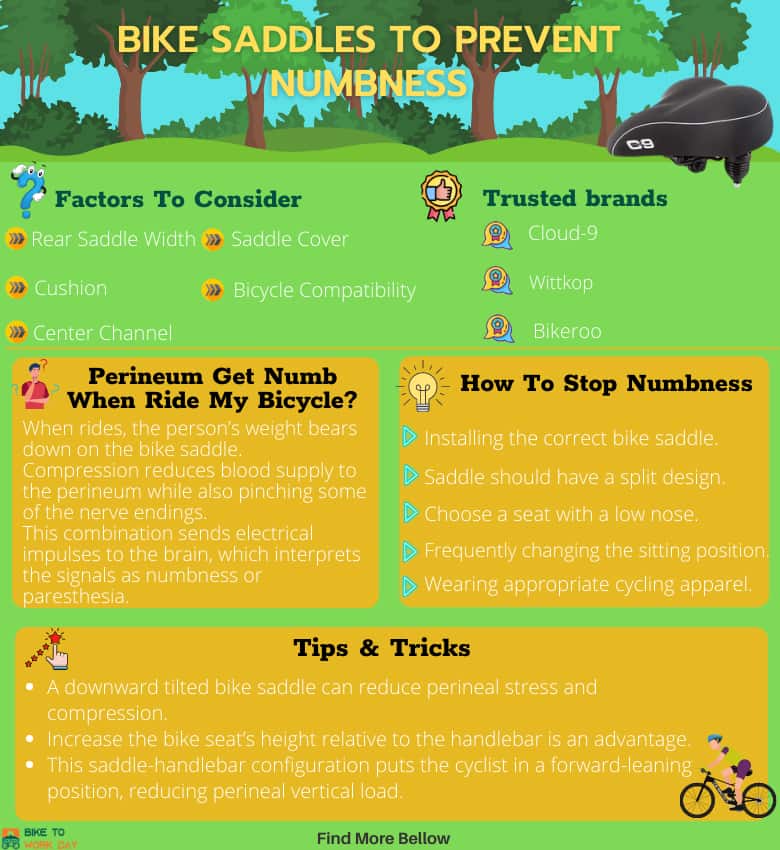 ---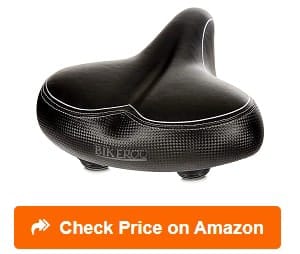 Bikeroo Oversized Bike Seat
Narrow nose
Soft and thick cushion
High-quality leather cover
---
Schwinn Comfort Bike Seat
Spacious base
Soft padding
Great price
---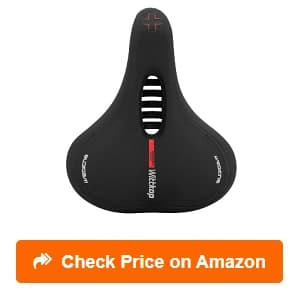 Wittop City Bike Seat
Integrated mid-split
Universal design
Waterproof seat cover
---
Top-Tier Saddle to Prevent Numbness Reviews
1. Bikeroo Oversized Bike Seat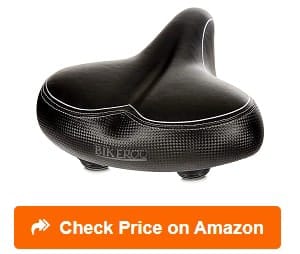 The Bikeroo Oversized Comfort Bike Seat does not only prevent perineal numbness when biking. It can also improve overall comfort by reducing lower back pain incidence, allowing riders to enjoy their adventures better than conventional bike seats.
One look at this saddle, and people will know its capabilities. It has a spacious 10.2-inch rear section to accommodate most buttocks. While obese cyclists may have issues sitting on it, the saddle's width is sufficient to support the sit bones or ischial tuberosities.
Complementing the extensive base is a super-narrow nose that slants downward at the front. The slim front profile minimizes friction on the groin, ensuring a more comfortable ride.
It is not surprising that tourers, professional cyclists, recreational bikers, and gym buffs love sitting on this saddle. They will never feel uncomfortable, regardless of the length of bike use.
I love the leather covering its thick and dense foam cushion. It is effortless to clean while giving the saddle a more refined look. I am confident it will look lovelier with time.
One can use this saddle on almost any bicycle, including touring bikes, racing rigs, and exercise bikes. Mountain bikers and BMX stunt performers will also appreciate it.
I also like the elastomeric suspension system, making each ride as comfortable as one can imagine. Bumps, potholes, and other road imperfections will never dampen the biking experience because the springs absorb the impact forces like a charm.
Heads-up:
Unfortunately, using leather for its cover bumped this saddle's price to more than twice the cost of other bike seats. It is a small price to pay if one looks at leather's durability and elegance.
What We Liked:
Wide base for improved comfort and body support
Narrow nose for enhanced riding ease
Soft and thick cushion for comfort
High-quality leather cover for durability
Spring suspension system for riding comfort
Bottom Line:
Overall, I recommend this bike saddle for people who want to get rid of perineal numbness every time they ride a bike. Elderly cyclists will appreciate its cushiony design, helping them with their back problems while ensuring an engaging biking experience.
2. Schwinn Comfort Bike Seat
Seasoned cyclists can attest to the comfort and numbness-reducing capabilities of the Schwinn Comfort Bike Seat. After all, it is one of the world's leading bicycle manufacturers. People can trust its products to be nothing less than top-notch.
Like the best bike saddle to prevent numbness, this bike seat has a spacious rear section to accommodate the ischial tuberosities.
While it does not have any fancy cushioning, its soft foam padding offers better comfort than other brands I know. Sitting on this saddle for hours will never make the butt feel like it is on fire. It is not surprising many consider it the right road bike saddle for long rides.
I appreciate its lightweight design, making biking more pleasant because the saddle will not impact the bicycle's overall weight. While lightweight, its robust construction gives riders peace of mind. It will never balk under the pressure of the rider's weight or the constant rubbing of the buttocks and groin on the polyurethane cover.
The rails and mounting hardware have a universal design, making the saddle a cinch to install on any adult bike. One can install the bike seat on a BMX, a mountain bike, a touring bicycle, or a stationary bike at the gym.
The best part about this bike saddle is its affordability. It is surprising to learn people do not have to spend a fortune on a big-name brand.
Heads-up:
My only lament is its PU cover. I wish it were leather to make it more pleasant to ride on and give the bicycle a more elegant look. Regardless, the cover is waterproof, so it should be a great choice overall.
What We Liked:
Spacious base for exceptional support and comfort
Soft padding for maximum riding comfort
Lightweight and sturdy design
Compatible with different bikes
Great price for many buyers
Bottom Line:
This bike saddle is perfect for biking enthusiasts who may want a more comfortable, numb-free ride. It has all the makings of a great bike seat, including reliability, durability, and versatility. Its padding offers sufficient support for the sit bones to reduce pressure on the perineal area.
3. Wittop City Bike Seat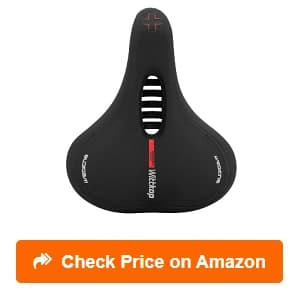 Mountain bikers, off-road cyclists, BMX stunt riders, and freestyle cyclists will love the Wittop City Bike Seat. Despite having the "city" term in its name, it is one of the most comfortable MTB saddles for perineal numbness.
I love this saddle's exceptional five-zone design. The nose tapers gradually to ensure maximum comfort, while the front sides offer an extraordinary frictionless surface. The midsection has two zones, one for relieving perineal pressure and another for promoting efficient airflow. The actual seat at the rear provides enough space for the buttocks.
Looking at its split midsection, I think this saddle deserves five stars. The channel improves air circulation passing from under the seat, cooling the rider's perineum and safeguarding against excessive perineal sweating.
The design also prevents the perineal area from touching the saddle's surface, ensuring one will never have sore or numb perineum after a whole day of biking.
Although the cushion is slightly thinner than the Cloud-9 Cruiser, I commend the company for using memory foam. This material conforms to the user's buttocks, ensuring optimum comfort and maximum weight-bearing support.
I also appreciate this bike saddle's waterproof cover, allowing users to wash and clean their bikes without worrying about degrading the components.
Sitting on the saddle is a relaxing experience. I do not feel any discomfort, regardless of how long I ride my bicycle. It also has a universal design, allowing installation on different bicycles. I know of some people who install the saddle in their stationary bikes.
Heads-up:
Alas, some people may find the seat a little smaller than other products. Its maximum rear width is only 8.5 inches, two inches shorter than the Cloud-9 Cruiser.
What We Liked:
Ingenious five-zone seat design
Integrated mid-split for cooling comfort
Integrated memory foam for optimal support and comfort
Universal design for different biking use
Waterproof seat cover
What We Didn't Like:
Narrower rear section than other bike saddles
Bottom Line:
Nevertheless, it remains an excellent choice for any biker who wants maximum comfort during rides. The seat's ingenious design translates to perineal numbness-free biking, regardless of where the rider decides to take the bike for an adventure.
4. TONBUX Bicycle Seat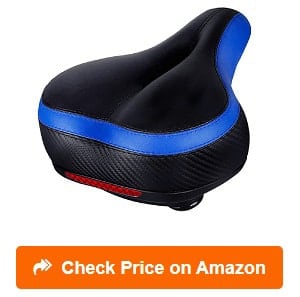 People looking for a reliable perineum bike seat need not look further than the TONBUX Bicycle Seat. This saddle has a unique shape, a mid-split, a spacious seat, and extra-soft cushioning to support the sit bones and remove pressure from the perineal area.
I love its center channel, making it a breeze (literally!) to sit on the saddle for countless hours without pain or numbness in the perineum. The cavity allows air to flow from underneath the saddle while relieving pressure from the perineal area. The tapered nose also helps in limiting shear load forces on the perineum.
The thick gel foam base is also commendable. While it is not memory foam, the padding is sufficiently resilient, never to lose shape after many years of biking abuse. The buttocks will never feel sore after biking on rocky and uneven terrain.
With 11.41 inches of butt space, bicycle riders will love the support this saddle has on their lower end. It relieves pressure on the spine's tail, ensuring cyclists will never complain of low back pain or other discomforts.
Complementing the cushiony padding is a pair of ball-type shock absorbers. It is not a high-end suspension system, but it does an excellent job of softening the bike ride. It is another reason why the bike saddle is an outstanding choice for preventing perineal numbness during biking.
I appreciate the reflective strip at the bike saddle's back. Even if most bikes already have a reflector at the rear, having this element further improves the biker's visibility when cycling at night.
Heads-up:
I like its anti-scratch and super-smooth bike saddle cover. Unfortunately, it is not genuine leather, although the saddle looks like an elegant leather bike seat.
What We Liked:
Center channel for optimum perineal comfort
Thick gel foam for adequate buttocks support
Expansive seat for enhanced comfort
Excellent shock absorption properties
Integrated reflective tape for nighttime road safety
Bottom Line:
Overall, this bike saddle deserves serious consideration by anyone who requires exceptional butt support and perineal numbness prevention. It is comfortable to sit on and is effortless to install on any bicycle.
5. Gincleey Memory Foam Bike Saddle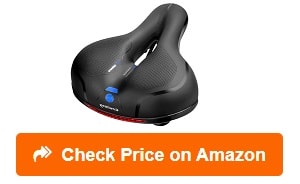 The Gincleey Memory Foam Bike Saddle is one of our more versatile options with its ability to fit into various applications. For instance, it has proven to work as a bike seat for indoor trainer, mountain, BMX, and electric bikes. When I installed it, it did an excellent job replacing my not so comfortable fixie seat.
Bikers can attribute this comfort and versatility to its impressive design. Honestly, I couldn't believe the coziness of its memory foam padding when riding. It has also ensured I don't feel any saddle numbness cycling.
This bike saddle does an excellent job of providing safety for riders. It has a red warning strip to improve my visibility at night, so cars and other people can see me. Due to this, I feel much safer doing my after-work bike rides.
Furthermore, I'd be doing the product a disservice if I didn't praise its easy installation process. It only took a few minutes to place this saddle onto my mountain bike. Gincleey included all the necessary mounting tools to make it even more convenient.
I don't have to worry about replacing this option anytime soon, either. It offers a durable construction made with waterproof materials to ensure longevity. I've been using it regularly since purchase, and no signs of wear or tear have occurred.
Another notable benefit is this product's affordable price. I found it a bit shocking when first coming across it, considering all of the saddle's wonderful attributes. But this brand somehow managed to make this bargain product a contender for the most comfortable bicycle seat for seniors and other riders.
Heads-up:
As for its flaws, the only notable one was a few customers mentioning packaging issues. It seems the product doesn't have enough protection in the shipping container.
What We Liked:
Versatile design fits various applications ( indoor trainer, Mtb, BMX, and electric bikes)
Cozy memory foam padding reduces saddle numbness
Red warning strip for safety and visibility at night
Easy installation process with all mounting tools included
Durable, waterproof construction for longevity
A more affordable, bargain-level price
What We Didn't Like:
Packaging issues with container
Bottom Line:
But I wouldn't worry too much about it, as most people were delighted by this MTB saddle for numbness. Plsu, its other excellent features make taking this small risk worth it.
6. Sunlite Cloud-9 Cruiser Saddle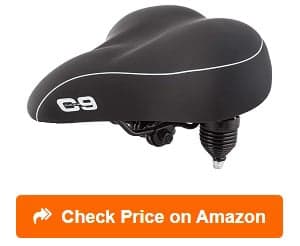 I consider the Sunlite Cloud-9 Cruiser the right bike saddle for numbness. It has an ingenious design that supports the butt cheeks while removing the pressure off the perineal area,
The dual humpback design gives this bike saddle its astonishing ability to prevent perineal numbness. Underneath its premium-quality vinyl cover is a gel foam-reinforced cushion. It is dense on the butt section, tapering towards the groin.
Riding the bike is not only comfortable but also super smooth. It has chrome-plated coil suspension springs that soften the impact of a bumpy ride. I can take my mountain bike on rocky hills without worrying about getting sores and welts on my buttocks.
I also appreciate its low-nose design, making me shift my weight forward and reduce pressure on my sit bones.
While it does not have a split midsection, this saddle has a low-nose design and dual humpback rear sections that create a deep channel in the seat's center. The indentation serves as a pocket for eliminating perineal pressure so that riders will never complain about numbness or pain in their perineal areas ever again.
Its 10.5-inch wide rear section is sufficient to support a male or female cyclist's buttocks without causing discomfort. It also works with different seat posts, improving its versatility. One can install it in a mountain bike, an off-roader, a racer, or even a BMX bicycle.
Heads-up:
Unfortunately, setting this bike saddle up can be tricky because it involves several trial-and-error sessions. Once the user identifies the sweet spot, it should be a pain-free and more enjoyable ride from there.
What We Liked:
Universal design for unisex use and installation ease
Thick yet soft padding for support and comfort
Heavy-duty suspension for a smoother ride
Low-nose design for improved comfort
Premium-quality vinyl material for durability
What We Didn't Like:
Can be tricky to get the correct setup
Bottom Line:
I recommend this bike saddle to anyone who wants a more comfortable biking adventure, free from perineal numbness and pain. It is versatile and effortless to install. Moreover, its admirable design helps support the buttocks only a few other saddles can.
7. BLUEWIND Bike Seat
One problem with most bike saddles with spring suspensions is that they tend to be noisy. While some bikers do not mind, other cyclists may find the creaking or squeaking noise too annoying. That is why the BLUEWIND noiseless bike seat is an excellent choice for such bike owners.
Under the saddle is an ingenious system of dual rubber balls forming the bike seat's suspension mechanism. Not only does it guarantee a bump-free ride, but the shock absorbers also do not irritate the ears.
I no longer hear squeaking sounds even when biking on gravel, rocky terrain, and uneven ground. There is no need for lubrication, either.
While I love a mid-split section, having a center channel in this saddle is sufficient in preventing perineal numbness. It supports the groin and the sit bones squarely on the memory foam-filled saddle. The gentle sloping nose also aids in minimizing perineal pressure, ensuring a more comfortable ride for hours.
One can install this bike seat on almost any bicycle. I have seen people having the saddle on their mountain bikes, BMX bicycles, exercise bikes, and even touring cycles. The comfort the saddle provides is exceptional, particularly when one considers its spacious base.
I also like this bike saddle's rubber cover. It is not leather, but it is better than microfiber cloth because one can wash and clean the bicycle without covering the seat. Rubber forms a natural waterproof barrier for the memory foam underneath.
Heads-up:
Alas! While it has memory foam, I find this saddle's weight limit prevents some people from enjoying its benefits. Anyone heavier than 200 pounds may find the cushion insufficient to be comfortable.
What We Liked:
Ergonomic design with a spacious base for better support
Integrated center channel for perineal comfort
Unique anti-vibration technology for a comfortable and noiseless ride
Universal design for maximum bicycle compatibility
Waterproof cover for effortless cleaning
What We Didn't Like:
Not ideal for heavyweight cyclists
Bottom Line:
Despite this concern, many people still get this replacement saddle for their bikes. It relieves pressure from the perineal area and the lower back, allowing riders to make the most of their biking adventures.
8. Roguoo Bike Seat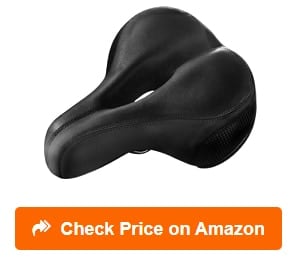 The Roguoo is one of the most dependable bicycle seats that protect the perineum, ensuring a more comfortable biking adventure without creating a hole in one's pocket.
This bike saddle has an uncanny resemblance to the TONBUX, making it a reliable seat for preventing perineal numbness.
It has an oversized rear that spans 9.8 inches, suitable for supporting the ischial tuberosities, minimizing pressure on the tailbone. Bicycle riders will have a comfortable ride, no matter how bumpy the road or extended the biking adventure is.
Underneath the all-black faux leather is a dense memory foam that supports the body like orthopedic beds. I like it better than ordinary foam, although memory foam tends to be hotter than gel foams.
The good news is that there is a center channel that facilitates more efficient airflow. Not only does this mid-split ensure a breezy ride, but it also eliminates pressure on the perineal area.
I love the shock absorbers underneath the saddle, ensuring a comfortable ride regardless of the terrain's unevenness. It is like sitting on a luxury seat, never feeling the bumps and potholes on the road. The suspension also helps minimize pressure on the lower back and perineum by absorbing impact forces before they reach the body.
I prefer this saddle's cover over the TONBUX because it has a more elegant, leather-esque appeal. One will never slide off the saddle, and the company designed it for maximum wear resistance.
Heads-up:
However, it could have been wider, though.
What We Liked:
Oversized saddle design for improved support
High-quality memory foam for optimal riding comfort
Integrated shock absorbers for a pleasant ride
Built-in airflow vent for perineal pressure relief
Waterproof, wear-resistant and non-slip saddle cover
Bottom Line:
Nevertheless, I agree with many bikers saying that this bike saddle is perfect for preventing perineal numbness. Its cushion is thick and comfortable, while its integrated airflow vent is exceptional in eliminating pressure on the perineal area. The saddle offers a comfortable ride to let anyone enjoy biking indoors or outdoors.
9. Fizik Argo Tempo R3 Saddle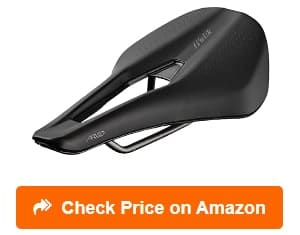 Fizik saddles are some of the most revolutionary bike seats I've seen. Take the Argo Tempo R3, for instance. This bike saddle has several technological advances that not only ensure a numb-free and comfortable ride. One can also use it for a lifetime.
I love this saddle's ingenious design. It may not have the most spacious rear section on this list, but it compensates by providing bicycle riders with an optimized seat design.
First, there is the progressive cushioning technology that minimizes ischial tuberosity compression. The design frees riders from low back pain and numbness.
Complementing the Type 2 foam is the Wingflex system that adapts to the rider's thigh movements. One will never complain about groin irritation or inflammation because the seat's front edges bend to accommodate the thighs.
Second, the center channel has a more substantial cross-section than other bike saddles. It ensures freedom from pressure on the perineal area, regardless of the rider's size and weight. Never again will bikers have to worry about numbness and prickly pain in their perineum and groin.
Third, its construction is noteworthy. I love the Kium hollow rail that fits into any adult bicycle. The premium-quality steel also has an exceptional strength-to-weight ratio, an attribute many racing cyclists and tourers will appreciate. When one considers the nylon shell, it is easy to see why many professional cyclists install this saddle on their bikes.
Heads-up:
Unfortunately, these technological advances come with a premium. However, it is a small price to pay for the right saddle for preventing perineal numbness and lower back pain.
What We Liked:
Wider center channel than other bike saddles
Adaptable foam cushioning and side edges for optimum comfort and support
Super-strong nylon shell for durability
Heavy-duty bike saddle rails for strength
Universal fit for optimum bike compatibility
Bottom Line:
Replacing one's saddle with this bike seat is a wise choice. It may be expensive, but one can feel more confident about the saddle's exceptional strength and dependable comfort-giving performance. Moreover, it does a splendid job of eliminating numbness and pain from the perineal area and the lower back.
What to Look for When Buying Bike Saddles to Prevent Numbness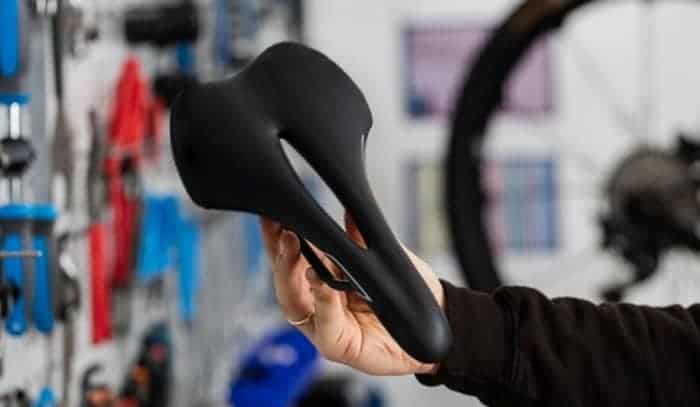 Saddles are a crucial part of any bicycle, whether a mountain bike, a touring cycle, a racer, or an exercise bicycle. After all, no rider will want to sit on a platform that brings discomfort and pain to the biking experience. Among many types available, a noseless bike seat is among the choices that reduce numbness.
Choosing the ideal bike saddle for groin numbness and low back pain is essential for an enjoyable ride. Thankfully, buying bike saddles to prevent perineal numbness and low back pain is a straightforward process if one looks for the following bike seat attributes.
Traditional saddles have a base or rear section width of about six to seven inches. The width is insufficient to support the body's two opposing ischial tuberosities or sit bones. When one sits on these saddles, the ischial bones touch the bike seat's edges and lead to discomfort.
A saddle that prevents perineal numbness and low back pain must support both sit bones simultaneously. That is why it would be top-rated to look for a bike seat with a rear section width of at least eight inches. Riders with a small frame can pick a saddle with a narrower rear cross-section.
A spacious rear saddle section is only part of a larger equation. Also essential is the cushioning underneath the cover. The thicker the padding, the better it is in supporting the rider's weight. It distributes the vertical load squarely on the two sit bones.
Most bike saddles feature ordinary foam, while more advanced bicycle seats come with gel or memory foam. Both paddings conform to the buttocks' natural contours and relieve pressure from the tailbone and sit bones. However, gel foams tend to be cooler than memory foams because their liquid-like consistency absorbs body heat.
Some bicycles offer advanced cushions that conform to the rider's shape, relieve ischial pressure, and provide overall cooling comfort.
A center channel is an absolute must in any bike saddle that prevents numbness. There are two designs bicycle owners can choose from.
First, a mid-split saddle has an elongated hole in its center. The gap between the two sides accommodates the perineal area, eliminating pressure and other shear forces on the perineum. This saddle design is beneficial among male bicycle riders because the open slot also minimizes testicular compression.
The second type is almost similar to a mid-split saddle, except that there is no hole in the middle. Instead, the seat features an elongated indentation or channel that runs along the bike seat's midline.
Both designs relieve pressure from the perineal area, allowing bike riders to enjoy a numb-free and painless biking experience.
Most bicycle riders prefer leather materials for a seat cover. It is more elegant, easy to clean, and durable. Leather is also gentler on the skin, minimizing groin and inner thigh irritation.
Unfortunately, leather can increase the saddle's price. A more affordable option is high-quality rubber. It is waterproof and effortless to maintain. The only issue is that it can turn brittle if exposed to high temperatures.
Other popular options include microfiber cloth and polyurethane fabrics. These materials are inexpensive choices for budget-conscious bikers.
Saddles for numbness prevention must fit most adult bicycles, regardless of type. It makes no sense to buy a bike seat that one cannot mount into a bicycle.
The rails and mounting hardware must fit different bicycle types and models. The saddle should be compatible with BMX bikes, mountain bikes, racers, off-road bicycles, stunt bikes, exercise bicycles, and touring cycles.
Why Do My Perineum Get Numb When I Ride My Bicycle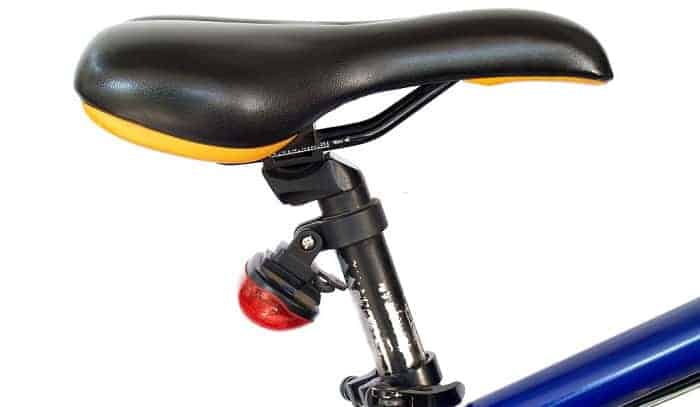 The perineum is a body part that lies between the anus and the vagina in females and the penile base in males. Like all organs, the perineum contains blood vessels, nerves, muscle, soft tissues, and skin.
When someone rides a bicycle, the person's weight bears down on the bike saddle. Compression of the different perineal components occurs because of the rider's weight pressing against the hard and immovable saddle.
Compression reduces blood supply to the perineum while also pinching some of the nerve endings. This combination sends electrical impulses to the brain, which interprets the signals as numbness or paresthesia.
Relieving the pressure from the perineum by shifting the weight or getting off the bike seat restores blood flow and reawakens the nerves. It results in a pins-and-needles sensation that always follows numbness.
Why Do My Feet Go Numb When I Ride My Bike
Foot numbness is a common nuisance for bikers. It often stems from nerve compression or lack of blood circulation to the foot.
These, in turn, stem from overly tight shoes or inadequate arch support. Staying in one position for too long may also impede blood circulation, which is why flexing your feet or walking in between bouts of cycling can help.
It's also worth mentioning that foot numbness tends to occur during more prolonged, intense rides. So bikers should look into these issues before attempting a long cycling trip, especially for heavy rider who use intense exercise to lose weight. Otherwise, the ride could become unbearable.
Bikers can try to deal with this problem during the ride. For instance, anyone who experiences foot numbness could try loosening their shoes. It could be a stop-gap solution to get through the commute until they can fix the issue completely.
Can Saddles Cause Numbness in Feet
Saddles can be a primary factor in a cyclist experiencing foot numbness. In these cases, it's often a result of a saddle being positioned too high for the rider. This lousy positioning causes the rider to overextend their foot while pedaling, resulting in numbness. Your back may also experience discomfort as a result.
Hence, riders must do what they can to ensure their saddle is positioned correctly and ride with good posture.
It'd also help to choose the most comfortable bike seat for one's needs. These actions will contribute to a less strenuous ride and less cycling saddle numbness.
Where Should Your Sit Bones Be on a Bike Saddle
Bikers would be wise to position their sit bones evenly on the saddle. But it's essential to ensure they're centered, or it could lead to many problems. In these situations, you start hearing bikers complain about how their bike seat hurts crotch areas.
Obviously, nobody wants to experience that type of pain. So it's vital to be overly cautious about how you sit to avoid discomfort. I'd also consider looking at perineal numbness bike saddle specific products like any option mentioned in this article.
Another good starting point may be a noseless saddle, which puts less pressure on the perineum and might help prevent erectile dysfunction.
What is a good bicycle seat for hemorrhoids?
If you have hemorrhoids, some features that may make your saddle more comfortable are: extra padding, a split center design, and a wider seat.
Some riders have also found saddles from Serfas RX to work well. These products come with sufficient sit bone support, put less pressure on neurovascular nerves, and have low friction.
How Do I Stop Numbness When Cycling
Cycling-related numbness occurs because of unnecessary pressure on the perineum.
The most suitable way to prevent cycling paresthesia is by installing the correct bike saddle. It must have a wide rear section to accommodate the ischial tuberosities ('sit bones') and stop the perineal area from touching and pressing against the saddle's surface.
Ideally, the bike saddle should have a split design in the middle where the perineum would sit. This feature minimizes pressure on the body part and prevents perineal numbness when cycling.
Alternatively, one can choose a bike seat with a low nose to minimize contact with the front perineum.
Frequently changing the sitting position can also help stop numbness when cycling. One can stand on the bike pedals from time to time to reduce perineal pressure and promote adequate blood flow to the area.
Wearing appropriate cycling apparel can also help minimize perineal numbness by reducing shear forces on the perineum.
Setting the saddle higher than the handlebar will push the body towards the bike's front and reduce the pressure on the perineal area. One can achieve the same effect by tilting the saddle down towards the handlebar.
How Do I Set Up a Bike Saddle to Prevent Numbness
Studies confirm that a downward tilted bike saddle can reduce perineal stress and compression. This bike seat angle lifts the ischial tuberosities and the perineal cavity from the saddle surface.
Unfortunately, there are no recommendations as to the ideal downward saddle angle. Riders will have to experiment with different bike-seat downward tilts in increments until they can find the top-tier angle that eliminates perineal numbness.
Besides saddle angle, it is also advantageous to increase the bike seat's height relative to the handlebar. One can look at long-distance cyclists, such as those in the Tour de France or other major cycling events. Their saddles are always higher than the handlebars, and one will never see them complain about perineal numbness.
This saddle-handlebar configuration puts the cyclist in a forward-leaning position, reducing perineal vertical load.
However, this position is not very comfortable for recreational cyclists or road bike riders.
Conclusion
The best bike saddle to prevent numbness has a wide rear section that minimizes pressure on the ischial tuberosities. It also has optimal cushioning, supporting the rider's weight and distributing it uniformly across the seat. The saddle also features a center channel that eliminates perineal pressure.
Knowing how to set up the bike saddle properly can also help prevent perineal numbness when biking. Observing other measures can also ensure a more pleasant, numb-free ride.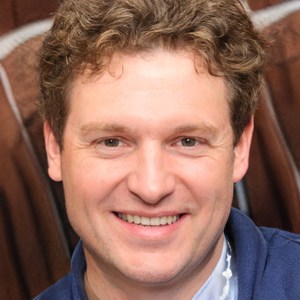 "Bike commuting should be the trend for the next few years, and it is a convenient and eco-friendly way for us to travel. And we are here to make it a bit less troublesome for people who want to maintain their vehicle for a long time. So, the content I expect to put out here is offering help for bikers who are facing issues with parts of their bikes once in a while. Let's have fun and protect the environment together!"