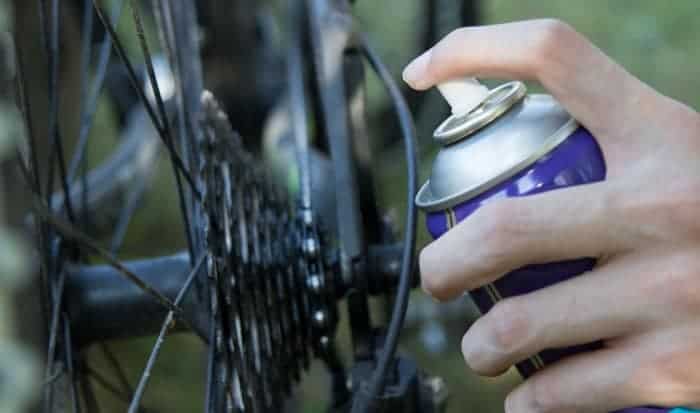 The best bike degreaser can keep a bicycle's drivetrain in tip-top shape and optimal functioning.
Not only does it ensure exceptional shifting performance and phenomenal speeds, but it can also improve the bicycle's overall look. After all, no one wants to ride a bike with dirty and grimy chaining, cassette, rings, and other drivetrain components.
While any lubricant can safeguard the bike transmission's optimum functioning, only a bicycle-formulated degreaser and cleaner can remove stubborn grime and caked-on grease from the chain, cogs, rings, and other bike components.
Choosing the correct product is essential in ensuring the bicycle drivetrain's stellar performance. Here are three factors that buyers of bike degreasers must consider.
Effectiveness: The ideal bike degreaser must strip grease, grime, muck, and other sticky residues from the bicycle's chain, cassette, cogs, ring, and other transmission components. Unfortunately, it is not easy to determine a product's effectiveness until application. That is why one must consider more creative ways of evaluating this parameter, such as looking at reviews.
Application Ease: The less complicated the product's application process, the better. Most bikers use spray degreasers because they are more convenient than liquid forms. Aerosols are also excellent, but they may impact the environment.
Safe Formulation: Degreasers contain substances that may harm the environment, the bicycle owner, or the bike. Thus, it would be top-rated to get a product with a biodegradable and safe formulation without undermining its ability to eliminate grease from the chain.
Excellent bicycle transmission degreasers and cleaners do not only have the attributes mentioned. These products can also have other properties worth considering. Bicycle owners can look at these factors in our product reviews section and the comprehensive buying guide that follows.
---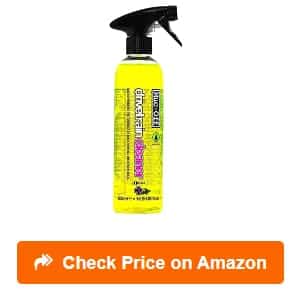 Muc Off Cleaner
Powerful grease
Non-irritating smell
Effortless application
---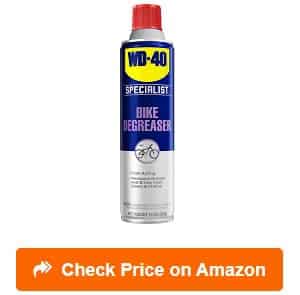 WD-40 Bike Degreaser
Unique foaming action
Dries up quickly for no dirt
Causes no damage to bike paint
---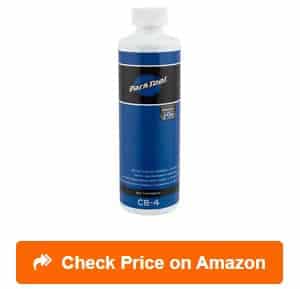 Park Tool CB-4
Superior grease-cutting formula
Plant-based, non-toxic degreaser
Easy application without brushing
---
Top 12 Bike Chain Degreaser Reviews
1. Muc Off Bio Drivetrain Cleaner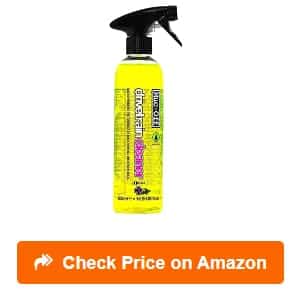 It is difficult to fault the Muc Off Bio Drivetrain Cleaner. It is the top-rated bike degreaser among products with an unscented and biodegradable formulation. One can say goodbye to caked-on grime and grease from the bike's drivetrain with this cleaning solution.
Dirty, greasy, and grimy bike chains are never an issue with this product's exceptional degreasing capabilities. It does not foam, but one can see the difference a single application makes. One will feel more confident about the bicycle's riding characteristics and overall drivetrain performance.
Unlike other biodegradable bike chain degreasers, I am surprised to learn this product features an alkaline formulation. The majority of plant-based degreasers are acidic, making them unsafe for other bicycle parts.
This product is safe on plastics, carbon fibers, rubber materials, and aluminum. It also does not cause problems on brake pads and bike seals, allowing bikers to enjoy their adventures.
Applying this drivetrain cleaner is as effortless as spritzing the solution directly onto the bike chain and other drivetrain components. One can also remove the bottle top and pour the contents into a jar for bike chain immersion for a more thorough cleaning.
My favorite thing about this product is its unscented formulation. There is not a whiff of unpleasant smell coming from this degreaser, making its application more enjoyable.
Heads-up:
Unfortunately, I find its price higher than other products with similar grime-cutting performance characteristics.
What We Liked:
Powerful grease and grime-cutting action
Suitable for dirty, greasy, and grimy bike chains
Safe on plastics, carbon fibers, rubber materials, and aluminum
Effortless application: pour the content in a jar for bike chain immersion
Non-irritating smell
What We Didn't Like:
Costs more than similar products
Bottom Line:
Overall, this bike chain degreaser is an exceptional choice for any bicycle owner who only wants the top-rated for the ride. It does a phenomenal job of stripping grime, grease, and dirt off bicycle drivetrains, preparing the components for lubrication. Biking is always fun with this degreaser caring for the drivetrain.
2. WD-40 Specialist Bike Degreaser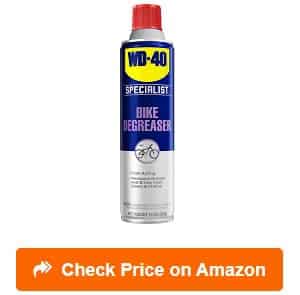 WD-40 is one of most trustworthy lube and degreaser brands in the world. That is why it is not surprising why many professional cyclists, mechanics, and bike retailers consider the Specialist Bike Degreaser the best bike degreaser on the market.
WD-40 guarantees its effectiveness by subjecting the degreaser to extensive testing by third-party scientists and other professionals. My favorite is the way the product foams as a sign of its grease-cutting capabilities. Spraying this degreaser not only improves overall drivetrain performance. Watching it foam can also be a relaxing experience.
One only needs several seconds before the bike chain cleaner solvent starts to sizzle, proof of its grease and grime-stripping properties. It also dries up pretty quick, ensuring it does not attract dirt and other particles onto the newly cleaned surface. The most trusted thing about this formulation is it does not damage bike paint and varnish.
I love its special grease-cutting formulation because one can use it on almost any surface, including plastic, rubber, carbon fiber, and various metals. Ordinary people will also appreciate this product's grime-stripping capabilities. They can remove muck, grime, dirt, grease, and other tenacious contaminants on any surface around the house.
Heads-up:
I find it difficult to fault this product. However, some people say this degreaser has a strong odor. It is not an issue if one is already familiar with WD-40 products.
What We Liked:
Unique foaming action for grease-cutting
Remove muck, grime, dirt, grease, and other tenacious contaminant
Dries up quickly for no dirt and other particles during application
Causes no damage to bike paint and varnish
Versatile application: plastic, rubber, carbon fiber, and various metals
What We Didn't Like:
The odor is pretty strong
Bottom Line:
Overall, I highly recommend this degreaser for anyone who has a two-wheeled vehicle. It has exceptional grease-cutting and grime-stripping performance the way the world knows and expects from the brand. Maintaining the optimum performance of one's bike should be easy peasy.
3. Park Tool CB-4 Bio Chainbrite Chain Cleaning Fluid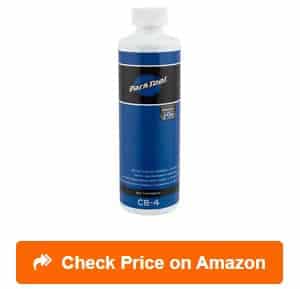 The Park Tool CB-4 Bio Chainbrite is the most suitable chain degreaser for all bike types. It cuts grease and grime off the chains, derailleurs, cogs, cassettes, and rings of mountain bikes, BMX, touring cycles, and more.
At its core is an advanced plant-based formulation that eats away at the accumulated grease and grime on contact. One can see the greasy buildup slowly melt away within minutes of degreaser application. Many bicycle owners said they only needed several minutes of degreaser action to bring their bike chains looking brand new.
I also find its formula efficient in cutting caked-on grease on drivetrain components without brushing or rinsing. Most people with this issue remove their bike chains and soak them in the degreaser solution overnight. They only need to wipe their chains dry the following morning, and everything is as pristine-looking as the first time they bought the bike.
This road bike degreaser is also a reliable all-purpose cleaner, thanks to its plant-based, non-toxic formulation. Homeowners can breathe life back into their stoves, sinks, metal stands, and other objects. It can degrease and clean rubber, carbon fiber, alloy, and plastic surfaces without damaging them.
One can use this degreaser on almost anything, both outdoors and indoors. It can also replace the ordinary household degreaser and cleaner because of its exceptional dirt and grime removal, similar to the Morgan Blue chain cleaner.
Heads-up:
I agree with some folks about this product's price. While there is no question about its grime-removing capabilities, other products are equally effective but do not cost this much.
What We Liked:
Superior grease-cutting formula
Versatile degreaser for both outdoors and indoors
Easy application without brushing or rinsing
Safe to use on plastics and other materials
Plant-based, non toxic degreaser
Bottom Line:
Despite the price concern, it remains a popular choice among bicycle owners. This degreaser has a safe and effective formulation that keeps the bicycle drivetrain grime-free and spotless without impacting the environment.
4. Finish Line Citrus Degreaser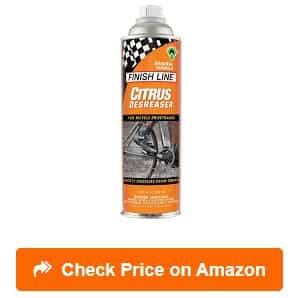 People looking for a safe and reliable grime-cutting cleaner they can use on any two-wheeled, pedal-powered machine should consider the Finish Line Citrus Degreaser Bike Degreaser. This product's plant-based formulation strips stubborn grime, dirt, and excess grease from a bicycle's drivetrain better than an ordinary cleaner.
I like its lemony, orange-like, and lime scent that does not irritate the nasal lining. It is perfect for people who do not like the unpleasant odor of petroleum-based degreasers. The natural citrus odor can give a bicycle a more satisfying smell that one cannot stop biking for extended hours.
This formula efficiently removes mild to moderate grease, grime, and dirt accumulation from the chain links, cogs, cranks, cassette, and other parts. I also found many people applauding the degreaser's grime-stripping performance.
Unlike most degreasers with a biodegradable formulation, this product is surprisingly affordable. Not only is it safe to use on one's bicycle, but it also does not pose a threat to the environment and other objects.
Using this product is pretty straightforward because of its aerosol-type design. However, it is more of a spray than a highly pressurized can of degreaser. Many people find its design ingenious because they can empty the contents into a jar and immerse any item they want to degrease in the solvent.
Heads-up:
Sadly, some users have had issues with the spray nozzle. Sometimes it emits a powerful stream, while it may only squirt a little at other times. The nozzle is also quite flimsy, moving from side to side during use.
What We Liked:
Plant-based, biodegradable degreaser
Formula removes mild to moderate grease, grime, and dirt accumulation
Aerosol-type formula for hassle-free use :
Pleasant lime fragrance for application
More affordable than other degreasers
What We Didn't Like:
Can have spray nozzle issues
Bottom Line:
Nevertheless, I consider the Finish Line degreaser a good bike degreaser as an eco-friendlier option for removing grease and grime from bike drivetrains.
5. White Lightning Clean Streak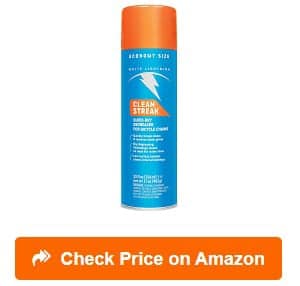 The traditional way of degreasing involves several steps to clean a bike's drivetrain. There is a substantial waiting period before the scrubbing and rinsing. The White Lightning Clean Streak changes all that with its unique quick-acting, dry formulation.
This degreaser for bike cassette, chain, derailleurs, cogs, rings, and other bicycle transmission components features a formula that melts grease, grime, and dirt from almost any metal surface. I am amazed at how its powerful spray action blasts surface contaminants without ever touching them.
The ingenious grease-cutting formula allows me to degrease the bike drivetrains, wait a few minutes, and hop on. It does not leave any residue, eliminating the need for washing and rinsing. It substantially cuts the chain degreasing process so that people can get back on the road for their biking adventures.
Maintaining the optimal functionality and performance of a bicycle's drivetrain is a cinch with this product. It does not matter if one inadvertently sprays it on plastic, carbon fiber, rubber, or other bike materials. Bikers will love its ease of application and its fast-acting formulation. They can have their rides on the road within minutes.
Heads-up:
I only have two unpleasant comments about this product. First, one must apply it outdoors unless one does not mind getting high from inhaling the glue-like solvent fumes. Second, it is an aerosol spray. Environmentally-conscious folks may not like the idea of adding to the greenhouse effect.
What We Liked:
Melts grease, grime, and dirt from almost any metal surface
Leaves no residues, so no rinsing required
Fast-acting formula and quick application
Works well on plastic, carbon fiber, rubber, or other bike materials
Excellent for different bike train drivetrain components
What We Didn't Like:
Glue-like odor, so mask is required for application
Aerosol formula, not very environmentally-friendly
Bottom Line:
Nevertheless, this degreaser's performance is superb, and its application a breeze. While it may cost a bit higher than other products, it makes sense to pay a little for the convenience and grime-stripping capabilities it provides.
6. Finish Line Speed Bicycle Chain Degreaser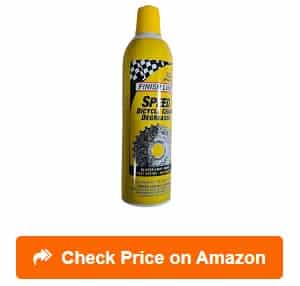 Here is another bike degreaser that is not only effortless to apply. The Finish Line Speed Bike Degreaser is also effective in stripping grime and grease from a bicycle chain. It has a quick-acting, dry formulation that starts eating away at the greasy buildup from drivetrain components within seconds.
I love this product's superior grease-cutting performance, allowing bicycle owners to make their chains, cogs, rings, derailleurs, and cassettes like new. While there is no foaming action, one can see grime and dirt falling off from the bike's drivetrain within minutes. It is the perfect solution for cyclists who want hassle-free bike transmission maintenance.
I am also impressed with the product's dry formulation. It does not leave any residue on bike drivetrain surfaces, preparing it for more secure lubricant adhesion. The product works like a chemical abrasive, stripping any surface contaminant and preparing the components for friction-reducing applications.
Its turbo sprayer is also noteworthy. I am unsure how it works, but the spray's force is sufficient to blast dirt and grime off the bike chain. The nozzle is stable, too. Pressing on the activator is a joy, complete with an audible hiss that tells me the degreaser works.
While it is not a plant-based formula, I am surprised that the degreaser smells nice. One can use it in the garage, shop, or any indoor location. The product is also safe on bicycle paints and plastic surfaces.
Heads-up:
Unfortunately, stubborn caked-on grease may not budge even with this degreaser's powerful spray.
What We Liked:
Super-fast degreasing acts within seconds
Dries quickly without leaving any residue
Prepares for friction-reducing application
No unpleasant odor, ideal for use in garage, shop, etc
Safe on plastics and bike paints
What We Didn't Like:
Only for mild to moderate grease buildup
Bottom Line:
Nevertheless, this degreaser remains an excellent choice for avid bikers who want to keep their drivetrains looking pristine and functioning optimally.
7. Runaway Bike Degreaser
There are many eco-friendly solvents on the market that fall short of their promises. The Runaway Bike Degreaser for bike chain is not only an environmentally sound product. It also dissolved road gunk, grease, and grime more effectively than other brands.
The company formulated this degreaser for modern bicycle chain washers and scrubbers, making it an excellent and cost-effective solution for bike repair shops. Ordinary bicycle owners can also use it to dissolve stubborn grease, grime, and gunk buildup on their bike drivetrains.
Its non-toxic, non-flammable, and biodegradable formula also makes this degreaser an excellent cleaner for various automotive and appliance parts. One can apply the degreaser on the surface and leave it there to work its magic. The only thing left to do is wipe the objects, rinse them in water, and the components already look brand new.
It also does not matter if this degreaser gets on other bike parts because it does not contain corrosive acids. It will not strip the bicycle's paint job, ensuring owners will have a brand new-looking ride every time.
The degreaser does not damage rubber, plastic, and carbon fiber, either. Bikers can sigh relief knowing this product will not harm their two-wheeled ride.
Heads-up:
Unfortunately, I wish the company designed this degreaser as a spray for a more convenient application. Most degreaser users addressed this issue by pouring the contents into an empty spray bottle.
What We Liked:
Works with chain scrubbers and bike washes
Non-toxic, non-flammable, and completely biodegradable
Safe on bicycle paint and other parts due to non-corrosive formula
Does not damage rubber, plastic, and carbon fiber
Versatile cleaning solution
What We Didn't Like:
Application can be less convenient than other products
Bottom Line:
This biodegradable bike chain degreaser is not only a safe product to use on different bicycle drivetrain components. It also does not harm other objects in the home and the environment, making it an exceptional all-purpose degreaser and cleaner.
8. Pedro's Oranj Peelz Citrus Bicycle Degreaser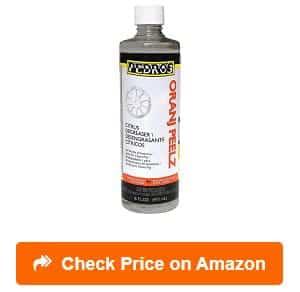 Pedro's Oranj Peelz Citrus Bicycle Degreaser is a surprisingly effective grease and grime remover without the nasty smell of petroleum product-containing degreasers.
I am dumbfounded at this product's ability to remove dirt and caked-on gunk, making me think it is a worthy alternative to the Zep orange degreaser, maybe even better.
Citrus-based formulations are well-known for their grease-stripping characteristics. That is why many technicians use these products to prepare a surface before painting or finishing.
Bikers will appreciate this degreaser's grime and gunk removing capabilities. It can remove even the toughest and most stubborn caked-on grease and old lube on any bike chain, cassette, or other drivetrain components. However, it is often necessary to soak these bike parts in the degreaser overnight to strip them of the surface contaminants.
I like this bike chain degreaser's lemony and orangey smell. It is perfect for those who are tired of putting up with kerosene or glue-smelling products. I wouldn't mind cleaning my bike inside the house with my windows closed. I know my family will not complain of any unpleasant smell, too.
Heads-up:
I observed that it takes time for the formulation to dry, unlike other products that can prepare the surface within minutes. One may need to plan the bike chain degreasing activity to allow for complete drying before lube application. It also tends to be pricier than other citrus-based bike chain degreasers on the market.
What We Liked:
Removes grime, gunk, and grease like an eraser
Safe citrus-based formulation
Lemony and orangey smell for a pleasant application
Easy to apply, no need for preparation
From natural and biodegradable ingredients
What We Didn't Like:
A bit slow to dry
Pricier than other citrus-based degreasers
Bottom Line:
Regardless, this bicycle drivetrain degreaser remains an excellent choice for eco-friendly bikers and cyclists. It has natural and biodegradable ingredients that work as effectively as synthetic degreasers. Taking care of one's bicycle drivetrain is a cinch with regular application of this orange peel extract-containing degreaser.
9. Simple Green Bike Cleaner/Degreaser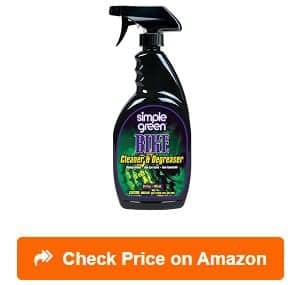 Taking care of one's bicycle drivetrain is essential to ensure optimum bike performance on and off the road. One of the most favorite bike cleaning products that people can use to keep their bicycle chains in perfect shape is the Simple Green Bike Cleaner Degreaser.
This product has a classic spray bottle design that ensures a more secure grip during degreasing. I find the grooves on the bottle's top-front section beneficial in guaranteeing better control when spraying the degreaser.
The nozzle is also adjustable, allowing for more precise spritzing of the solvent onto smaller areas if needed. One will never have problems applying this degreaser on the bike chain.
While there are no conclusive tests to validate the brand's claims, I have read many customer reports about its grime-cutting effectiveness. I believe these real-life experiences are better indicators of the product's grease-removing properties than from laboratory-controlled tests. The proof is in the people who are happy with this bike chain degreaser.
It is interesting to see that this biodegradable bike chain degreaser costs several dollars less than similar products. It also has more volume than the competition, making it an exceptional buy for anyone who wants great value for every purchase.
With its non-flammable and non-toxic formulation, this degreaser makes bike chain cleaning a more pleasant task.
Heads-up:
I do wish this product also has the foaming action of the company's other bike chain degreaser. It makes it more enjoyable to degrease the bike drivetrain, watching the gunk and muck adhere to the foam and fall to the ground.
What We Liked:
Works like magic in removing grease and grime
Hassle-free degreaser application with spray bottle
Safe product with non-flammable and non-toxic formulation
A cost-effective product with grime-cutting effectiveness
Bottom Line:
Despite this, the bike chain degreaser is an excellent addition to a bicycle owner's care and maintenance materials. Its effectiveness is unquestionable, and its safety undeniable.
10. WD-40 Bike Cleaner and Degreaser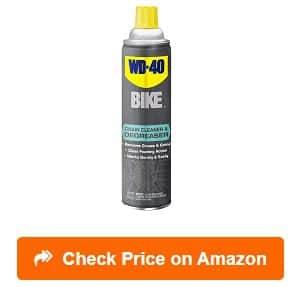 People often ask how different the WD-40 Bike Cleaner and Degreaser is from the WD-40 Specialist Bike Degreaser. The product names provide the clue as to which bike chain degreaser is better. The Specialist is a flat-out degreaser, while the bike cleaning degreaser ensures a deeper clean.
Like the Specialist, I love this degreaser's foaming action. It takes the guesswork off one's mind, giving the bicycle owner a visual understanding of the grease-stripping process. The foam action is similar to washing the dishes or clothes. The more lather or soap suds formed, the better the laundry solution against dirt, grime, and grease.
Spraying this degreaser on the bike chain, derailleur, cogs, cassettes, and other essential bicycle transmission components is uncomplicated. It does not require rinsing, another difference from the Specialist.
This degreaser can keep the bike clean by removing all the dirt and grease before applying a fresh coat of bike lube. One only needs to wipe the suds off, and the bike is ready for the next adventure.
Interestingly, this bike chain degreaser has a fantastic orange-lemony smell. However, it does not contain any citrus ingredients, making it safe on bike paints and other acid-averse materials. People will never complain of a foul odor as they work on their bikes.
My only concern about this product is its aerosol form. Aerosol degreasers have a more substantial environmental impact than spray bottles.
Heads-up:
Nevertheless, I would never hesitate to recommend this product to anyone who wants a more comprehensive cleaning of their bike drivetrain.
What We Liked:
Exceptional foaming action to eliminate grime-cutting effectiveness
Quick-acting formula, simple without rinsing
Efficient grime and grease removal
Pleasant orange-lemony smell
Works well on bicycle transmission parts
What We Didn't Like:
Aerosol spray, not very environmentally-friendly
Bottom Line:
It works super-fast and exceptionally well in removing gunk, grime, grease, and dirt from bicycle transmission parts. Its performance can make the bike chain, cassette, and other components looking brand new.
11. Simple Green 73434010 14010 Degreaser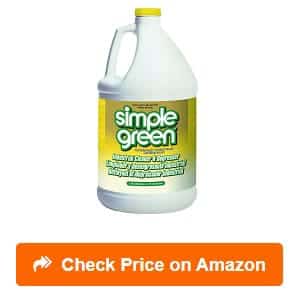 Simple Green is a famous American brand known for its biodegradable, non-toxic, and environmentally-friendly cleaning solutions. Many bikers prefer the 73434010 14010 Industrial Cleaner & Degreaser because it is tougher on grime and grease.
While this product has an industrial-strength formulation, I am surprised by its versatility. It can replace the traditional bike chain degreaser homemade solution that many people use. The best part is that this degreaser not only keeps bicycle transmissions gunk-free and pristine, but also restores any item like brand new.
One can use it to clean cabinets, floors, windows, roofs, cars, hand tools, power equipment, and other products. Bicycle owners will love its grease-lifting capabilities, functioning like a powerful magnet that pulls grime and gunk off the bike chain and cassette.
Despite its exceptional grease-stripping properties, this product never irritates the nose. There is no need to wear a respirator mask or hear neighbors' complaints about a nasty smell. It also does not require the user to wear protective glasses.
Like many biodegradable degreasers, this product does not contain toxic chemicals and other substances harmful to the environment. Bikers will feel at ease every time they degrease their rides.
The product comes in a gallon container, making it exceptionally valuable for many households. It is a general degreaser that can keep the entire drivetrain clean, while also serving as a reliable cleaner for whole bike washes.
Heads-up:
Sadly, it takes a few hours for the solution to dry on the bike chains. My suggestion is to degrease the bike chain in the afternoon so that the bike will be ready for lubricant application the next day.
What We Liked:
Industrial-strength formulation
Multipurpose degreaser and cleaner
Non-irritating scent, requiring no protective glasses
Safe degreasing product for the environment
Bottom Line:
Other than this concern, I think this degreaser is a phenomenal product. Not only is it excellent on bike chains and bicycle transmissions. It is also exceptional in other household items.
12. WD-40 Specialist Industrial-strength Degreaser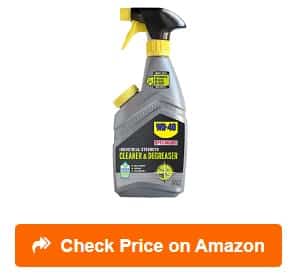 Seasoned bikers and professional cyclists trust their bicycles only on the most effective bike degreaser and lube combo product they could find. While the WD-40 Specialist Industrial-strength Cleaner & Degreaser does not have a lubricating component, it does a phenomenal job preparing the surface for lubrication.
While the Specialist and the Bike Cleaner/Degreaser are phenomenal products, they are inferior to this product's exceptional grime-busting capabilities.
One can see grease and grime peeling off the bike chain and other transmission components within seconds of spraying this solution. Letting it sit for a few minutes will melt the gunk away, requiring only a powerful water stream to remove all the grease.
I also love its safe formulation, complete with NSF certification for the agency's A1, A2, A8, B1, and A4 standards. I also feel more confident using this product because it complies with EPA standards for Safer Choice products. The degreaser also complies with the VOC requirements of all 50 US states.
With its indisputable safety profile, there is no denying this product is one of the most affordable bike degreasers one can buy.
One can feel more at ease knowing this degreaser will not damage carbon fiber, rubber, plastic, aluminum, neoprene, and other materials frequently seen in modern bicycles.
I love its refillable characteristics. It has a lid on the bottle's upper third, where the neck meets the body. This design feature eliminates the need for opening the trigger spray mechanism, ensuring a more hassle-free refill.
Heads-up:
The technological advances, multiple product quality certifications, and exceptional grease-stripping properties give this product a hefty price tag.
What We Liked:
Superior grime-stripping and grease-removing performance
Easy-to-use, refillable spray bottle
Safe on different surfaces
Biodegradable formulation
NSF-certified and meets EPA standards
What We Didn't Like:
The price is not a bargain
Bottom Line:
Everything is worth it, especially if one considers the product's many advantages over the competition. This bike chain degreaser is an industrial-grade product formulated for the most stubborn gunk on any bicycle transmission system.
What to Look for When Buying Bike Chain Degreasers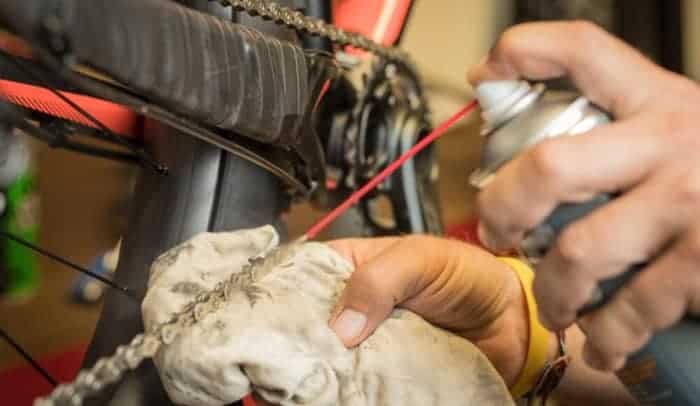 Lubrication is an essential maintenance activity for all mechanical objects, including bicycles. Unlike cars and other vehicles, bicycles have an open transmission system, exposing it to the elements. Dust, dirt, road salts, and wet weather can combine to form gunk on the bicycle's drivetrain.
A dirty bike chain reduces the bicycle's riding characteristics and overall performance. That is why it would be best to look for top-tier bike cleaning solutions, including a degreaser and a chain lube. Here are a few things one must look for when buying a good bike chain degreaser.
Not all degreasers are effective in removing gunk, grime, dirt, and grease from the bicycle. Some products may work with mild to moderate muck, while others are efficient in stripping grime and gunk.
Unfortunately, ensuring a clean bike chain is only possible if one uses an effective product. It must clean a dirty chain and prepare it for lubrication.
Many manufacturers claim that their products can remove caked-on gunk, ensuring a clean chain. Unfortunately, few degreasers have the necessary third-party tests to support and validate their claims. Only a select few go to the extent of having their products certified by reputable organizations.
One way to ascertain a degreaser's effectiveness is by reading authentic customer experiences. One can also check Reddit for recommendations. However, one must be cautious because other people's bicycle situations can be very different.
It would be better to use a household degreaser for bike chain if the commercial bike degreaser is too complicated to use. The product must come ready to apply on the bicycle chain, cogs, cassette, chainring, and other essential transmission components.
Some bike specific degreaser formulations allow pouring into a container for bicycle chain immersion. It is a more effective technique for removing caked-on grease, grime, and gunk.
A no-rinse, quick-drying formula is also better for most people because it is more convenient and shortens the entire degreasing process. It also allows bikers to apply a chain lube earlier.
One must be cautious about this parameter because many people equate it with eco-friendly and biodegradable products. Unfortunately, biodegradable degreasing agents show varying levels of grease-removal effectiveness.
On the other hand, bicycle owners must always pick a product safe on painted surfaces and other components on the bike frame. For example, some citrus-based degreasers can damage the bike's paint. Meanwhile, some petroleum-based degreasers can damage brake pads, seals, disc brakes, and other bike parts near the drivetrain.
Degreasers are essential bike tools for safeguarding the bicycle's optimum performance. They are available in three forms, namely, aerosols, sprays, and bottles.
Aerosols are pressurized systems that rely on a powerful blast to complement the degreaser's grime and grease-stripping capabilities. These products are excellent but can be harmful to the environment. Most aerosols are also flammable, making them unsafe to use near heat sources.
Spray degreasers are the most convenient one can use to clean the bike chain. They are almost similar to aerosols, except that the stream is not as forceful.
Bottled degreasers are suitable for bike chain immersion. It is also ideal for people who prefer a more hands-on approach to clean the bike chain.
Can I Use Any Degreaser on My Bike Chain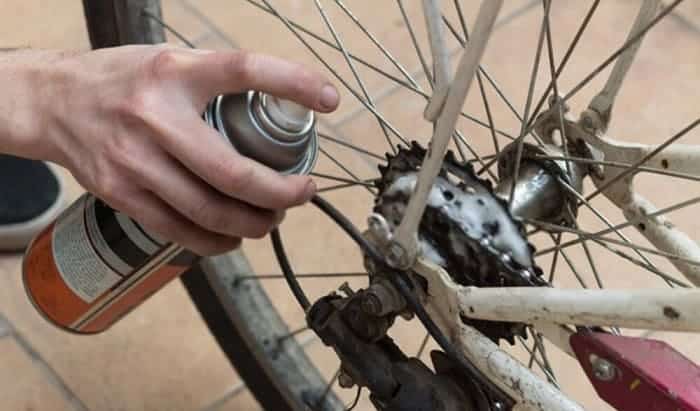 Yes, you can use any degreaser on your bike chain and cassette. Any bicycle-specific and automotive degreaser strips old and grimy lube from the chaining, derailleur, and other bicycle drivetrain components. The top-rated bike chain degreasers are quick-drying, facilitating more efficient lubrication. Bike-specific products may have additional chemicals that simultaneously lubricate the chaining.
However, if one wants to economize, kerosene is an excellent choice. The only issue with this petroleum product is the strong odor. Moreover, it tends to leave an oily film on the bike chaining once washed off.
Many bicycle owners also found success in using Dawn liquid dish soap because of its grime and grease-cutting capabilities. Professionals used this product in managing the Deepwater Horizon and Exxon Valdez incidents. Bicycle owners in the UK and Europe also use a Dawn equivalent – Fairy – to cut grease and grime from their bike chains.
How Do You Use a WD40 Bike Degreaser
Using the WD 40 bike degreaser is a straightforward process.
One must prop the bicycle on a stand to allow unhindered drivetrain operation. Set the drive to the highest gear (smallest rear cog and largest front chainring), spray the WD40 degreaser onto the cassette while turning the crank arm. Apply generous amounts of the degreaser until it foams.
Continue spraying the degreaser onto the spinning cassette, shifting the gear lower until the chaining reaches the largest rear cog and the smallest front chainring. Let the foam sit for a few minutes to allow the WD 40 to strip the drivetrain of stubborn grease, grime, and other oily substances.
Brush the cogs in the cassette while turning the crank arm. One can also hold the brush stationary and allow the chain rotation to do the work.
Rinse off with water and dry the drivetrain with a clean cloth. One can loosely wrap a cloth on one chain and crank the drivetrain to dry the chaining completely. One must not forget to dry the cassette, and other drivetrain parts, too.
How Do You Degrease a Bicycle Chain
So the first step in degreasing a bike chain is purchasing a high-quality degreaser. Choosing one with an easy application is essential to avoid complications. I'd recommend a product like Simple Green's Bike Cleaner/Degreaser.
After obtaining the chain degreaser for bikes, follow its application instructions to a tee. It'll often include spraying it onto a bike chain and letting the formula do its job. Most quality degreasers won't have any problem getting rid of all the dirty build-ups.
But still, make sure to double-check. Once finished, use a cloth or brush to remove any contaminants that the degreaser didn't catch. It won't require much effort or time as there shouldn't be much left after the cleaning.
I'd also stick with a biodegradable degreaser like the Simple Green product. After all, it's most trusted to avoid any chemicals with potentially harmful side effects on our planet whenever possible. Another excellent cleaning solvent is Pedro's Pig Juice.
Can You Use Dish Soap to Degrease Bike Chain
Dish soap is a solid homemade solution for degreasing and cleaning bike chains. I found more than a few bikers on Reddit praising dish soaps as effective alternatives. But honestly, I still feel much more comfortable using a bike lube and degreaser for this purpose.
These products have always been more effective on my bikes than a dish soap or bike degreaser DIY solution. So I'd still suggest investing some money in a top-tier option like Runaway's Bike Degreaser. Users will get a much safer and more satisfactory result from using a degreaser for chain products.
How Do You Make Homemade Degreaser
There are many ways to make a degreaser for bicycle chain. But I haven't found a more effective one than the DIY option outlined in our article "How to Make Your Bike Chain Squeaky Clean with Just Household Supplies."
It'll only require mixing distilled vinegar, lemon juice, water, baking soda, and soap. It doesn't get much more homemade than this bike chain cleaning solution.
But I'd still only use this option when in an actual bind, as a bike degreaser spray/cleaner fluid will often be much more effective.
How Long Do Bike Chains Last
Bike chains are often more unstable than riders want regarding durability. As a result, most will need replacing every 750 to 1000 miles. But a bike chain isn't going to make it near 1,000 miles without proper maintenance procedures.
How Often Should I Grease My Bike Chain
People who only use their bikes on weekends can degrease and lubricate their bike chain once a month as a part of routine bike maintenance. If one's playground is the barren interior of Australia or the unforgiving terrain of Utah, a more frequent bike chain cleaning and degreasing is a must.
While grease is necessary to reduce friction and protect the drivetrain from wear, it can be a natural magnet for dust, dirt, and other particles. It creates a grimy substance that can attract more dirt and impact the drivetrain's efficiency. That is why city bikes have a cleaner drivetrain than off-road bicycles and mountain bikes. The cleaner the drivetrain is, the less frequent the degreasing and lubrication.
Conclusion
The best bike degreaser removes dirt, grime, grease, and other sticky particles from a bicycle's transmission assembly. It prepares the two-wheeled machine for a more thorough cleaning and efficient lubrication of the various drivetrain components.
When picking a bike chain degreaser, one must consider the product's effectiveness, application ease, safety, quick-drying properties, overall value, and other essential parameters. Only then can the bike owner ensure a transmission that performs splendidly on the road and off it.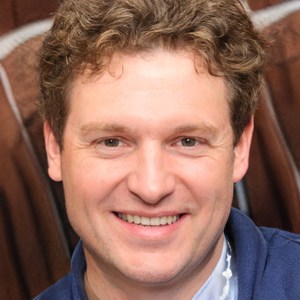 "Bike commuting should be the trend for the next few years, and it is a convenient and eco-friendly way for us to travel. And we are here to make it a bit less troublesome for people who want to maintain their vehicle for a long time. So, the content I expect to put out here is offering help for bikers who are facing issues with parts of their bikes once in a while. Let's have fun and protect the environment together!"