We cannot deny how tedious it is to deal with dirty chains that make our cycling challenging. Since the chain is an essential part of a bike, keeping it clean and fully functional is necessary. It is also vital to clean a dirty chain because it struggles to function compared to a neat one.
A chain degreaser is a handy tool in keeping the chains lubricated and clean. So, what do you need to know before getting yourself the best bike chain cleaner? Find out below.
Safe on Surfaces: To avoid the bike from getting damaged, ensure that the chain degreaser or cleaner is tough on dirt but safe on a bike's surface where it gets into. Let's face it, when spraying a specific cleaner, we cannot avoid the mist from going on the ground and getting seeped into the chain.
Poor quality cleaners usually cause corrosion on the chain, caused by poor selection of the product's chemical ingredient. This gives exactly the opposite purpose of why it was made. We don't want that to happen to any bike chain, so this listicle provides only the best and safest cleaners.
Versatility: A good chain cleaner with good versatility can be used on different types of bikes. Choosing a bike cleaner with good versatility can help you save a lot of money. So, choose wisely.
Budget: No one wants to go off their budget just by buying a chain cleaner. That's why considering the budget is essential. Ensure that the product stays within the budget range and still provides good cleaning quality that allows it to eliminate dirt and grime in the chain easily and quickly.
Now that I have introduced three important factors that you need to get a good chain cleaner, it's time to check the 12 different products I researched that guarantee easy chain cleaning. There's also a thorough "Buying Guide" to help readers determine their ideal features and narrow their choices.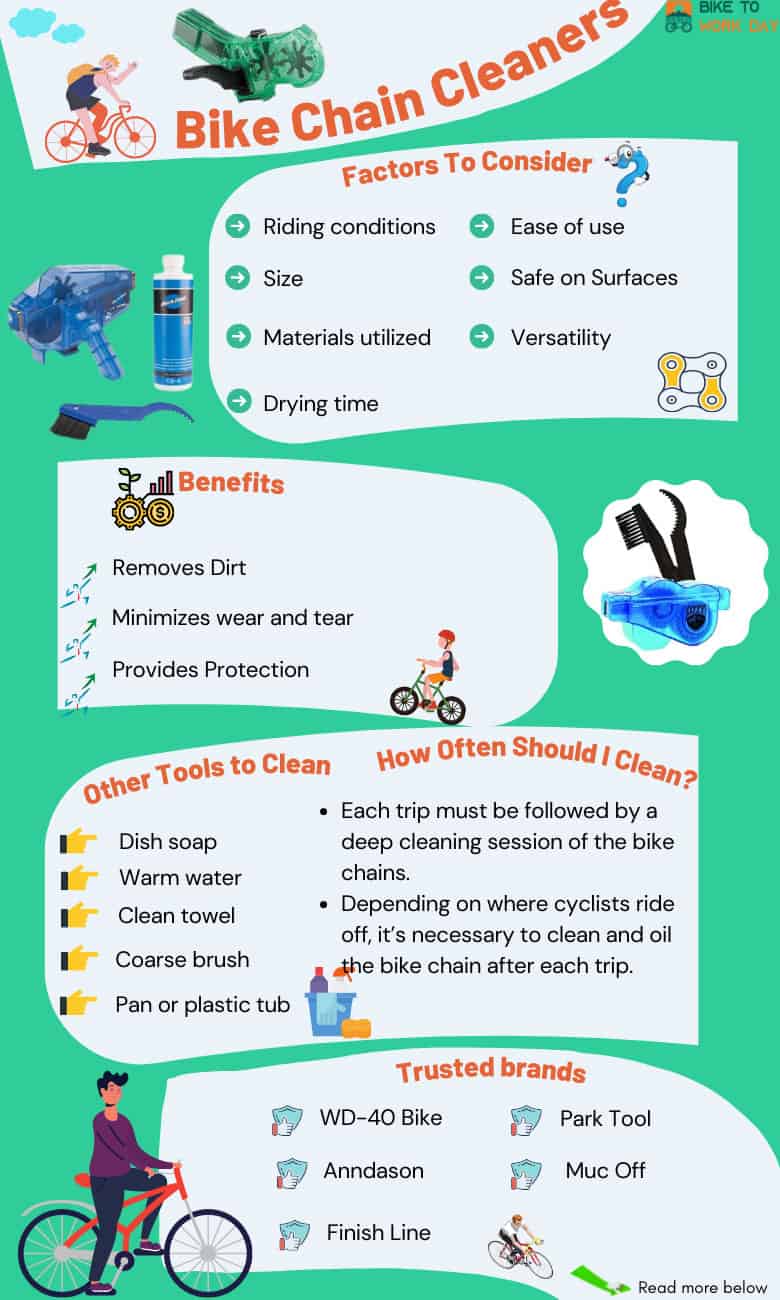 ---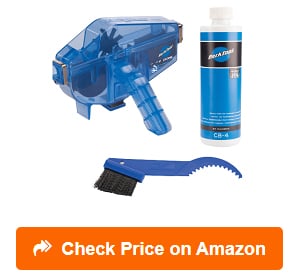 Park Tool QKCG24
Complete set of cleaning tools
Cleans all bike parts
Optimum bike performance
---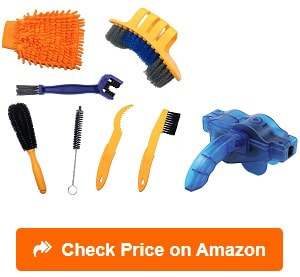 Anndason Cleaning Kit
8 tools included
Work for all bike parts
Easy to use
---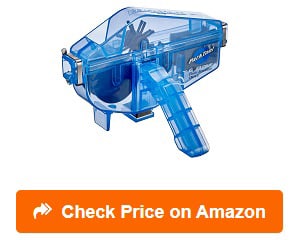 Park Tool CM-5.3
Compatible with single & multi-speed
Compatible with e-bike systems
No need for chain removal
---
List of Top-Rated Bicycle Chain Cleaner Reviews
1. Park Tool QKCG24 Bike Chain Cleaning Kit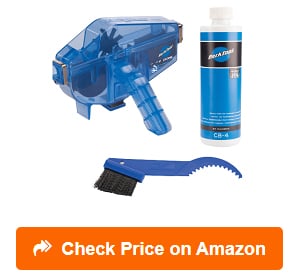 Nothing beats a cleaner with a complete set of bike tools to make cleaning easier, just like this kit from Park Tool.
This bike chain cleaning kit comes with a cleaning solution, scrubber, and gear brush to give chains a complete degreasing session. This best-seller thoroughly cleans all parts of a rider's bicycle, including the bicycle chain link, derailleur pulleys, chain keeper, and rear cogs. Such a wide-ranging kit will guarantee to give our bikes the optimum performance they deserve.
I like this set because the chain scrubber makes my cleaning work quicker and more effective. Thanks to this scrubber, I can spend less time doing the tedious task of cleaning my bicycle's chain.
The brush also reaches all deep and narrow bike gears where dirt and grime usually collect. I used this cleaner when I went for an outdoor biking adventure once and was amazed by its good cleaning job.
This is the top-rated bicycle chain cleaner that's plant-based. So, it is safe for my bike gears and will never harm any bike and vehicle parts made of alloy, rubber, carbon fiber, or plastic that I intend to clean.
Heads-up:
But cleaning using
this set of bike tools
requires me to ask for assistance from someone else when I intend to do this without a bike stand.
What We Liked:
Complete set of cleaning tools with solution, scrubber, and gear brush
Thoroughly cleans all bike parts from chains, rings, to cogs
Guarantees optimum bike performance.
Makes cleaning quicker and more effective for more family time
Reaches all deep and narrow areas of bike gears where dirt collects
Plant-based chain cleaner safe for all bike gears made of various materials
What We Didn't Like:
Require assistance from another person if done without a bike stand
Bottom Line:
I know I can count on the set's quality and effectiveness in cleaning my bike without damanges.
2. Anndason 8-Piece Cleaning Brush Tool Kit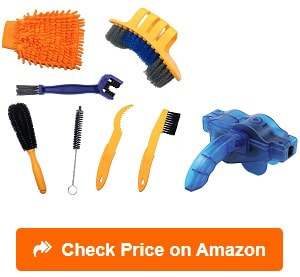 Another one of my favorite bike cleaners. In fact, I consider this the top-tier chain cleaner due to its precise cleaning ability.
No spot will be left behind with all the tools that this kit has to offer. There are various scrubbers and brushes for all parts of our bike. It also comes with a bike clean mitt that wipes away all excess dirt off of our bike.
Every brush type is designed to fit a particular bike part, so even hard-to-reach areas become easily accessible. In detail, there is cleaning gear for tires, chains, wheels, and sprockets.
It can also do basic maintenance jobs. I use it when I clean the house, and I can attest that it's a great daily household cleaning tool. All parts are convenient to use. Even a beginner like me has no issues using it.
The price is also affordable. This value pack perfectly fits within my budget range. When I use this, I get to finish my bike cleaning in no time.
Heads-up:
Also, this product is compatible with all bike types. Free wheel bikes have it the easy way because all I have to do is install the cleaner to the bicycle chain and use the lever to crack it. However, bicycles having coaster brakes would need to be elevated or flipped before starting the cleaning session.
What We Liked:
Precise cleaning ability with the 8 tools offered in the kit
Various scrubbers and brushes work for all bike parts
Hard-to-reach areas become easily accessible thanks to the brush's designs
Clean mitt wipes away all excess and remaining dirt off the bike
Ideal for bike maintenance jobs
Easy to use, affordable cleaning kit, and compatible with all bike types
What We Didn't Like:
Coaster-brake bikes need some elevation before using the product.
Bottom Line:
It's a good product all in all. I even treat this as the most favorite chain cleaning tool as it never fails to keep my chains clean and working.
3. Park Tool CM-5.3 Cyclone Chain Scrubber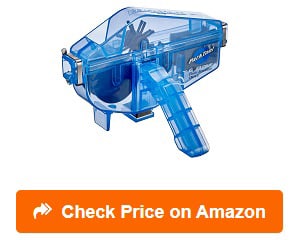 Another Park Tool bicycle chain cleaning kit is added to the list because I can't get over their excellent compatibility.
This Park Tool chain cleaner operates on single-speed and multi-speed bikes (from 5-speed to 12-speed). It's also compatible with most e-bike systems, so I also use this bike chain cleaner tool for my brother's bike.
After cleaning, I never have to worry about the mess because a sturdy sponge absorbs liquid spills and drips from the chain as it leaves the cyclone. Plus, the sponge and brushes are all replaceable. So, when the cleaner notices a bit of fraying, people can easily buy and install a new one.
The firm reversible handle promotes excellent portability, making it easy to grip the product and use it to my advantage. There's no need to remove the bike chain from the bike's body because the cleaner guarantees easy installation that eliminates dirt and mess in no time.
It features a huge liquid reservoir that effectively stores the bike chain cleaner solvent and a series of spinning brushes to make my chain sparkling clean.
Heads-up:
One important thing to remember is to completely dry the chain before using lubricant to avoid unwanted and unnecessary damage.
What We Liked:
Highly compatible for both single and multi-speed bicycles
Compatible with e-bike systems
Mess-free cleaning thanks to the sturdy sponge that absorbs drips
Replaceable brushes and sponge with reversible handle for excellent portability
No need for chain removal when using this product (easy installation)
Huge liquid reservoir for the solvent and a series of spinning brushes
What We Didn't Like:
Chain must be thoroughly dried before applying the lube to avoid damage
Bottom Line:
This Chain scrubber is truly a powerful tool that keeps my bike chain fully functional and squeaky clean, leaving no room for regrets.
4. Muc Off Biodegradable Drivetrain Cleaner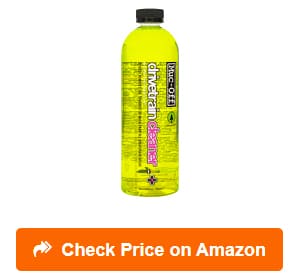 This bike chain cleaner review only has the best and reliable products, like this Muc-off chain cleaner that guarantees to give me a clean bike.
It eliminates muck, grime, and other stubborn drivetrain contaminants one can think of. Since this product is developed in collaboration with INEOS, also known as Team Sky, the ingredients used to manufacture this product react quickly and are engineered to chase marginal gains.
Another thing that I love about this product is completely biodegradable. The alkaline-based ingredient makes it environmentally-friendly. With a universal fit type, compatibility is never an issue with this mtb chain cleaner.
The compatibility makes it safe to use on Carbon fiber, aluminum, rubber, and plastics. It guarantees easy application because I only have to spray the product over the drivetrain. Sometimes, I also pour it into the reservoir directly.
This bike chain degreaser works both ways, and I never have to spend too much time scrubbing my chain thanks to this product.
Heads-up:
The product is more affordable than a generic degreaser, which perfectly stays within my budget. However, bikers should still dispose of the dirt properly because even though the cleaner is completely biodegradable, there are chances that the grime is not.
What We Liked:
Product is reliable in giving a deep clean bike.
Eliminates dirt with quick-reacting ingredients designed to chase marginal gains
Fully biodegradable chain cleaner tool with alkaline-based ingredients
Universal fit type, making it safe to use on most materials
Guarantees easy application and no need to spend much time cleaning
More affordable than a generic degreaser (budget-friendly)
What We Didn't Like:
Dirt that comes with the cleaner needs proper disposal
Bottom Line:
The Bio Drivetrain Cleaner is my favorite companion when cleaning becomes a calling for my best bike. It acts as a good bike chain cleaner and degreaser.
5. Finish Line Bicycle Chain Cleaner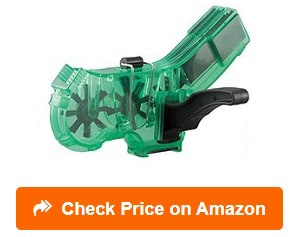 This next product I will introduce to the bikers is among the most trusted lubricant products used for vehicles.
The Finish Line bike chain cleaning tool is manufactured with only the highest quality ingredients. Because of this, one can assure that the cleaner effectively eliminates dirt and grime to keep bikes at their peak performance. Plus, this cleaner greatly keeps the whole drivetrain healthy as it conveys friction of the cycle.
As a busy rider, I prefer this product because of its easy application. It comes with a single portable design attached with cleaner clips that directly install the effect on the bicycle chain. The three-brush revolving structure and scrubber wads clean the pad quickly in no time.
This bike chain lube has a 30-degree exit angle that effectively eliminates mess and is a magnetic dirt collector for all the steel filings, drips, spills, and other contaminants. There's also an additional row of tire scrubber pads that boosts the side-plate cleaning.
Heads-up:
I truly love how this product redefines how chains are cleaned, both at home and in shops. However, people who use a single-speed beach cruiser need slack in the bike chain to thread it through the cleaner's curved pathway.
What We Liked:
Trusted lubricant manufactured with high-quality ingredients
Eliminates dirt and grime to keep bikes at peak performance
Keeps whole drivetrain and conveying friction of bike
Easy to apply with the single portable design and cleaner clips
3-brush revolving structure & scrubbers clean quickly
Exit angle, magnetic collector, and an extra row of pads for thorough cleaning
What We Didn't Like:
Single-speed beach cruisers require bike chain slack to thread to the cleaner.
Bottom Line:
This is a good recommendation for those who prefer a cleaner with no frustration from all the confusing masses of cleaning kit.
6. WD-40 10-ounce Bike Cleaner and Degreaser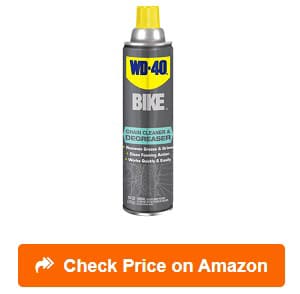 This next product is another renowned bike chain cleaner fluid that effectively removes all the dirt and greases to keep our chains fully functional.
From our first bike ride to practice sessions and leisure rides, WD-40 cleaner is here to keep our brake pads and other gears clean and the wheels spinning. Besides the chain, it works well in removing gunk from derailleur pulleys, shift mechanisms, disc brakes, and bearings.
The foaming action of WD-40 Bike Cleaner sticks to the best bike surfaces, which intensely enter and makes the cleaning session quick. Even the obstinate greases and grimes from our bicycle chains and the remaining parts of the drivetrain will be gone in no time.
It is completely safe for mountain bikes, road bikes, touring bikes, folding bikes, BMX, and all other bicycle types you could name of.
Plus, I love its citrus-free formulation that never damages my bike's paint coating. No matter how many times I apply this product, it keeps my chain immaculate and fresh.
Heads-up:
There's no rinsing needed when using this foaming cleaner, making it ideal for busy riders. To avoid confusion, remember that this comes in a spray can and not a bottle before trying the product.
What We Liked:
WD-40 cleaner keeps gears clean and the wheels spinning
Foaming action sticks to bike surfaces that effectively penetrate and remove dirt
Safe for all types of bikes, such as MTBs, BMX, folding bikes, and touring bikes
Citrus-free formulation that never damages the bike's coating
No rinsing is needed, making this cleaner ideal for busy riders
What We Didn't Like:
Comes in a spray can and not a bottle, which can be confusing to some
Bottom Line:
Overall, I have no complaints regarding the performance of this degreaser. The safe formulation makes my chain long-lasting.
7. Ultrafashs Bike Chain Lubricant and Cleaner Set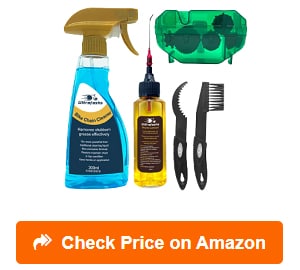 Bikers should prepare their bicycles for a deep clean that this bike chain cleaner and lube guarantees.
Cleaning our bikes should never be a hassle, especially if we buy the right set of products to make our job easier. Thankfully, my friend recommended this cleaner set from Ultrafashs, complete with wet lube, chain scrubber, cleaning gloves, a gear brush, and a biodegradable degreaser that makes it environmentally safe.
I love the cleaner's non-corrosive formulation that never harms materials made of alloy, rubber, plastics, and carbon fiber. Thus, I can use the cleaner for my bike's chain, pulley, and cassettes where most dirt accumulates.
The wet lubricant is equipped with excellent resistance against water, dust, and rust. It is made of premium base oils that guarantee optimal lubrication in all riding conditions, no matter the temperature. Besides that, the oil has a dropper that makes application more precise as it gives me better control of the oil's flow direction.
Heads-up:
This multi-purpose cleaner set guarantees quick and efficient clean-up that won't last for a minute. It also comes with an ergonomic design for portability and easy handling. My only minor complaint with this product is the degreaser refill may be hard to find. Luckily, I can still use other brands of the degreaser.
What We Liked:
Gives a deep clean with all the complete tools to make cleaning easier
Biodegradable degreaser that's environmentally safe
Wet lube has a non-corrosive formulation to keep all materials active and clean
Premium base oils with dropper for controlled lubrication
Quick and efficient clean-up that won't last for a minute
Ergonomic design for easy handling
Bottom Line:
All in all, I'm amazed by this cleaning set because it's complete with all the tools I'm looking for in a chain cleaner.
8. Muc Off X-3 Dirty Chain Machine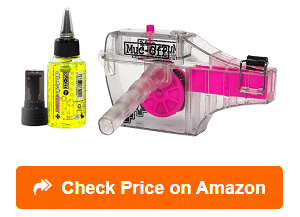 I believe in the saying that a clean chain is a happy chain. This cleaning device from Muc Off thoroughly cleans my bike chain system in just seconds.
The fast-acting degreaser comes with an excellent formulation that guarantees instant results. The product boasts a heavy-duty cleaning skill and convenient design that allows me to clean the chain using tools that are comfortable to carry.
It's tough on dirt but not on my chain system. With 120 different contact points, the X-3 bike chain cleaning device provides a thorough cleaning session without aggravating stubborn grimes, oil and grease.
One 75mL bottle of Muc Off Bio Drivetrain Cleaner is accompanied by an X-3 Dirty cleaning machine that I can reuse over and over again. I do not have to spend much buying the same product, unlike I did with other brands. Even the tool itself is easy to clean. All parts can be disassembled and are also disposable.
Heads-up:
I love the innovative design of having a second, lower reservoir that catches and effectively separates excess fluid that drips off the chain. This feature keeps the dirt away from my chain, so there's no re-contamination after I'm done cleaning. Be wary of the small parts that come with this tool.
What We Liked:
Has fast-acting degreaser that cleans bike in just seconds for instant results
Heavy-duty construction and convenient design that makes tools easy to carry
Tough on dirt, but not the chain cleans thoroughly with 120 contact points
One 75mL bottle with X-3 Dirty cleaning machine that's reusable
Disposable parts can be disassembled, making them easy to clean
Innovative design that catches excess fluid drips off the chain
What We Didn't Like:
Cleaning tool has small parts which may cause a choking hazard
Bottom Line:
Most bikers who prefer a convenient kit will appreciate this highly reliable bike chain to bring anywhere and clean effectively.
9. 8-Piece Bicycle Cleaning Tool Kit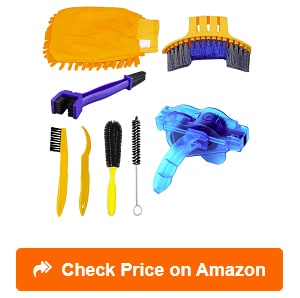 This bike cleaning kit comes with eight essential tools that never go beyond our budget. I was able to enjoy all the benefits of the cleaning tools without spending too much.
The devices provide accurate cleaning skills. It never leaves out any trace of dirt and grease. One kit comes with a cleaner, brush, tire scrubber, tapered detail brush, wheel brush, sprocket scraper, and brush. Hence, we do not have to purchase extra pieces to reach all parts of our bikes.
Since the product has an ergonomic design that allows all parts to fit different areas of my bike, it makes my cleaning session quick and easy. All the tricky corners like the derailleur spaces and cassette cogs are reachable due to these well-made brushes.
It's a multi-purpose cleaner that is great for all bike types. The cleaner also guarantees easy application for bikes with free-wheel designs. In truth, I cleaned my MTB and my partner's hybrid bike with this set without difficulties. Besides, it is ideal for cleaning around the house.
Heads-up:
However, bikes with coaster brakes need to be elevated or flipped over to access various angles conveniently.
What We Liked:
Comes with eight essential tools that provide precise cleaning
Has a mitt to keep our hands clean
Ergonomic design that fits all parts of the bicycle for easier and quicker cleaning
Multi-purpose cleaner ideal for all bike types
Ideal for cleaning around the house too
Guarantees easy application for free-wheel-designed bicycles
What We Didn't Like:
Bikes with coaster brakes need elevation or being flipped for thorough cleaning
Bottom Line:
I'm glad that I chose this cleaning kit with a tapered detail brush to accompany my cleaning sessions. Besides, such an affordable price makes the set a good investment.
10. White Lightning WC0000102 Chain Cleaner Kit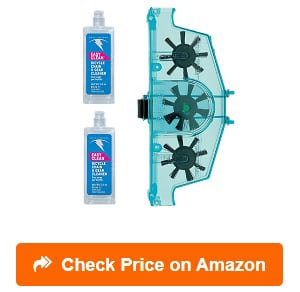 I can have peace of mind using this fast-acting chain cleaner that keeps my bike chain shiny and functional in no time.
Thanks to the rotating brushes, I do not have to remove the chain when cleaning. With that, my cleaning period is reduced to minimum downtime. In fact, I get to finish my cleaning job in just a single minute. All parts of the tools are removable, so I can thoroughly clean the unit after I'm done with the bike chain.
It features excellent compatibility with most bike types. Besides that, looking for a cleaner that works with the tool is a piece of cake, as most degreasers are also compatible with it. The cleaner kit also has enough cleaning fluid to give a clean chain four times.
The product is easy to use, I only have to attach it to my bike chain, and the tool effectively does its job. White Lightning is highly committed to cleaning our bikes. It doesn't matter where we go and how we get a dirty chain.
Heads-up:
Another thing that I appreciate about this product is the lubricant that self-cleans. The brand incredibly added science and efficiency to one product. Since there's no sponge to come with the degreaser, nothing absorbs the spills from the bike chain. I highly suggest cleaning the most trusted bike outdoors with this one.
What We Liked:
Fast-acting chain cleaner that guarantees to keep bike chain shiny and functional
Rotating brushes make chain removal unnecessary during a cleaning session
Quick cleaning session and has removable tools to keep the unit clean
Remarkably compatible with most bike types and other degreaser brands
Cleaning fluid can clean for four times
Easy to use and has a self-cleaning lubricant
What We Didn't Like:
No sponge to absorb spills from the bike chain
Cleaning session should be done outdoors
Bottom Line:
Considering the fast-acting results that this chain cleaner offers, using it saves us time and worry about maintaining our bike parts.
11. Ozzy Gear FBA_20150421 Bike Chain Cleaning Tool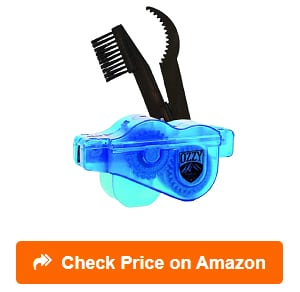 I was able to keep my bike running clean and smooth with its shifting thanks to this chain cleaning kit from Ozzy Gear.
The intelligent design of this cleaner features two clamps at one end. There's also one clamp between the device, which acts as a locking device to keep the product secure when I clean them.
Notably, the set is compatible with all bike types, so bikers would never have to worry if they have a mountain bike, a road bike, or an uncomplicated leisure bicycle.
Beginners can appreciate this bicycle chain cleaning tool since its simple design guarantees easy application. Just assemble the cleaner to our bike chain and start pedaling. Then voila!
And since the product is easy to use and apply on my bike chain, I was able to get quick results. Cleaners can even choose between two degreaser variants of mineral spirits and citrus scent.
All cleaning tools that come with this kit guarantee a lifetime of superior cleaning performance. They're backed with a lifetime warranty, so people know that the product is of high quality.
Heads-up:
The only downside of this product is that the fluid squirts everywhere when the clamps get moist from wet weather. So, I highly suggest wearing gloves to the bike cleaners who want to stay dry throughout the cleaning session.
What We Liked:
Keeps the bike chain clean and on-point in shifting with its cleaning ability
Smart design with 2 clamps at one end and in-between locking clamps
Works with all bike types, so compatibility is never an issue
Simple design for easy application that results in quick results
Two variants available
Backed with a lifetime warranty for a risk-free purchase
What We Didn't Like:
Fluid squirts everywhere when clamps get wet.
Bottom Line:
I love both variants that come with this product. It doesn't have a strong odor, making it the best-seller in Australia.
12. WINIKINE Bike Motorcycle Chain Brush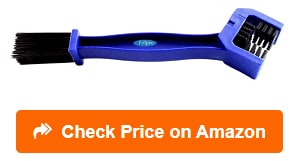 Not only does this chain brush work for bike chains, but it can also make a biker's motor chain squeaky clean!
The three-sided bristles give complete coverage cleaning, including narrow corners of the bike and motor chain. There's also a part of the brush with long bristles to clean other parts of the bike that are prone to dirt accumulation, especially the sprocket and wheel area. It gives me smooth trips as the bike or motorcycle chain functions with no worries.
Besides thorough cleaning, this moto chain cleaner also protects the drivetrain from premature wear.
A cleaning tool that features excellent durability – is another thing that I use to describe this product. This feature is made possible due to the ABS plastic construction and Nylon bristles. I have been using this product for years now, and thank God; it never showed any signs of damage.
Heads-up:
I also love how it guarantees a risk-free purchase thanks to the warranty that caters to all reasons. To experience easy cleaning, I highly recommend using a wax-based oil or lubricant on the bike or motor. This will speed up the overall scrubbing process.
What We Liked:
Works for both bicycle and motor chains
3-sided bristles guarantee complete coverage cleaning, including narrow corners
Long bristles clean areas prone to dirt accumulation for smooth function
Protects drivetrain from premature wear, extending its lifespan
ABS plastic construction and Nylon bristles for optimum durability.
Risk-free purchase thanks to the warranty
What We Didn't Like:
A wax-based oil might be needed to boost the cleaning process.
Bottom Line:
It's rare to see a bicycle chain cleaner tool that also works well for motorcycle chains. I get to clean two types of chains using one product, saving my time and money.
What to Look for When Buying Bike Chain Cleaners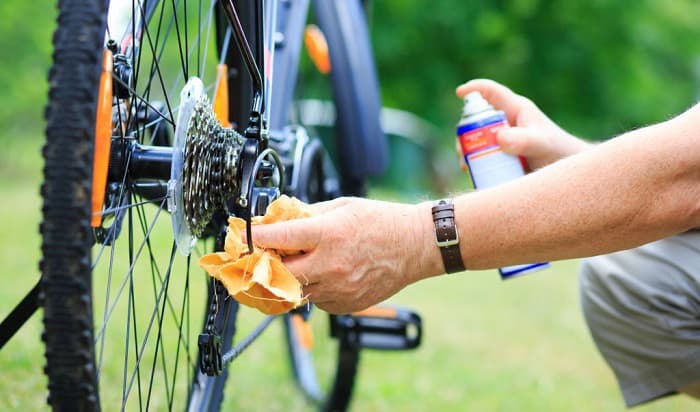 Bikers must take good care of their bike if they want it to serve for several years and improve its performance. In fact, there are many good things that bike chain cleaner bunnings could offer, and before we proceed with the crucial features to remember, stating a few of these benefits wouldn't hurt.
Removes Dirt: Aside from boosting its performance, a cleaner effectively removes dirt and excess greases on the chain, which affects the gears and drivetrain.
Minimizes wear and tear: A dirty bicycle is prone to damages that will affect the bike's overall performance in the long run. So, keeping the bike in good condition is a must. Cleaners also minimize the chances of rusting.
Provides Protection: Not only does a cleaner keeps our bike chains clean, but it also offers excellent protection, especially from corrosion.
I suggest looking for the largest package, complete with all the necessary tools to clean off the bike. Another thing to remember is to start filling one of these ergonomic tools with a fluid degreaser, hook it on the bike chain, and spin the bike wheels around to get your bike shining in no time.
Also, consider these features to determine the best bike chain cleaner in this list.
Riding conditions: Any chain cleaner works if the best bike is used on conventional surfaces, such as highways. If bikers plan to use the cycle for off-road or road cycling, they'll have to invest in a high-quality cleaner.
Size: A bike cleaner's size will be determined by how often a biker rides the bike. If you plan on using the cleaner daily, then a larger package is recommended.
Materials utilized: Take measures to guarantee that the components used to produce the cleaner are not harmful to the bike. This implies that they should not rust upon application. It should, once again, be able to remove dirt more quickly.
Drying time: It's essential to look for a bike degreaser or dry lube that quickly dries, as the bike becomes unusable for a while after the cleaner's application. Leave it for some time to dry. Choose a dry lube that does not take long to dry.
Ease of use: The last thing to consider is how comfortable the rider is when cleaning the bike. Portability, simplicity, and compactness are three things that determine if a tool is easy to use.
However, this feature isn't that hard to find because most chain cleaners are designed so that bikers can clean their chain without skill or experience. Most manufacturers also provide a manual that bikers can follow when cleaning.
Now that I elaborated on the most crucial features that one should weigh out during their purchase, it's time to check out some of the tips and caveats regarding this product.
After cleaning the bike chain, put a chain lubricant. After applying lubrication to the entire supply chain, bikers should wipe down any excess using a towel. If the degreaser comes with a harsh solution, do the cleaning process in a well-ventilated location or outside.
It's also recommended to wear rubber gloves to protect our hands from harsh chemicals.
What Can I Use to Clean my Bike Chain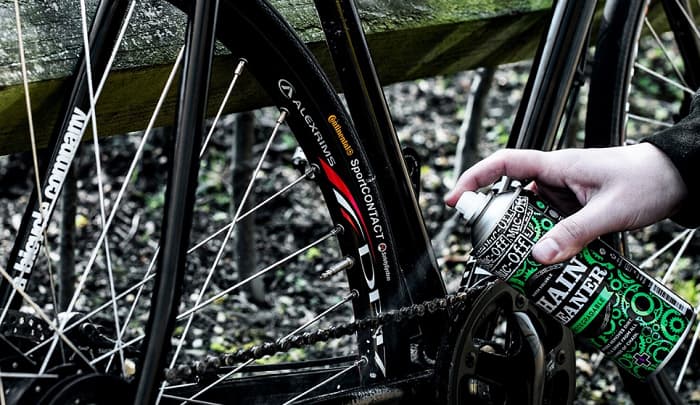 There are several cleaning products a rider can use to remove stubborn dirt. Aside from a bike chain cleaner/degreaser, bikers can also use different bike cleaning products like dish soap and warm water.
Put the solution in a clean towel to wipe off dirt and grease from the bike chain. A coarse brush also helps scrub off stubborn grime. I also suggest having a pan or plastic tub to catch drips during the cleaning session to keep the surrounding spill-free.
Can I Use Kitchen Degreaser on Bike Chain
Any high-quality kitchen degreaser won't cause damage to a bike chain, as evidenced by how several users on r/bicycling Reddit have tried this alternative with resounding success. However, I'd only recommend using one if there isn't a bike degreaser available.
Bike cleaning products provide more impressive results for chains than any kitchen degreaser offers. For instance, the degreaser and chain cleaner Muc Off would do a much better job than household degreasers.
However, anyone in a bind can get solid results from kitchen degreasers. They just shouldn't be the first option when looking for a bike chain washer or chain degreaser.
Is Silicone Spray Good for Bike Chains
Silicone spray is usable on chains, but I wouldn't recommend it if you use the bike frequently. Sadly, spray can be difficult to apply accurately, making it a tough sell as a bike chain lubricant. I could easily see someone spraying it and accidentally getting it on parts that don't need lubrication.
Another issue with using it on a traditional or mountain bike is it washes off easily. In other words, it doesn't offer the protection a high-quality bike chain lubricant provides. Your bike would end up without lubrication anytime it goes through a puddle or similar situation.
Bikers are much better off using bike-specific products like Ultrafashs Bike Chain Lubricant and Cleaner Set. These lubricants are the easiest way to ensure a bike chain remains in good condition.
What Can I Use Instead of Degreaser for Bike Chain
There are several alternatives to using a degreaser or chain cleaner for bike chains. Strange as it may sound, a mixture of soap, vinegar, lemon juice, and water can be a decent substitute for degreaser.
If you're interested in the detailed steps, check out our article "How to Make Your Bike Chain Squeaky Clean with Just Household Supplies."
Overall, it'll provide various options to keep a chain clean without spending money. But I wouldn't expect the same results Muc Off X-3 Dirty Chain Cleaner Machine offers.
Is WD-40 Good for Cleaning Bike Chains
Yes, WD-40 is an excellent water-based chain lube that lubricates and protects the chain from rusting or corrosion. It also eliminates dirt buildup, minimizing the bike chain's wear and strain. It's a famous cleaner in the UK and other parts of the world.
How Often Should I Clean the Chain
Each trip must be followed by a deep cleaning session of the bike chains. Unfortunately, not many of us have time for the task, but even a fast wipe with a clean and lint free cloth can significantly impact.
A tough paste of sludge, grime, and asphalt could quickly develop on the chain throughout our ride, primarily if we love to explore the quiet countryside or the ultimately grime-caked local roads that we most enjoy.
Depending on where cyclists ride off, it's necessary to clean and oil the bike chain after each trip.
How Do I Clean My Bike Chain
If the lubrication is oil-based, wipe off any spills with a cloth after it has settled in. Always check the application manually before using a lubricant, and if it says to leave it on the belt overnight before cycling, then do so.
If the bike chain is filthy and the rider is in a hurry, lubricate it anyhow. For more thorough cleaning, one can also follow the degreaser to clean up the bike manually.
Conclusion
Among the most significant components of our bicycle is the chain. Its efficacy and performance have a substantial impact on the bicycle's function. Cleansing a bike chain does not take long if we have the best bike chain cleaner found in the abovementioned goods.
Liquid formulations were once highly popular and effective. Dry lube and biodegradable formulations, on the other hand, became more famous for their effectiveness and safety. These have the added benefit of not causing damage to the bicycle's finish.
Because most products in this review aren't costly, riders may test to see which one works best.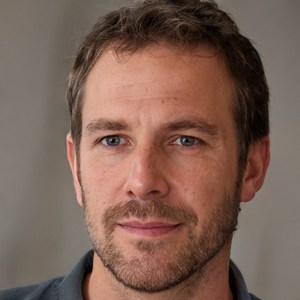 "I ride my bike to work for years, but is that enough? Our carelessness towards our surroundings has taken a toll on the environment. And now, everyone is responsible for changes; even the most minor contribution is counted. With this hope and spirit, I started with my partner to establish Biketoworkday to help more individuals commute to their work sites on their bikes."