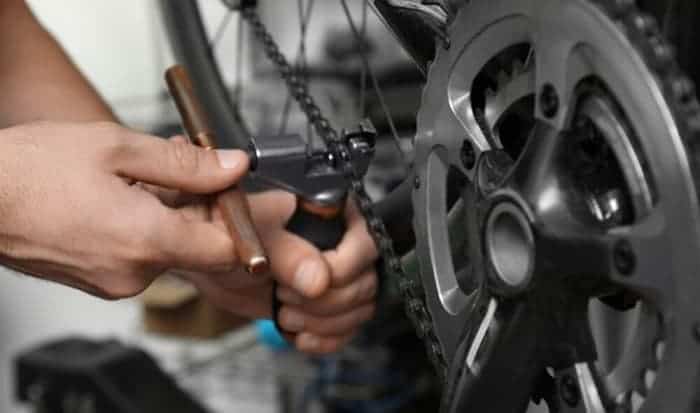 Replacing a broken bicycle chain is more effortless if one has the best chain breaker tool in hand. Chains are the driving force of bicycles, allowing the rider to transmit leg power to the rear wheel. Unfortunately, bike chains are not impervious to wear. They can break, get bent, or lose the pin that connects two chain links.
While chain breakers are a simple tool, many products on the market fail to meet bicycle owners' expectations. Some breakers do not consistently drive the chain pin straight through its slot, while others are sloppy or weak. That is why bikers must choose the right tool to add to their bike repair kit.
We determined the following factors crucial in choosing the right possible chain breaker bike owners should buy.
Compatibility: No chain breaker works on all bicycle chain system types. Many chain breakers work only with Shimano and SRAM products because of the two systems' similar characteristics. Some products can also accommodate a limited chain link size, while others have a universal design.
Ease of Use: What is the point of buying a chain breaker if it is difficult to operate? A chain breaker's ease of use is a function of its overall design. The different components must work seamlessly together to make it easier for the biker to remove chain pins and replace the links.
Construction: Ideally, the tool's pushpin must never break under pressure. That is why it would be top-tier to look at the product's overall construction to determine its strength and durability. In general, all-steel construction is better than composites; although some companies use aluminum and steel alloys.
Other factors are also important when buying a chain breaker tool. We shall discuss these additional parameters in our comprehensive buying guide while presenting them in the following product reviews.
---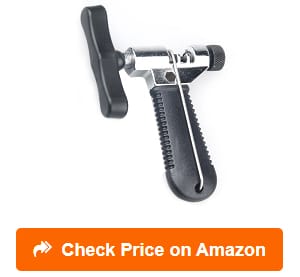 Oumers Bike Chain Tool
Backup breaker steel pin
More affordable than others
Non-slip and comfortable grip
---
Park Tool CT-5
Uses replaceable pin
Sturdy alloy construction
Works with older chain styles
---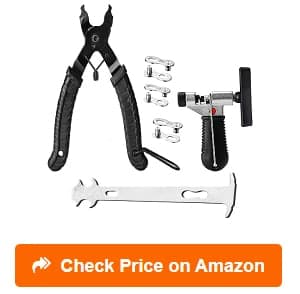 A AKRAF Bike Link Repair Kit
Great value in return
Easy to center the pushpins
Heavy-duty steel construction
---
Top 12 Chain Breaker Tool Reviews
1. Oumers Universal Bike Chain Tool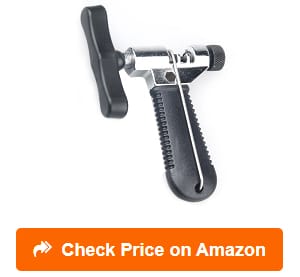 Despite its unfamiliar brand, the Oumers is the best chain breaker tool if one only looks at positive customer reviews. This chain breaker is not only a reliable tool, but it is also one of the most affordable.
I like this tool's overall design, particularly the grooved handle for a firm and more secure grip. It is suitable for people who have sweaty hands, allowing them to hold the tool as they crank the crossbar to remove a chain link. I also appreciate the lever's finger-molded design, ensuring a better grasp.
The handle features a channel for accommodating an extra chain breaker pin. There is also a slot for the chain hook, the other end of which rests on the tool's pin channel when not in use. It may not have Allen keys, but this pocket-sized device is all a two-wheeled road warrior ever needs when on an adventure.
I appreciate the tool's stainless steel construction, giving it a more polished look. It can accommodate almost any bicycle chain with 7-speed to 10-speed configurations. Removing a chain pin is effortless because of the smaller threads than what other products have.
Heads-up:
While I love the lever's design, it may be too dwarfish for some people. I also wish the company made this chain link breaker lighter because I cannot put it in my pocket without sagging. The good news is that its weight makes it more stable to hold during maintenance.
What We Liked:
Flexible universal design and stainless steel construction
Non slip and comfortable grip with finger-molded design
Backup breaker steel pin
Pocket-sized device with small threads
More affordable than other chain breakers
Bottom Line:
It may not be a big-name brand, but this chain breaker fits right into the lifestyle of modern cyclists and bicycle owners. This tool offers an exciting balance between functionality and price in a compact package, earning the nod of even the most avid bicycle fan.
2. Park Tool CT-5 Mini Chain Brute
Park chain tools are some of the world's best, favored for heavy-duty construction, thoughtful craftsmanship, and unquestionable performance. The Park Tool CT-5 Mini Chain Brute is one such tool that many bikers use today for emergency bike chain repairs on the road.
It is almost unimaginable how a tool this small can be a life-saver on any biking adventure. Not only is it light – weighing only 2.4 ounces – but the chain breaker also has a streamlined design. It is perfect for slipping into one's back pocket or stashed inside a biker's pouch.
Despite its minuscule size, this Park Tool chain breaker is as tough as hardened steel. It features high-strength alloy to give bicycle owners a durable product that will never give up on them in an emergency.
This tool can accommodate almost any bike chain type with a 1/8-inch width, including the 12-speed chains of Shimano's XTR and SRAM's AXS models. It also fits single-speed chaining and bicycles with 5-speed to 12-speed systems.
Owners of bikes with older chain styles will also love this pocket-sized breaker tool. It comes with an integrated shelf for loosening the super-tight and stubborn chain links of older models. Its pin is also replaceable, although I do not think it is necessary because of the product's heavy-duty construction.
Heads-up:
While its diminutive size is a welcome attribute, it can also be the chain breaker's Achilles heel. The drive handle is short, reducing one's leverage. It may take brute force to turn the handle if the chain pin is too tight. Moreover, people with large hands may find holding the tool pretty challenging.
What We Liked:
Compatible with many bike chains with a 1/8-inch width
Works with older chain styles
Sturdy alloy construction and streamline design
Uses replaceable pin
Pocket size, weighing only 2.4 ounces
What We Didn't Like:
Not for big-handed bikers
Elbow grease required
Bottom Line:
Nevertheless, this chain breaker is an excellent addition to one's EDC. It is compact and lightweight while giving bikers the performance reliability they need from a chain breaker.
3. A AKRAF Bike Link Repair Kit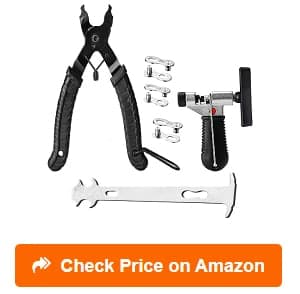 One does not need a Halfords chain tool when bikers can get the A.AKRAF Bike Link Repair Kit. Not only is this a reliable chain breaker with an excellent price to match. It is also a complete kit for effortlessly removing and replacing broken chain links, master chains, and chain pins.
I am fascinated with the inclusions in this product. There is a 2-in-1 chain link plier perfect for removing and reconnecting the master chain link. The bike chain wear indicator also works like a charm in assessing the stretch of the bike chain and providing a picture of chain status.
A hook is present to stabilize the link section during chain breaking, while the breaker tool already comes with a pin splitter.
The product also includes three bike chain links perfect for initiating emergency roadside bike repairs. I cannot think of any big-name brand chain removing tool offering a set as complete as this.
One can repair any bicycle chain with 7-speed to 11-speed groupsets. If one has a single-speed bike, this tool will work, too. There is also no worrying about its construction because the company uses only heavy-duty steel.
Centering the pushpin is effortless, and securing the chain link is a breeze because of the chain breaker's thoughtfully designed shelf. The oversized lever also makes twisting hassle-free, while the grooved handle will never slip one's hands.
Heads-up:
Unfortunately, the tool does not work with 12-speed groupsets. I also found some complaints about the chain wear indicator tool being flimsier than the other tools included in the kit, getting dents after only several uses.
What We Liked:
Works with single and multi-speed chain systems
Great value in return for a complete bike chain repair kit
Easy to center the pushpins and secure the chain link
Heavy-duty steel construction with oversized lever
What We Didn't Like:
Chain link spanner not as heavy-duty as the other tools
Not for 12-speed groupsets
Bottom Line:
Nevertheless, this bike chain repair kit is an excellent buy. It takes the hassle of repairing broken bike chains off a biker's shoulders, ensuring a more enjoyable biking adventure.
4. ATLIN Bicycle Chain Breaker Splitter Tool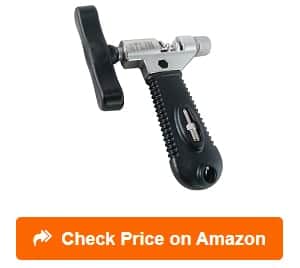 The ATLIN Bicycle Chain Breaker Splitter Tool is another inexpensive option for bikers who want a reliable device for bicycle maintenance. This bicycle chain splitter tool has a more comfortable grip to make chain removal more hassle-free.
I like its lever design, allowing me to rest my thumb and index finger on its wide cross-section for more efficient turning. Aligning the chain rivet to the pushpin is pain-free because of the wide-open slot that ensures correct placement.
Some bike chain breakers do not center well, while others' designs make it challenging to check the correct alignment between the pushpin and the chain rivet. This tool makes chain-breaking almost effortless.
The tool comes with a chain hook and an extra pushpin, perfect for stabilizing and securing the chain when working on a section.
I love the grip, which is similar to the Oumers. It will not slip off the hand, perfect for people with sweaty palms or butterfingers. The lever also feels solid and secure, giving the user the confidence to maintain their bikes. It easily translates to more exciting adventures on the bike trail.
Heads-up:
I wish the company did a better job of finishing the breaker's body. It does not have a well-polished look, giving the tool an unpleasant cheap aesthetic. While pocket-sized, it does not necessarily translate to a comfortable carry. This tool will pull a baggy pant's pocket down.
What We Liked:
Compatible with 7-speed to 10-speed chains
Includes an extra push pin and a chain hook
Easy to use due to the lever design with wide cross-section
Heavy-duty construction
Comfortable non-slip grip and crank
What We Didn't Like:
Heavier than other pocket tools
Looks cheap despite the quality
Bottom Line:
Despite these issues, I still consider this pocket-sized chain breaker one of the top-tier on the market. It provides bikers with an inexpensive yet reliable tool for removing their chain pins.
5. Topeak Universal Chain Tool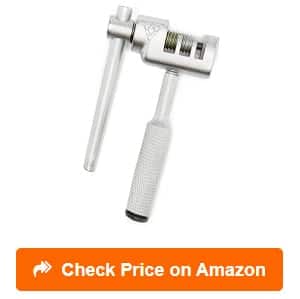 Topeak returns with its take on a universal chain breaker. This lightweight, compact device is perfect for any cyclist who wants to maintain a sense of security whenever biking off-road.
This Topeak all speeds chain tool has a solid construction, despite weighing only 2.89 ounces. One can pocket this hand tool or slip it in a repair kit pouch. It will never weigh riders down, unlike other products that make their presence known by pulling the pocket to the ground.
I love its multiple groupsets compatibility, accommodating 12-speed chains as effortlessly as it does single-chain systems. A friend uses the tool on his Shimano, while another friend fixes his SRAM with this handy tool. We also have a neighbor who rides a single-speed legacy bike, and the chain breaker worked splendidly.
I like the handle's hollow and removable design. One can unscrew it from the breaker body and slide it on a small Allen wrench for added leverage. Inside the handle is a chamber for accommodating a pair of extra chain pins. This feature is hands-on the best.
Replacing broken chain links is also hassle-free because of the included hook and chain pin breaker. I will not have to use pliers to cut the excess rivet.
While it has a universal design, it is unfortunate that this is not an 11 speed chain tool. The brand was upfront enough to caution buyers that the device will not work with 11-speed chains.
Heads-up:
Some people may also find the all-silver design too bland for the taste. The only accent one gets is the black rubber stopper that seals the bottom chain pin compartment.
What We Liked:
Compatible with many bike chain groupset types
Comfortable handle with hollow and removable design
Has integrated chain pin breaker and hook, secure chain pin compartment
Solid yet lightweight construction
What We Didn't Like:
Bland aesthetics
Not for 11-speed chains
Bottom Line:
This universal chain breaker is the perfect companion for any cyclist who wants to feel more secure when biking.
6. Park Tool CT-3.3 Chain Tool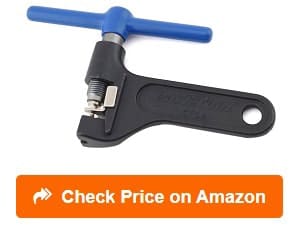 Many bike repair shops worldwide have a ParkTool chain tool in their organizers because of its reliability, durability, and exceptional performance. People looking for a heavy duty chain breaker tool trusted by professionals globally and last many years should consider the Park Tool CT 3.3.
I admire this product's robust construction. Starting with the vinyl-dipped handle, it feels secure on the hand when breaking and replacing a chain link. The grip is firm, while the textured surface gives instant feedback to what one is doing. It looks like the solid handle of a mechanic's trustworthy adjustable wrench.
The lever is also exceptional. Although it does not have a sliding design, the crossbar spans sufficiently for maximum leverage. One can also slip a pipe tube over the lever for stubborn chain pins, such as those we see in rusty chains.
One can use this device on almost any bike groupset, including Shimano's XTR and SRAM's AXS 12-speed chains. It is also compatible with single-speed systems and any bicycles with standard 5-speed to 12-speed groupsets.
I love the breaker's bolt that secures the pushpin at the tip. The company is also gracious enough to integrate a removable and replaceable pushpin. However, I do not think this is necessary because of the product's professional-quality construction.
Heads-up:
Aside from its price, the only other comment I have about this product is its weight. On the bright side, its heft is a function of its solid-quality build. After all, seasoned bike repair shops will not want a lightweight tool they can toss in the garbage bin.
What We Liked:
Professional-grade chain breaker design
Compatible with 5-speed to 12-speed groupsets
Comprises an extra-long lever for maximum leverage
Robust construction with removable, replaceable pushpin
Bottom Line:
People who do not mind paying several dollars more should get this chain breaker. It is a reliable and durable tool that will never fail avid bikers, regardless of their bicycle's groupsets. Otherwise, bike repair shops would not use this tool.
7. Topeak Super Bicycle Chain Tool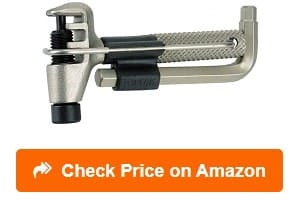 Here is another worthy chain breaker to include in one's everyday carry pouch. The Topeak Super Bicycle Chain Tool is almost similar to the Park Tool CT-5 Mini except for several additional tools that offer extra functionality.
I thought the CT-5 Mini was already light. This Topeak chain tool weighs less by 0.2 ounces, which is not much. Every fraction of an ounce matters if one has many tools in the repair bag. Part of its lightweight design is the company's insistence on using premium-quality aluminum. Not only is this tool lightweight, but it is also durable.
People still learning how to use a chain breaker will love the extras that come with this minuscule device. There is a chain hook for securing the chain link section the biker wants to remove and a secondary chain link fence for securing the chaining. I find these tools exceptional in making chain pin removal as effortless as possible.
I also appreciate the integrated chain pin holder, perfect for slotting a brand new rivet if I need one on the road. The 5mm and 6mm Allen wrenches are also outstanding additions, enabling bikers to make instant maintenance or repairs wherever they are.
As for the chain tool itself, it fits most single-speed and multi-speed systems. The pin centers straight on the chain rivet, allowing users to slot it through the plates.
I am surprised that this tool does not cost that much, despite its construction and worthy additions.
Heads-up:
However, people with big hands will find manipulating the handle trickier than usual. It is also not compatible with Campagnolo chains.
What We Liked:
Works with single-speed and multi-speed chains
Lightweight, pocket-sized multifunction tool kit
Robust premium-quality aluminum construction
Great value for the accessories (chain pin holder, Allen wrenches)
What We Didn't Like:
Small for people with big hands
Not for Campagnolo chains
Bottom Line:
Regardless, I deem this chain breaker a reliable tool for removing and replacing chain links. It performs exceptionally straight from one's pocket.
8. SINGARE Multi-function Bike Repair Kit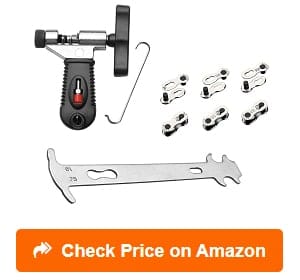 The SINGARE bike chain removal tool is almost similar to the A.AKRAF bike chain repair kit, except for the missing bike chain link pliers. It is an affordable tool for people who do not want to spend more on a device they will not use frequently but performs well when needed.
Like other bike chain repair kits, I love this product's thoughtfulness. It makes it effortless to perform emergency chain repairs on the road without looking for a professional bike shop.
The package already includes an easy-to-use chain breaker and a spanning tool for assessing a bike chaining's integrity. Fixing damaged chain links is also easy because the device already comes with six extra chain links.
I like the handle's center groove housing the pushpin when not in use. The chain hook also secures squarely on the handle and latches onto the breaker channel. The oversized lever is comfortable to hold without putting too much strain on the fingers and thumb.
The breaker body features a groove for spotting pushpin action, ensuring one does not dislodge the chain peg through the plates.
One can use this product to repair any bike with a single-speed chain or multiple sprockets in the 6- to 10-speed range. Friends and neighbors will be glad to have this tool in their bicycle under-seat pouches or even in their pockets.
Heads-up:
I wish the company included a bicycle chain link plier, even if that means paying a few dollars more. It would have made the repair kit more complete. There are also some minor issues with the product's durability.
What We Liked:
Has easy-to-use chain breaker and a spanning tool
An inexpensive chain breaker-check combo
Oversized lever is comfortable to hold
Compatible with most bicycle chain sizes in 6- to 10-speed range
Includes extra bike chain links and removable pushpin
What We Didn't Like:
No bike chain link pliers
Durability needs improvement
Bottom Line:
Despite these drawbacks, I still consider this chain breaker worthy of any biker's consideration. It is compatible with many bike chain systems and comes at a price so friendly not to appreciate.
9. QKURT Bicycle Chain Tool Kit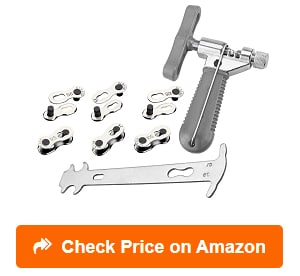 People accustomed to using a Shimano chain tool will appreciate the remarkable design and craftsmanship of the QKURT Bicycle Chain Tool Kit. It may not be popular, but it can do an excellent job repairing broken bike chain links without spending a lot.
I admire this bike chain breaker's thoughtful design and dependable construction. I feel confident using the breaker to snap the pegs from my bike chain. Assessing a bicycle's chain wear is also effortless because of the included chain gauge. Determining if I need to replace my chain altogether becomes an easy task with this simple device.
I love the pushpin's unique design. It has a narrow thimble for pushing the peg out of its slot and an expansive threaded base for better stability. The engineering ensures the thimble will never break. Maybe that is why the company decided not to put an extra pushpin in the package.
Handling the tools is solid and secure. They do not slip from the hand. The lever has a nice heft that guarantees better leverage, freeing users from using excessive force. One can repair the chain links of almost any bicycle on the market, including single-speed systems and bikes with 7-speed to 11-speed groupsets.
Heads-up:
I wish the brand included a link plier to go with its chain breaker.
What We Liked:
Compatible with multi- and single-speed chains
Unique, more durable pushpin design
Complete with chain gauge
Available at an inexpensive price tag
Bottom Line:
Overall, I have complete trust in this chain remover, even though it does not have the glitz of a big-name brand. It works as effectively as one can hope for without hurting the budget.
10. KZNANZN Detacher Breaker Cutter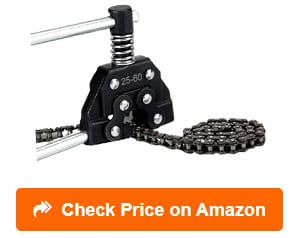 The KZNANZN Detacher Breaker Cutter is an excellent roller chain breaker tool for bicycles, motorcycles, all-terrain vehicles, go-karts, and other vehicles with chain drive systems. It has reliable construction and a price that many people will never pass on.
Using this tool is as easy as placing the chain on the device's jaws and tightening the lever until the peg pops out at the other side. The handles are surprisingly longer than what other products provide, ensuring bikers will never break a sweat when removing and replacing their bike chains.
I appreciate the company's efforts to strengthen the tool by using only high-carbon steel and reinforcing it with compound-strengthening materials. The pushpin also has substantial composition upgrades, undergoing extensive heat treatment and hardening before mating to the tool.
The process should make the chain breaker less friendly on the pocket, but it is not. This handy tool is more affordable than products that only work with bicycle chains. It works with roller chains sizes #25 to #60. The chain breaker also extends its usefulness to other roller chain types, ensuring adequate coverage of different bicycle groupsets.
Heads-up:
While this motorcycle chain breaker tool can accommodate various chain sizes, some users complained that it does not work with chains smaller than #40. It pushes the peg straight out of the plates but gets stuck upon reaching the chain's opposite side. Moreover, some people do not agree with its looks.
What We Liked:
Compatible with different vehicles with chain drives
Reliable construction with extra-strength, heavy-duty pushpin
Effortless operation thanks to the long handles
Great value for a pocket-friendly, lightweight product
What We Didn't Like:
Not ideal for small-sized chains
Unappealing design
Bottom Line:
Regardless, I still give this chain breaker a thumbs up for reliability, ease of use, durability, and affordability. It is uncommon to see a product at this price range that works with chain-driven vehicles other than bicycles.
11. PRO BIKE Universal Chain Tool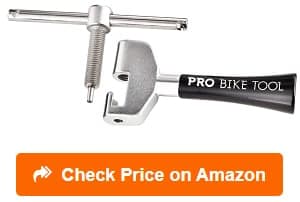 Many chain breakers claim they have a universal design but can only accommodate a limited chain speed setup. When the PRO BIKE chain link removal tool says it is universal, it means it.
This tool can break the chains of bicycles with 1-speed to 12-speed groupsets, making it one of the most versatile chain breakers on the market.
Owners can fix their bicycles or their friends whenever they run into an emergency during one of their road adventures. It no longer matters if their bike mates have a different groupset because this tool will handle it.
Operating this handy tool is also a breeze, thanks to its oversized lever. One can slide the crossbar through its slot to lengthen one side and ensure better leverage during turning. The handle is comfortable and feels solid, too.
I like the way the thread centers the pin into the chain rivet. It is spot-on. Placing the chain is also error-free because there are no breaker elements to obstruct the view. I can say the company did a fantastic job with the tool's design, ensuring optimum functionality and ease of operation.
While this bike chain breaker tool is heavier than the CT-5 Mini and Topeak Super, it does not weigh the pocket down as much as the Oumers and ATLIN did. One can slip the tool in the back pocket or stow it in a small pouch dangling from the bike frame.
Heads-up:
Unfortunately, Chromoly alloy is not as strong as stainless steel. That is why there have been complaints about the tool breaking its pushpin after several months. Additionally, it cannot accommodate the 12-speed groupsets from SRAM and KMC.
What We Liked:
Universal chain breaker design with comfortable, solid handle
Hassle-free to operate thanks to the oversized lever
Pin centers spot on, ensuring optimum functionality
Compact and more lightweight than the Oumers and ATLIN
Good value
What We Didn't Like:
Incompatible with certain 12-speed chains
Not as durable as ones made from stainless steel
Bottom Line:
Overall, it is an excellent buy for those who want a truly universal chain breaker for their bicycles and their friends' bikes.
12. Ponwec Bike Chain Tool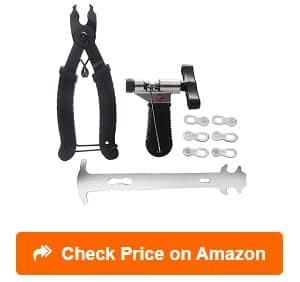 One problem with mainstream chain breakers is that they do not have other tools necessary for comprehensive repairs. The Ponwec bike chain link tool does. This repair kit has everything a bicycle owner needs to make shop-quality repairs on the road without breaking the bank.
The kit already includes a link plier, chain gauge, hook, and an extra pushpin or thimble. There are also three additional chain links to use in an emergency. With all these additions, I expected the product to cost more. Surprisingly, it is one of the most affordable on the market, making it an exceptional buy.
I love the plier because of its comfortable and solid grip. The chain breaker also has grooves on the handle, ensuring better stability when removing the chain pegs. The lever is stouter than most products on the market, allowing bikers to have a firm and secure hold as they turn the crossbar.
The tools feature hardened steel that will never bend or get dents. It is another surprise feature, given this product's low price. The pliers and the chain breaker also feel solid on the hands. They are sufficiently heavy for improved handling during use.
Heads-up:
Unfortunately, I found a few complaints about the pushpin breaking after a few uses. Moreover, the handle can be short for some people. Sadly, the grip has a wide base that makes inserting a pipe impossible.
What We Liked:
Complete set of bike chain repair tools
Compatible with most bike chain systems
Hardened-steel construction ensures no bending or dents
Hassle-free to use and affordable product
What We Didn't Like:
Pushpin not as durable as others
The handle may be small for some people
Bottom Line:
Nevertheless, I find this bicycle chain removal tool great for budget-conscious folks and people who are cautious when riding their bikes. After all, it is not every day that one must replace the bike chain links.
What to Look for When Buying Chain Breaker Tools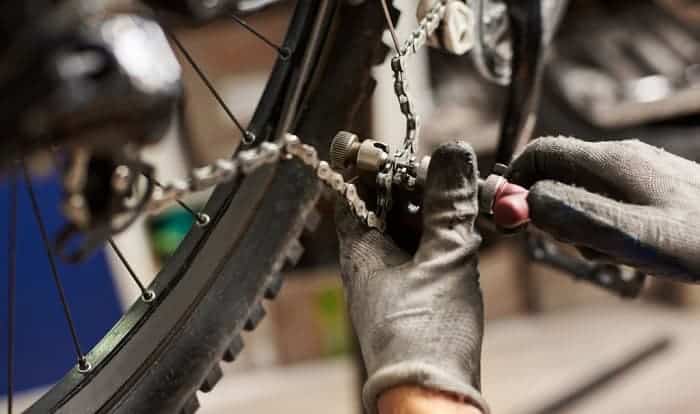 A bicycle chain breaker tool is a simple device that helps people remove the metal pin connecting two bike chain links. It may seem a straightforward process, but the inherent chain design makes rivet removal difficult without the correct tool. That is why it is most suitable for bicycle owners to have a chain breaker in their toolbox.
Here are some of the factors one must consider when buying a chain breaker.
Compatibility
Although chain breakers perform the same function, no single product can accommodate all bike chain sizes and groupset types. Most products can only sit several sizes of bike chains on the breaker block or shelf.
For example, a chain breaker may only accept Shimano and SRAM groupsets, but not Campagnolo speed chains. The reason here is that Campagnolo chains have a greater width than the two other systems. Hence, a Shimano 12-speed may already be equivalent to a Campagnolo 11-speed, give or take a few millimeters. Some products also accommodate a 12-speed chain, but not an 11-speed.
That is why buyers must read the product specifications carefully, ensuring it is compatible with their bicycle's chain system. Otherwise, they will only waste money on something they will not use.
Ease of Use
A chain breaker's ease of operation is a function of its design. A well-crafted and thoughtfully designed chain breaker will make it effortless to use.
For instance, the handle's grip and lever length are two crucial factors determining a chain breaker's hassle-free operation. The handle must be comfortable to hold and not slip off the hand. Meanwhile, the lever must be sufficiently long to reduce the force required to turn the pushpin through the chainplates and peg.
It would also be great if the chain breaker has a groove for checking how far the pushpin has advanced through the slot.
Construction
In general, an all-metal construction guarantees durability and strength. Unfortunately, these products are often heavy and unwieldy. On the other hand, alloys provide an excellent balance between lightweight and strength. Some products also come with aluminum construction, while others feature high-carbon steel.
We recommend researching the pros and cons of each material to help buyers decide which product is most suitable for them. Buyers must know that high-density, high-quality materials often command a high price.
Additional Features
Chain breaker manufacturers continue to outdo each other by adding excellent features to their products. It would be wise to examine each extra attribute to determine if it adds value to the purchase.
For example, some products come with other bike chain repair tools, such as a chain gauge, link plier, hook, bonus pushpins, and extra chain links. Companies can also integrate more subtle features in their products, including a ring or carabiner slot and a hidden compartment for small tools.
Others may design their chain breakers with a secondary shelf for loosening super-tight chains.
Price
Several factors can determine a chain breaker's price. For instance, some online retailers offer exceptional discounts to entice customers. Amazon and leading e-commerce sites are always available to give customers a great bargain.
Location can also impact a chain breaker's price. For example, if Canadians want to buy a chain breaker tool Canadian Tire will be a no-brainer.
It would be best to check the product's construction, compatibility, ease of use, and extra features to assess its overall value against the price.
Are All Chain Breakers the Same
All chain breakers are the same because they serve the same purpose – push the metal pin or rivet that connects two pairs of outer and inner plates that form a single chain link. This tool can also drive a new chain pin or when replacing the chainplates.
While the function is the same across all chain breaker types, they differ in their rivet size compatibility, pin design, tool size, price, and inherent features. For example, a 5-speed chain is wider than a 7-speed chain.
That is why bicycle owners must have excellent knowledge of their bike's chaining before shopping for a bike chain breaker tool. Of course, find out more useful tools that are really necessary for your bike because there will be cases where you will need them. Such as bike cable cutters, bike degreasers and bike chain cleaners.
Do I Need a Chain Breaker Tool
A chain breaker tool is a must-have for any bicycle owner or anyone who has a vehicle with a chain drivetrain.
While it is possible to disconnect the links without special tools, the process can be intimidating. There is also the risk of damaging the chain, prompting the owner to buy a new one.
Do All Bike Chains Have a Master Link
Bikers can expect most bike chains to have a master link. Bike manufacturers utilize this master link as a user-friendly accessory for riders. For instance, it allows much easier attachment and detachment of the bike chain.
With the master link, it'll be easier to replace chains or do heavy-duty cleaning. As a result, bikers wouldn't have to use chain breaker tool for bicycle to remove them. Anyone who needs help finding their master link should check our article, "How to Find the Master Link on a Bike Chain – 3 Simple Steps".
How Do I Know if My Chain is Worn Without the Tool
Checking a chain without a bicycle chain tool kit isn't something that I'd recommend. But there are situations where a tool isn't available when the need arises. In these cases, you can make the diagnosis with your fingers.
Start by shifting the bike's chain to its last chain ring. I'd imagine it's nothing that a biker hasn't done a hundred times before. However, it's essential to see if the chain can still handle regular wear and tear.
Once it's on the last chainring, move the pedals out of the way. I recommend positioning them so the crank arms are parallel to the floor. It should be more than enough to keep from disrupting the rest of this process.
Next, pinch the bike chain at a 3 O'clock position and tug it forward gently. A worn chain is evident if any significant movements occur, indicating it's time to replace it with a new one for a better bike riding experience.
But again, using a chain tool kit is a much more effective way of accomplishing this check. So if possible, please use one like A AKRAF's Bike Link Repair Kit. It comes with a chain wear indicator to make this process a breeze.
How Do You Make a Chain Shorter Without Cutting It
Shortening a chain without cutting it using a chain cutting tool is never ideal. However, it's possible to shorten bike chains without using other accessories. For example, many people have used thin nails, pliers, or hammers to get the job done.
Using one of the abovementioned tools, push the link pins out from the chain's sockets. Keep doing so until the chain's length is to your liking.
If anyone needs help with a step-by-step guide, look no further than "How to Shorten a Bike Chain Without a Chain Tool?". It'll walk you through the entire process without breaking a sweat. But again, I'd still recommend using a pro chain tool for cutting or a chain splitter whenever possible.
How Much Does It Cost to Replace a Chain on a Bike
Bike chains for a mountain bike, road bike, or other types can vary dramatically in price. It can range anywhere from $5 to $100. My advice would be to select an option closer to the middle, as standard chains around $15 or $20 should do the trick for most bikers. Despite riding my bike constantly, I never found it necessary to spend close to $100.
How Do You Break a Chain Without a Tool
It is possible to break a chain without a tool using three things: a solid block with a small hole for positioning the chain link, a thin nail for pushing the chain rivet without getting lodged into the plates, and a hammer for driving the nail.
Place the chain link on a solid block, preferably a small nut, ensuring the rivet is over the nut's hole. The hole must be big enough for the pin to pass through but small enough to prevent the plates from bending.
Position the nail on the chain pin's flat surface before hammering it down. It would be best to carefully tap the rivet until it comes out on the opposite side. However, be cautious not to push the pin too much so that it falls off. It should still connect to the other side's outer chainplate.
Slowly wiggle the chain to free it from its connection.
Conclusion
The best chain breaker tool is perfect for repairing broken bike chains and other essential components. It fits the chain specific to a person's bicycle groupset. The tool is also sturdy, reliable, durable, and effortless to use.
While not necessary, it would be best if the device also features other functions, such as a chain pin breaker, chain gauge, hook, and chain link pliers.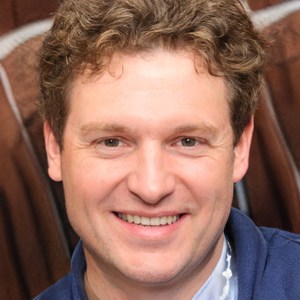 "Bike commuting should be the trend for the next few years, and it is a convenient and eco-friendly way for us to travel. And we are here to make it a bit less troublesome for people who want to maintain their vehicle for a long time. So, the content I expect to put out here is offering help for bikers who are facing issues with parts of their bikes once in a while. Let's have fun and protect the environment together!"