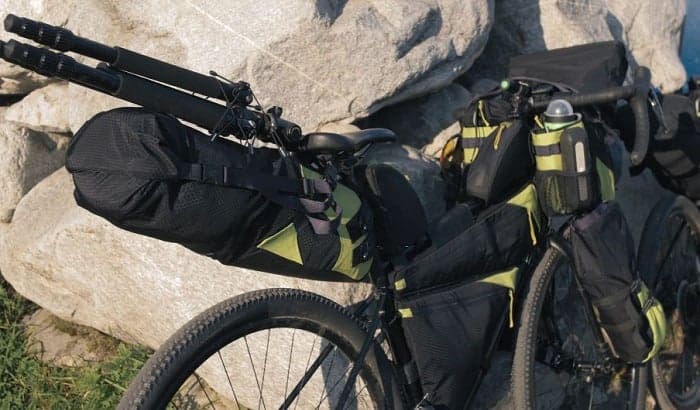 Looking for an innovative way to carry valuables without resorting to panniers and frame bags? Well, there are bike-specific designed bags you can bring on road adventures that can easily lighten your load.
Whether you are embarking on a multi-day expedition or a weekend off-road trip, the best bikepacking bags can reduce the stress of carrying bulky bags. It is a bag pack cleverly designed to be compatible with handlebar, frame, seat, and bike tubes.
However, getting the right bikepacking bag for your specific needs can be challenging. You have to take into account factors like carrying capacity, accessibility, and adjustability to make the bag more functional.
You have to assess what kind of biker or traveler you are. If you love bringing all your essentials in one go, picking a bag with a large storage capacity is ideal. On the other hand, if you pack light, 5-liter storage space is enough.
Additionally, accessibility is important. Depending on how you want to carry the bag, you can select seat packs, handlebar bags, or tube bags. It is important to take into account the level of comfort you experience once the bag is installed on your bike.
Adjustability is another factor to consider for a bikepacking bag. Get a bag that is both adjustable and versatile, so you can maximize the money you will be spending on the product. It is better if you select a product which you can use even when you are not on the road. With the degree of adjustability your bag can offer, you can fully enjoy the purchase of the bag.
To understand these factors better, you can read the buyer's guide after our product reviews. It helps you choose the right bag while considering your lifestyle and bag needs.
---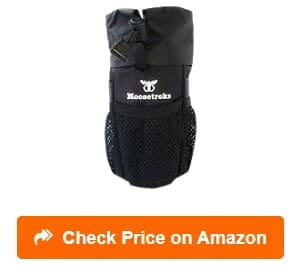 Moosetreks Bike Bag
Easy to access
Well-insulated
Perfect for short term ride
---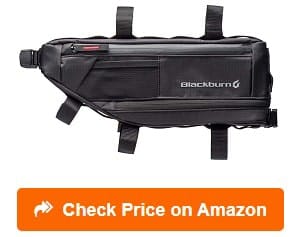 Blackburn BLBOUTFBL
Expandable
Has hose port
Impressive mounting system
---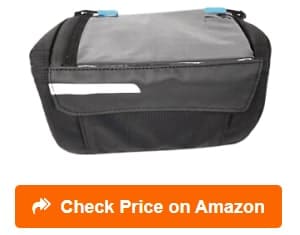 OBOVA Bike Bags
Easy to install
100% waterproof
Sturdy construction
---
Top 14 Bikepacking Bag Reviews
1. Moosetreks Bike Handlebar Stem Bag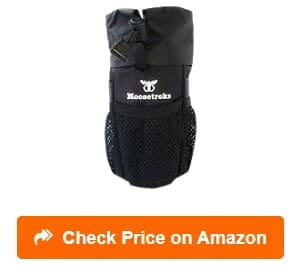 If you are looking for extra gear with functional features, this Moosetreks bike stem bag is our top recommendation. It is a small black pouch offering storage space for your water bottle and snacks. It is a convenient solution for people who want easy access to food and drink.
This is an accessory bag that easily attaches to your bike handlebar for short-term commuting. Aside from that, it has enough space for small items like phones, cameras, keys, and wallets. It is very accessible with top closure openings where you can get your food and water easily. You can close the bag conveniently using the adjustable strings used for the enclosure.
In terms of installation, it has a secure three-point attachment with one velcro loop for the handlebars, another one for the stem attachment, and a clip strap at the bottom part for a more stable mount. You can tighten the strap to secure the bag when passing through rough and challenging terrains.
Heads-up:
Since it is specifically designed to hold snacks and drinks, the bag is insulated and durable. It will keep the temperature of your drinks cool for a certain amount of time. Plus, you will be amazed that it comes with a drainage hole at the bottom of the bag. It will remove the liquids in case your water bottle is spilling. You can even use two stem bags for both ends of your handlebars.
What We Liked:
Perfect bike gear for short term ride
Well-insulated
Stable and secure attachment system
Easy to access
What We Didn't Like:
Can only hold small items
Bottom Line:
For cyclists who always have the need to hydrate, this bag is specifically designed for you. It offers easy access to your food and drink, while keeping them at their original temperature. The convenience and accessibility this bag offers enables you to enjoy biking even more.
2. Blackburn BLBOUTFBL Bike Frame Bag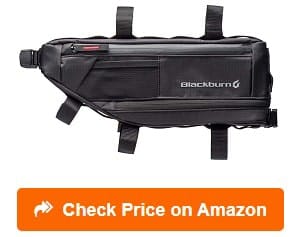 The Blackburn Outpost bike frame bag was able to make it to our list. It is a full-frame bag that fits well with your triangular bike frame bag. The bag comes in solid black color with the brand's logo on each side. It has sturdy construction with two exterior zippers on the edges.
This frame bag provides a smart compartment system where you can easily organize stuff. You have dedicated spaces for each of your items. You can store your small-sized essentials like cell phones and wallets in the exterior pouches, while bigger items like clothes, and bike repair tools can go in the main compartment. In this way, all your things are manageable and easy to locate.
Another thing to love about this bag is that it provides extra space when needed. It is completely expandable to accommodate the supplementary load. If you embark on a long bike journey, the bag expands based on the amount of stuff you carry. It is dependable both in regular bike routines or extended bike adventures.
More than that, the design of Blackburn bikepacking bags provides hose sport for storage. Unlike the rest of the bike pack bags on this list, this bike pack ensures that you are well-hydrated when on the road.
Heads-up:
You can satisfy your thirst easily without opening the bag because of the hose port that connects to the water reservoir. The mounting system is also impressive given that it can complement any type and size of bike. It truly justifies its expensive price range.
What We Liked:
Comes with a smart compartment system
Has hose port
Expandable
Impressive mounting system
Bottom Line:
If you love to venture on both short and long-term bike trips, this bike bag from Outpost is our top recommendation. It is designed for people who spend most of their time on the road. It comes with functional features making it more convenient for you when on the road.
3. OBOVA Bike Handlebar Bags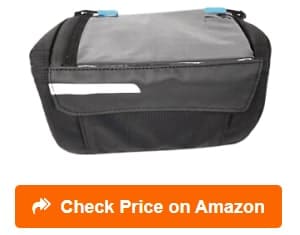 Another great product we have on the list is the OBOVA bike handlebar bag. It is a medium-sized bike packing bag that can hold enough valuables or essentials. This product is ultra-lightweight that only weighs 0.64lb. You are guaranteed that the bag itself will not add too much load while you are riding.
This bike bag has a sturdy and well-constructed design with a foam padding mechanism to protect the items stored inside. It is specifically engineered to be installed into the bike handlebars. The bag offers better accessibility where you can readily access your water bottle, snacks, or mobile phone. However, be careful as this might not fit well in your mountain bike or other larger bikes.
It is also completely waterproof given that it is made of 400D nylon material and an extra inner PVC protection. This bike pack comes with a water-resistant zipper and rain cover for added protection during heavy rain. You can be more confident using this bag in different types of environments and weather conditions.
Heads-up:
More than that, it comes with a quick release and easy installation system including three velcro straps that measure 9.4 inches long. You can hang the bag in between the handlebar, and it will seat perfectly once it is properly installed. Plus, you will be delighted as it also offers a 30-day money-back guarantee in case you are completely dissatisfied with the product. You can just contact customer care for a full refund.
What We Liked:
Sturdy construction
100% waterproof
Comes with a quick release and is easy to install
Provides 30-day money-back guarantee
Bottom Line:
If you own a regular road bike, this product is compatible. With sturdy and impressive construction, you can use it on a day-to-day basis as it can carry your most basic essentials. Given that it is a padded bag, your items will remain unharmed.
4. Rhinowalk Bicycle Saddle Bag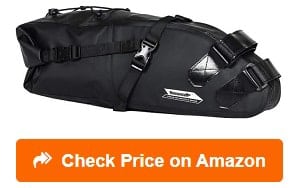 The next product on our list is this Rhinowalk bicycle seat bag. The brand is known for creative and excellent designs offering consumers the most favorite bikepacking bags in the market. You are sure that you can enjoy both quality and style with this saddlebag.
This seat pack comes with a large storage capacity of up to 10 liters. The bag is not expandable but the amount of space it offers ensures that you can bring most of your important stuff. You can bring large, medium, and small items without being worried about not having enough room.
The tube bag also has waterproofing material, which allows you to use it even in rainy seasons. It is made of double-sided TPU water-resistant fabric both on the exterior and interior sides of the bag. Plus, the 840D bifilar nylon material guarantees that it is a great outdoor bag due to its solid and waterproof construction.
Heads-up:
For a great weekend getaway, you can depend on this bikepacking bag. With its large storage capacity and easy mount feature, you will surely have a hassle-free biking experience. You can even use it during rainy days.
What We Liked:
Provides large storage capacity
Both the exterior and interior sides are waterproof
Has excellent design
Hassle-free installation
What We Didn't Like:
Not expandable seatpost bag bikepacking
Bottom Line:
For a hassle-free installation system, this bike bag is a great pick. You will not have a hard time attaching this bag to your seat post because of its impressive installation feature. Even when it is fully loaded, you won't worry about the bag slipping off the bike post.
5. WATERFLY Bike Waterproof Seat Bag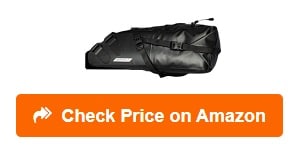 The WATERFLY Bike Waterproof Seat Bag stands out among bikepacking saddle bags with its extensive storage capabilities. After all, it can hold 10L of items to ensure bikers can bring everything needed on their trip.
But it's essential to realize users aren't stuck with a 10L storage bag. Instead, this product allows us to shrink its capacity to 6L whenever needed for more convenient usage. It's an ability that has saved me many times since investing in this bikepacking bag set.
I was also thrilled by this bag's reliable and waterproof construction. WATERFLY accomplished this by making the product out of high-quality TPU film and 840D nylon. As a result, I don't have to worry about any weather conditions causing severe damage or issues.
Cleaning this product after encountering rough conditions is also relatively easy. For example, I recently rode through a muddy trail where grime got all over this bag. I only had to wipe it down with a wet cloth to clean it thoroughly.
If these features weren't enough, I was impressed with its adaptable design. It has shown enough versatility to be among the top-tier gravel bike packs and bike bags for touring. Buyers will only come across a few options that offer top results in both situations.
Heads-up:
However, I was disappointed to see this saddle bag bikepacking pack didn't come with instructions. It seems like an oversight by WATERFLY that could've made their product even more convenient.
What We Liked:
Ample 10L storage for storing various items
Convenient, shrinkable capacity (down to 6L when needed)
Reliable, waterproof construction made from TPU film and 840D nylon
Easy to clean and maintain
Adaptable design offers excellent versatility (for touring and gravel bikes)
Bottom Line:
Thankfully, I had significant experience using saddlebags. So I could set this item up on my bike without instructions. From there, I can only report positive things as it meets my needs.
6. ROCKBROS Bikepacking Bag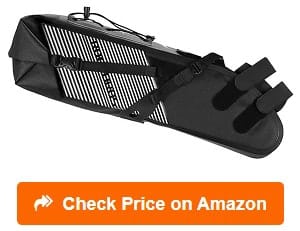 The top product that made it to our list is the ROCKBROS bikepacking bag. It is made by a reputable brand guaranteeing you both durability and longevity. With its elongated black design, it looks cool and chic when mounted on your bike. It comes with a black and white stripes design and a brand name that adds character to the bag.
The bag is made of a fully waterproof material, specifically the TPU film and 600D superior quality nylon fabric. Even under a heavy downpour, you can rely on this bag. It features a roll-type closure to keep your stuff dry at all times. On the most challenging terrains, this protects your valuables from rain or moisture.
The bag has a 3-10 liter storage capacity where you can bring both large and small items. Even though it is not expandable, you can store your weekend clothing and gear as well as smaller items. The main compartment is protected by a bungee cord, which can be adjusted depending on the load you put inside.
Heads-up:
More than that, the bag is easy to install; you can mount it to the seat tube. Using the three high-quality bag buckles, this dry bag can sit securely at the back of your bike seat. With its robust and rigid structure, the bag remains securely fastened even when riding on rough and difficult terrains.
What We Liked:
Durable bar bag
Easy to install
Robust and rigid structure
Provides large storage space
Bottom Line:
For a great weekend getaway, you can depend on this bikepacking bag. With its large storage capacity and easy mount feature, you will surely have a hassle-free biking experience. You can even use it during rainy days.
7. Roswheel Bike Bag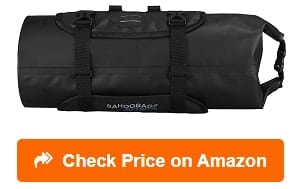 If you are looking for an affordable product that comes with great features, this Roswheel bike bag is a reasonable choice. It is a handlebar bag providing you easy access to your most needed essentials. This top tube pack can accommodate large and bulky items while keeping the weight well-balanced.
You will be impressed by how this bike bag is constructed. The bag is very durable, made of tear-resistant jacquard nylon material, double-wall TPU product, and waterproof fabric.
The bag can hold items with 3L to 7L weight, such as a sleeping bag, clothes, shoes, and bike repair kits. You can also store small items like cellphones, wallets, keys, and other important stuff. With the storage capacity it provides, you can bring this pack on weekend adventures or just a whole-day biking activity outdoors.
Moreover, you will not find it difficult to install because of its easy mount and release shell mechanism. It comes with three Velcro straps and buckles, which you can use for attachment.
Heads-up:
Ensure that you use the strap properly, as it tends to measure a bit longer. You can simply attach the straps to the handlebar and secure it with high-quality buckles. In this way, you are certain that the weight of the bag is evenly distributed in the handlebar.
What We Liked:
Affordable
Waterproof
Comes with 3L to 7L storage capacity
Easy installation
What We Didn't Like:
Straps tend to be too long
Bottom Line:
For bikers looking for affordability and durability,
this bikepacking handlebar bag is a good choice.
You can enjoy all the basic features you want in a bike pack without spending too much. The easy to mount mechanism is another plus you get from this product.
8. Cartman Bikepacking Bag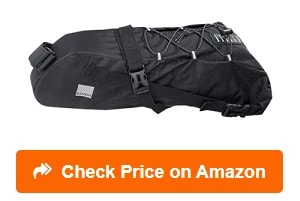 The next option, Cartman Bikepacking Bag, provides several features that any bike owner could enjoy. Some excellent examples are the quick-release buckle and loop/hook strap, which encourage easy adjustment and installation. I was overjoyed by how simple both tasks were compared to my previous frame bag bikepacking pack.
Other areas that brought me significant happiness were its waterproof ability and durability. Both these attributes were made possible by its usage of TPU film material. Due to this, I don't have to worry about my stored items getting damaged even in the worst weather conditions.
Buyers will also enjoy the product's reflective straps. These components are vital to promoting safety during nighttime riding experiences. As someone who often cycles at night, this aspect was a godsend and made me feel safer.
Meanwhile, the sizable 10L storage capacity certainly didn't hurt this bag's case. I've had no issues fitting everything I needed inside this item whenever it's strapped onto my bike. It has made traveling with large items much easier.
One last notable benefit was its affordable price tag. In fact, I was shocked when I first came across this inexpensive 10L bikepacking bag. It's easily among the top-tier bargains within this marketplace.
Heads-up:
The one area where this option doesn't meet expectations is zipper quality. It takes some effort to close it when dirt or grime gets stuck in the zippers. So it's critical to stay on top of cleaning the bag and keeping it in good condition.
What We Liked:
Easy adjustment and install processes (quick-release buckle and loop/hook strap)
Outstanding waterproof capacity and durability with TPU film material
Promotes safe night time riding with reflective strips
Large storage via 10L space
An affordable option
Bottom Line:
Overall, zipper quality is a common issue among saddlebags and frame bags for bikepacking. So it's not a flaw I'm too annoyed with as a buyer. Plus, the other positive features are much more impactful, making this drawback not a massive deal for me.
9. ROCKBROS Bikepacking Bag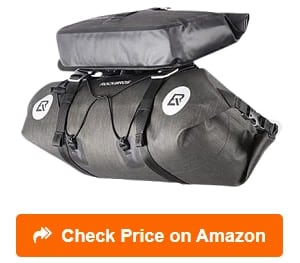 Another impressive bag model from ROCKBROS is this bikepacking bag. You are sure that the brand will never disappoint as this bike pack displays innovative seamless workmanship from the brand. The product is 100% waterproof and comes with roll-up closure for added protection.
It is made of very durable 600D nylon and TPU fabric to level up its water-resisting elements. You are confident that even when you use it on a heavy downpour, your valuables will stay dry and undamaged. Moreover, it is easy to clean; you just need to wipe the dirt off the bag, and it will get back to its usual appearance.
Unlike other products from this list, this bike pack is one of a kind, justifying its high price range. It comes with two assembly pouches where you can attach to the handlebar. Or, you can use them separately depending on the stuff you carry when biking. You have two options, one with a large compartment space, another is a smaller variety where you can store much-needed essentials.
Heads-up:
More than that, the bag is easy to install using quick-release straps. You just have to fasten the velcro straps to the handlebar, adjust them accordingly, and secure their attachment carefully. For a more stable installation, the bag also comes with extra straps for double fastening. It also comes with a product warranty to ensure that your bag will last for a long time.
What We Liked:
100% waterproof
Made of very durable material
Comes with two assembly pouches
Has product warranty
Bottom Line:
If you are looking for great bikepacking gear worth your investment, this product is an excellent choice. Made by a reputable bag company, you are certain of the bag's quality and longevity. You can surely enjoy using this bag for extended years.
10. ROCKBROS Bikepacking Bag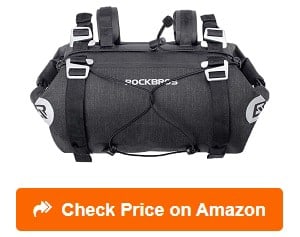 Another impressive bag model from ROCKBROS is this handlebar bag. The bag looks sturdy and rigid on the outside with a simple and sophisticated design. It comes in a semi-black color with the brand logo upfront and foldable edges to add to the overall style of the bag.
The bag is 100% waterproof, made of 600D nylon and waterproof TPU film. You can be sure of the workmanship applied to this product. You can use this in any type of weather and any form of biking environment. With very powerful material and fabric used, the bag withstands wear and tear.
More than that, you will be impressed by how sturdy and stable the installation can be. It comes with an extremely steady five fixed points for secured attachment. It has large magic straps along with eight spacers, two nylon straps, and side release buckles.
You can easily and securely fasten the bag to the handlebar without worrying about the bag falling off. The four alloy hooks that come with it provide adjustments and compression for a more fitted attachment.
Heads-up:
Another thing that you will be surprised about is its two opening features. It can accommodate a 7-14 liter load, which can satisfy any kind of biking activity. This bag can be used on your daily commute and weekend road adventures. It is very versatile and can help you maximize the money you spent.
What We Liked:
100% waterproof
Comes in 7-14 liter load capacity
5 point attachment system
Very versatile
Bottom Line:
For people who love random road adventures, but are simultaneously looking for a product that can be used daily, this handlebar roll bag is an excellent pick. Aside from its versatility, this pack offers durability for longer use.
11. Topeak 63005008 Bikepacking Bag
If you are looking for a medium-sized bikepacking bag for your daily commute, this Topeak Backloader bag is ideal for you. It comes in solid black color with a bungee cord on top to secure your valuables inside. You can use this for long-day biking as it can keep your daily essentials.
Since it comes with an expensive price tag, the bag is made of very reliable and durable material. It is made of polyethylene and nylon material that provides a water-resisting element to the bag. The fabric used is lightweight, so you need not worry about the product itself adding load when you are riding.
With its 15 liters storage capacity, most of your items can be stored and easily accessed. This is a half-frame bag with a roll-top enclosure that can be adjusted depending on the load inside. With more space, you can bring spare clothing, water bottles, and a few snacks when you are on the road.
You are guaranteed that the items will remain safe and dry because that bag is made to be waterproof. A separate dry bag is an added bonus to the package as well.
Heads-up:
Mounting your bag is hassle-free too. The bag is designed to be attached to the bike seat post using an upgraded saddle mount system. It has a compression hook and loop straps for a secure and stable fastening. You can surround the seat post with the strap, ensure that you attached it properly, and you are good to go.
What We Liked:
Made of highly durable material
Easily access with its roll-top closure
Comes with an upgraded saddle mount system
Has a bonus dry bag
Bottom Line:
For people who are always on the road, bikepacking seat bags are an excellent choice. With its medium-sized storage capacity, you can bring your essentials without worrying about them getting wet. It is guaranteed waterproof, making it ideal for any type of weather condition.
12. Moosetreks Commuting Pack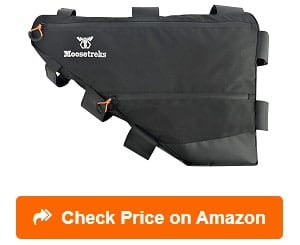 If you are in search of half-frame bags, you can consider getting this Moosetreks commuting pack. It comes in different sizes depending on your needs and the load you carry on a regular basis. You can choose a frame pack with 6.5L, 12L, or 14L capacity. Regardless of the kind of biker you are, this bag has the right storage space for you.
It is the perfect bikepacking and bike touring bag because of the durability it offers. It is made of high-strength ripstop nylon material that comes with thermoplastic polyurethane. You are guaranteed the strength and durability this bag offers, which you can use for an extended period of time. More than the durable fabric, it is made to be waterproof. However, you should be extra careful with the zipper, as it is not as powerful.
This triangular road bike frame bag can be installed on the diamond frame of your bag. It will sit steadily there using velcro straps that can be attached to the top tube. The velcro straps on every side guarantee a secured and fast attachment. You can easily dismount the bag when you are off the road too.
Heads-up:
The bag compartments are also impressive. With its versatile design, it has two zipper compartments that are separated by a removable divider. Using this system, you can organize your essentials better and provide dedicated spaces for each of them. It is one of the best packing tips every biker must know.
What We Liked:
Comes in three sizes
Highly durable bike frame packs
Impressive bag compartment
Stable attachment
Bottom Line:
If you want to be organized while on the road,
this frame bag is a good choice.
With its smart compartment system, enough storage area, and excellent divider, you can arrange your valuables more easily.
13. Topeak Backloader Top Tube Bag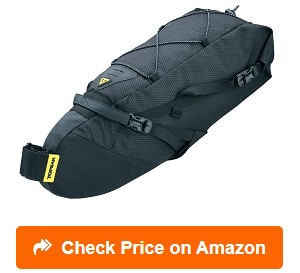 For bikers who spend most of their time on the road, this Topeak top tube bag is a smart choice. This bag is specifically engineered for road travel as it can hold a maximum load of 10 liters. It has a simple and solid black design with a bungee cord on top, as well as a brand logo on one side.
The bag comes with a padded main compartment, providing extra protection to your valuables. It is made of highly durable material with water repellent structure, stain, and dust resistance, and reliable nylon fabric. You are certain that your essentials will remain undamaged when stored in this bag. In addition, it will keep your contents dry even during heavy rain.
For the installation, the bag comes with an ingenious fastening system. You can mount it to your saddle rails and seat post using heavy-duty hook and loop straps. The compression straps that come with the fastening system reduce the pendulum effect when installed on your bike. Meaning, the pack will not sway from side to side when passing through a rough road.
Heads-up:
Another great feature you get with this highly-priced bag is the light clip to provide an added safety. You can use it even in dark alleys or passages, and it will still keep you visible. In any type of environment, you can rely on this bike frame bag. The product is certainly worth your investment.
What We Liked:
Can hold a maximum of 10 liters
Comes with a padded compartment
Wear and tear-resistant
Safe to use at night
Bottom Line:
If you are looking for a reliable and excellent top tube bag, this product is a good choice. With its 100-liter storage capacity, waterproof features, and excellent attachment system, you can maximize the money you have spent.
14. RNS Bike Frame Bag
For an affordable version of a half-frame bag, we highly recommend this RNS bicycle frame bag. It is compatible with your mountain bike, regular road bike, and even larger bikes. Unlike your traditional panniers, you can readily attach this bag to the center of your bike frame.
It is made of heavy-duty material such as polyester fabric. With the material used, the bag is waterproof and easy to clean. You can just use a piece of cloth and wipe the dirt. You will not find it hard to maintain the bag in the long run.
The bag also comes with multiple compartments where you can organize your stuff inside. It has two side exterior pockets and one spacious main compartment. For the side pockets, you can store smaller items like keys, wallets, and IDs. The main storage space can accommodate clothes, food, and other medium-sized items.
Heads-up:
For the bikepacking setup, this bag comes with hook and loop fasteners for easy adjustment. You can custom fit the fastener straps so the pack will not sway from side to side. Even when you are passing through a rough road, the bag will sit comfortably in the frame because of a reliable attachment system.
What We Liked:
Made of heavy-duty material
Comes with hook and loop fasteners for attachment
Has multiple compartments
Easy to clean
Bottom Line:
For someone looking for budget bikepacking bags, this product is an excellent choice. You can enjoy the basic features you require for a bike bag including accessibility, compartment capacity, and convenience. You can get a quality but affordable bag with this bike bag. More than that, you can use this on your daily commute, too.
What to Look for When Buying Bikepacking Bags
Bikepacking bags come in various styles even when you are buying one from Australia. Depending on your preference, you can choose top tube bags, full-frame bags, tangle frame bags, stem bags, among others. These bags are designed for specific purposes.
Tube bags and frame bags are usually made for people who travel for long periods. Seat packs, on the other hand, are engineered for bikers who embark on short weekend trips. Stem bags are created for short biking hours.
Before getting the style of the bag, you have to assess first your needs, and how you want to use them. If you are a regular commuter, a bikepacking seat pack is preferable, but if you travel occasionally, getting tube bags or frame bags is recommended.
Another factor you consider is the carrying capacity. Bikepacking bags come in different sizes. You can pick small, medium, or large-sized bags depending on the items you want to store inside.
If you are a heavy packer, there are Ortlieb bikepacking bags that offer up to 15 liters carrying capacity. On the other side, light packers can start with 5-liter carrying capacity bags.
Of course, you basically picked a bag for convenience. Choose a bag that provides you easy access to your important stuff. You can select bags with zipper or drawstring enclosure for easy grab and go, or a roll-top bag with a buckle system for added protection.
Weight is another factor you should consider when buying a bikepacking bag. Some products are ultra-lightweight, so they are more convenient to use when on the road. If you are carrying a bag with a huge carrying capacity, you must choose a lightweight bike pack. In this way, the bag itself will not add load when riding.
If you want added protection and security, there are manufacturers who include extra features in the bag. You might pay an extra amount, but these features are helpful and functional. Some bikepacking bags come with light clips and reflective strips for better visibility at night.
To increase protection, you can consider getting a bike bag with a waterproof element. It will keep your items from moisture and adds protection as well. Most bags available today have waterproof features because of the fabric used.
How Many Liters of Bikepacking Space Do I Need
Different bikepacking packs come in various carrying capacities. Depending on your needs, and the style you get for a bag, the carrying capacity varies:
As this bag is normally installed on the bike handlebars, it comes in small to large sizes. You can choose a bag with a 3.5-liter capacity from Apidura or a much larger one that can hold up to 15 liters. No matter the size, it is important to keep your bike well-balanced.
The bikepacking frame bags can be a full-frame bag or a half-frame bag. It is attached to the frame of your bike, and comes in various sizes. You can start with a 3.5-liter carrying capacity, or get a larger one with 7-14 liters capacity. In picking a frame bag, always consider the weight distribution and the convenience it provides. Do not pick a product that disturbs your pedaling because of its bulkiness and size.
Top tube bags are some of the smallest types of bikepacking bags available. A bag like the Reddit bikepacking is enough to hold your cellphones, wallets, and food, and it does not add too much weight when you are on the road. If you are just running an errand or going on a short detour, a bikepacking top tube bag is ideal. It comes with 0.5 liters to 1-liter storage capacity.
If you are thinking big and need plenty of storage space, a bikepacking saddle bag is designed for people like you. Saddlebags such as the Revelate bikepacking bags can be installed in your seat post, and under your saddle without adding too much weight to your ride.
You can depend on your saddlebags during multi-day trips because they can carry a load of 15 liters up to 20 liters. A saddlebag is one of the most reliable bike bags when you need a much larger storage capacity.
How Did We Test the Top-Quality Bikepacking Bags
Testing out the best bikepacking bike packs and bags is relatively easy. The first step is unpackaging and seeing how well the company did with shipping. Many buyers overlook this aspect when considering their bikepacking gear, but it's essential. After all, a poorly packed piece of equipment can arrive damaged and unusable.
The next step is testing how easily these bags are installed onto my bikes. It's vital to ensure the process is easy and evaluate each option's directions. Honestly, there's nothing worse than getting gear with terrible instructions. It only makes your life much more difficult as a buyer.
Once I've set the bag up, it's time to look at the product's functionality. It requires rigorous tests on its durability, storage capability, zipper quality, waterproofing, and much more. I basically cover everything a person could see as vital in these products.
The last step is evaluating whether these aspects are worth the price tag. It's critical to decide what bikepacking backpack is a bargain or overpriced. I then evaluate whether the bag makes it onto my final list of most suitable choices.
When Do I Need Rack Mounts
Many bikepacking bag customers often ask me when rack mounts are necessary. The truth is these products are never entirely required, but they do offer some benefits.
Most people use them when they have a bikepacking bag that requires more space than a traditional mount. In these cases, rack mounts can help fit these bags comfortably and safely. It's just a way to get more storage space for touring bags or gravel bike bags.
How Long Does a Bikepacking Bags Last
Several factors will determine how long a bikepacking bag lasts, such as the frequency of usage, type of bag, and overall construction quality. But there's no reason a top-tier option shouldn't last years when given proper care and maintenance.
For instance, Moosetreks' Bike Handlebar Bikepacking Stem Bag has a fine reputation among these products. It stems from Moosetreks being one of the best bikepacking bags brands. So buyers can have a great deal of faith in this product lasting five years or more.
Can You Bike Pack With a Full-Suspension Bike
Full-suspension bikes have less triangle space for packs due to their shocks and pivots. However, you can still find cycling bags specifically made for full suspension vehicles, such as the Ortlieb Frame-Pack.
Do You Wear a Backpack While Bikepacking
Many bikers opt not to use backpacks while backpacking. It can add load to your body and be cumbersome. It brings an additional burden to your back making you tire fast. However, if you are going for longer trips, and do not have enough storage space from your main bag, using a backpack can be great.
In this way, you can keep your food and other essentials. We recommend that you keep the weight of your backpack light and limited. You should choose a backpack with 5lbs or less weight capacity.
Conclusion
With plenty of bags you see on the market today, it can be confusing to consider what style of bag you should get. It is important to get goal-specific gear for an intended activity. This is where the bikepacking bag comes into the picture. Bikepacking bags are intentionally designed for all the bikers out there.
Bikepacking bags fit almost any type of bike where you can just strap them onto the frame, handlebar, or top tubes. These bags encourage you to pack smart given that they mostly come with an impressive compartment system and offer you easy access to your belongings.
Thus, we chose the best bikepacking bags available on the market today to elevate your biking experience. May you find the right product from all the bags listed here.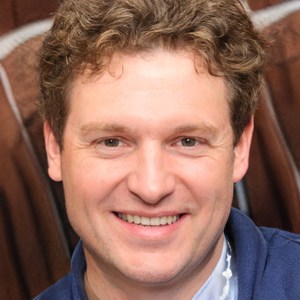 "Bike commuting should be the trend for the next few years, and it is a convenient and eco-friendly way for us to travel. And we are here to make it a bit less troublesome for people who want to maintain their vehicle for a long time. So, the content I expect to put out here is offering help for bikers who are facing issues with parts of their bikes once in a while. Let's have fun and protect the environment together!"