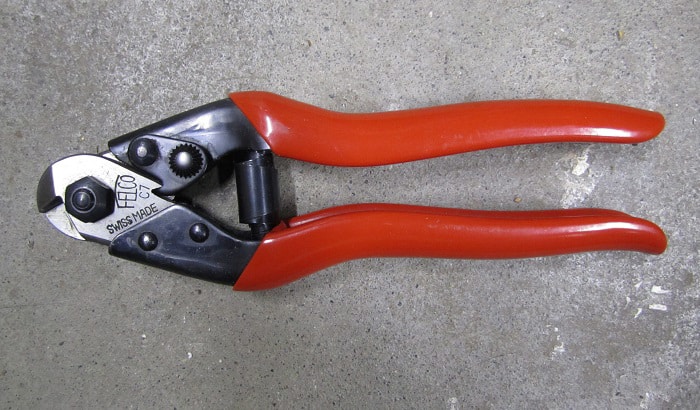 If you own a bicycle and need to cut cables and cable housing from time to time, you need the best bike cable cutter for this purpose. While there are a lot of wire cutters on the market, not all of them are suitable for bike cable cutting.
Below, I briefly discuss the critical, specific features that one must look for when comparing their choices.
Sharpness: There is no doubt about this because it has to do with clean cuts and easy operation. No bike owner would like to spend a lot of time cutting cables or wires with a dull-edged and bladed cutter. It would also be good if the blades and edges stay sharp for a longer time to avoid any inconvenience of having to maintain them often.
Ergonomics: Working with a bike cable cutter should not be straining and putting much pressure and stress on the hands. That is why one must look for a repair tool with an ergonomic design for an easy and comfortable grip.
Functionality: One must think about the functionality of the product. For example, bike owners can find cable cutters that also work as a crimper. It saves a lot of money while offering more functions.
These are the three most important features to check when comparing your choices because they affect performance, quality, ease of operation, and comfort. In this article, we're featuring different cable cutters to help buyers choose the right one as well as a buying guide for the factors to consider when finding one.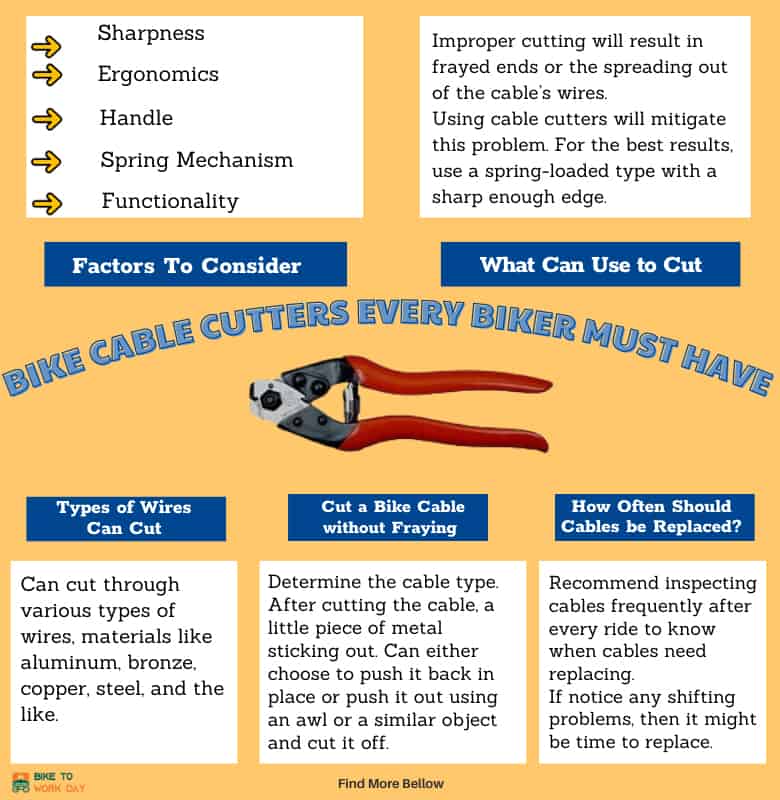 ---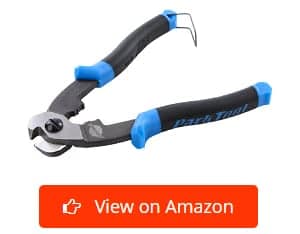 Park Tool CN-10
2 functions – crimper and cutter
Comes with a precise cutting jaw
Wire latch for securing the handles
---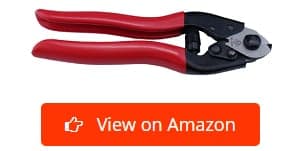 Muzata Cable Cutter
Accurate and clean cutting
Perfect color combination
Tough for cutting thick wires
---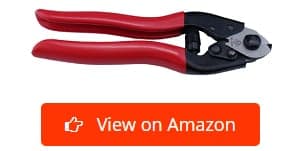 Cal Hawk Tools Wire Cutter
Lightweight and portable
Sharp and reliable cutter
Quality but affordable tool
---
Top 12 Bike Cable Cutter Reviews
1. Park Tool CN-10 Pro Cable Cutter Tool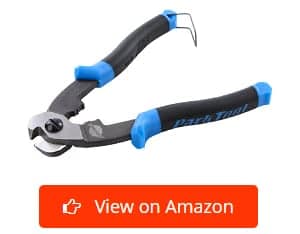 One of the highest-rated bike cable tools, this Park Tool cutter is an excellent cable and housing cutter. It is used by both newbie and seasoned bikers who add this to their collection for its performance.
The CN-10 Cable and Housing Cutter is designed and created for housing and cycling cables. I tried using this Park Tool in trimming brake housing, and it did a good job. Impressively, this also works well even on hard-to-cut shift housing on my two-wheeled companion.
I find the Park Tool tough for cutting, and that's thanks to the cold-forged and heat treated steel handles. They are extra durable for long term usage and for snapping hard wires.
The Park Tool CN10 may also be the top-rated cable cutter because it's very sharp. Unlike other dull cable cutters that compromise the whole wire body, this one doesn't. It cuts with accuracy, making it an ideal choice for a lot of people who want to get the most out of their spending.
Also, this repair tool is made with ground-cutting jaws, which are perfectly parallel with each other; thus, it is a great option for a perfect cut without any rough cable edges.
The CN-10 Pro Cutter isn't only a cutter but also a crimper. The bike cable cutting tool has an integrated crimper that can reform housing ends or conjoin two metal pieces.
Heads-up:
However, I find this product more expensive compared to other choices on this list. But overall, the higher price of this cutter can be observed in its excellent performance and quality.
What We Liked:
Strong enough for cutting bicycle wires
Two functions – crimper and cutter
Comes with a precise cutting jaw for seamless cuts
Features a wire latch for securing the handles
Durable cold-forged, heat-treated handles
What We Didn't Like:
Pricier than counterparts are
Bottom Line:
It also has a wire latch which keeps the handles together. This feature makes for easier storage of the tool.
2. Muzata Stainless Steel Cable Cutter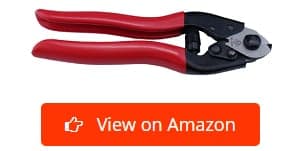 The Muzata Stainless Steel Cable Cutter is aesthetically pleasing. I think nothing beats the combination of red and black.
But besides being a modern-looking cutting and repair tool, it is unbelievably tough for cutting steel wires as thick as 5/32 inches. Even at this size, the cutter tool works seamlessly well and results in clean and sharp cuts.
I find it impressive for its functionality as well. With it, one can replace cable and shift housings and have a repair tool in handy. The cut is always accurate and clean, and that's thanks to the sharp-cutting jaw. Now, repairmen and cyclists no longer need to worry about frayed cables.
The cable will not be flattened with this cutter. Besides, it can also remove grommets or cut ripcords whenever I want. It is also useful for household wire cutting, so users do not have to buy different tools to attend to those basic wire cutting tasks, replacement or repair.
It is also easy to use; even newbies won't have a hard time operating it. Overall, it is a handy tool for allowing one's bicycle to perform at its best once the cable and cable house have been replaced.
Heads-up:
However, the instructions are not helpful. It's something Muzata could improve in the future.
What We Liked:
Accurate and clean cutting
Easy to use and operate, can remove grommets and cut ripcords
Tough for cutting thick wires, will not flatten cables
Perfect color combination
Handy and can be used in most household wire cutting tasks
Bottom Line:
Nevertheless, the cable cutter is versatile, aesthetically pleasing, and functional. It is a must-have for anyone looking for a handy tool in their toolkit.
3. Cal Hawk Tools 7.5″ Steel Wire Cutter
Cal Hawk Tools is another reliable brand for bike wire cutters, and this model is one of its cool offerings so far. The CPLWC8 is unbelievably affordable for its high performance and quality. Not to forget, I noticed its solid build, which I believe will make it longer-lasting.
It is also lightweight, unlike its counterparts, so I don't find it hard bringing it anywhere. When I need to take some tools with me, I never leave this one behind because it is portable, too.
People who love their bikes should not miss this in their toolbox because it works well with brake and shifter cables. So, whenever they need to repair those parts, they can trust this handy tool.
When using a cable cutter, one of the most frustrating things is dealing with messy results. Users do not have to worry about that at all with this cutter. It can also be used in cutting multi-strand wires. Unlike other cutters that leave unclean outputs, this one can keep the wire strands intact and with an even cut.
I have proven this a couple of times in cutting cables, which were not frayed once cutting was completed. It also means that users can save much time and effort with this tool.
Heads-up:
The only problem I have is its spring falling after some time, though. I think it can be an issue for some users who plan to use the cutter often.
What We Liked:
Lightweight and portable for bringing anywhere
Solid build and high performance
Sharp and reliable cutter for shifter & brake cables
Quality but affordable cutting tool
Produces a clean cut even in multistrand wires
Bottom Line:
Nevertheless, the cable cutter has a decent price and works fairly well for a tool in this price range. It is handy and can deliver clean results. Generally, it is an excellent choice for cyclists looking for a handy, portable, and lightweight repair tool.
4. Felco Cable Cutter (F C7)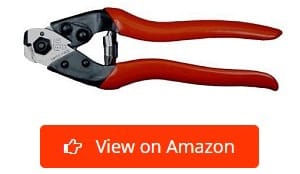 The Felco Cable Cutter is great for cutting wires with one hand. I liked its non-slip handle, allowing me to cut wires seamlessly and fast.
It fits my small hand perfectly. It is unlike bulky cable cutters out there that might give anyone a hard time gripping firmly, especially when cutting cable with one hand.
The F C7 is manageable and easy to use, so I can say that it is very convenient. The convenience is unquestionable, and it's something I hardly experienced with my previous cable cutters.
It's also made of quality components, including its Swiss-designed body, which adds to its strength and durability. Bikers can look forward to long-term use with this cable cutter.
What about maintenance? Unbelievably, this high-performance cable cutter requires little maintenance. I just apply a synthetic lubricant to it to keep the rust away. Its design also incorporates easy-to-replace parts when needed, so no worries at all.
I also noticed the ergonomic design that can help the hand stress of users. Operating it with one hand is also good because of the thumb catch. This model also has this supple spring between the levers, adding more comfort.
It can also finish the job seamlessly, whether for cutting bike cable ropes or copper. It can cut through different medium-gauged wires.
Heads-up:
However, users that work with large-gauged wires might not find this one ideal because it does not open that wide.
What We Liked:
Swiss-designed body and quality components
Ergonomic handles and easy-to-operate tool with a spring
Can be used with one hand with its thumb catch
Easily maintainable and has replaceable parts
Good for medium-gauge wires
What We Didn't Like:
Might not be very suitable for large-gauged wires
Bottom Line:
Overall, it is a decent choice for a durable, quality, and high-performance wire and cable cutter. Felco cable cutters are known for these attributes, so people can put their trust in these products.
5. Panorama C8 Cable Cutter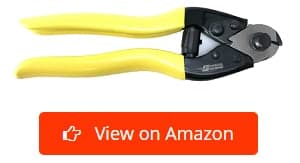 Another excellent choice for bike cable cutters, Panorama C8 Cable Cutter is an excellent and strong tool that works well for cutting wire ropes. It works and cuts seamlessly without much pressure for clean cuts. It does not leave a frayed cut or smash the wire ends.
This product features rubber handles, which make it easy to grip and control. I also noticed the curved design of the handles' sides, adding to the better grip when cutting a cable house or a cable.
In addition, the Panorama C8 features a modern, sleek, and slim design, which makes it effortless to hold and use even for quite some time. It is lightweight and portable, too, making it a practical item that I can bring along with other bike tools.
The yellow color is also a great idea because this makes finding it easy even when stored with other bike repair tools.
The blades are also sharp enough to cut through cables and wires effortlessly. It can give proper and accurate cuts while working well with different cable types. I can easily use it in cutting cables up to 5/32 inches without any hassles.
Heads-up:
On the downside, the cutter's spring mechanism isn't very smooth
What We Liked:
Easy to spot & use with one hand
Portable, lightweight, and modern design
Easy-grip rubber handles
Leaves a clean cut on different cable types
Doesn't smash the wire ends
What We Didn't Like:
Spring mechanism isn't smooth
Bottom Line:
Nevertheless, the C8 should be considered when choosing bike cable cutters for its precision, sleek design, and overall performance. It is also an excellent tool for cutting steel wire ropes and can be operated single-handedly.
6. Zoostliss Stainless Steel Bicycle Cable Cutter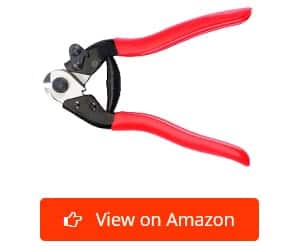 Cyclists looking for a handy tool for repairs might want to check out this cutter, which is suitable for cutting wires and cables up to 5/32". It is durable and strong for its stainless-steel construction, which also adds to its power and effortless operation.
Its edge is also sharp for precise and proper cutting. In addition, the blade has undergone heat treatment, which adds to its toughness. Such heat treatment technology makes the cutter suitable for cutting most wires and cables, too.
In terms of function, this is also one to consider because it has been designed for repairing cable housing and bike cables. It will not smash the cables on the ends nor fray them. It is also for cutting ripcords and cables and removing grommets. The quality and sharp blades are excellent for most wire types, too.
In addition, it has a rubberized and well-contoured handle for an easy and secure grip. It also provides user comfort even for those with small hands. And speaking of comfort, it has a cushion grip handle for added ease of use.
The handle design also allows for single-handed operation, allowing the user's other hand to support the activity. The cutter also has a spring roll design, which adds to its precise and excellent performance.
Heads-up:
However, users might have to apply more pressure to cut a 5/32" cable.
What We Liked:
Heat treated steel for added durability and long-lasting use
Comfortable good grip and one-hand use
Spring roll design for superior performance
Does not smash the ends or cause fraying
Can be used in grommet removal, cutting ripcords, and suit most wire types
What We Didn't Like:
Might require more pressure on the 5/32" cable
Bottom Line:
Overall, it is an impressive product that one must consider when choosing a cutter at a lower price. It also allows single-handed operation and has an excellent design.
7. Pedro's Bicycle Cable Cutter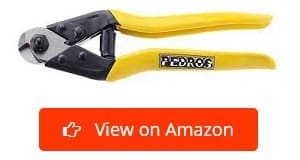 Pedro's is a reliable brand that cyclists trust for their cable cutters and repair tools. One of its offerings is the Pedro's 131839 Cable Cutter, which is an affordable tool.
It offers both durability and quality that users will appreciate and can take advantage of. It can make one's repair activity clean and easy because it is designed for a power cut.
In addition, the Pedro's bicycle cable cutter is so versatile that it can cut both bike cable housing and brake cable. It is also well-made and has a modern design to make one's life easier. It is ideal for cutting regular bicycle cables.
This Pedro's cable cutter also has a locking mechanism and can be easily operated in one hand while the other is keeping the cable in place while cutting. Thus, users can prevent injuries and accidents.
The cutter also has sharp blades and cutting edges, so users can cut the time they'd normally spend with another cable cutter. It is also effective in penetrating through a very hard cable material, adding to the ease of use it offers.
Even when cutting a tough material, its grip is secure, and that's thanks to its easy-grip rubberized handle.
Heads-up:
For shift housing cutting, it might result in a clean but splitting cut, though.
What We Liked:
Easy-grip rubberized handle for a secured grip with lock mechanism
Effective in penetrating hard material
Ideal for cutting regular bike & brake cables
Affordable but durable choice for long term usage
Can make a repair activity easier and faster with its sharp edges and blade
What We Didn't Like:
Might result in a clean but split cut for shift housing cutting
Bottom Line:
Overall, it is an effective but affordable product to consider when choosing a cutter. It is impressive that it won't result in frayed or smashed-ended wires and bicycle cables.
8. JCOLUSHI Bicycle Cable Cutter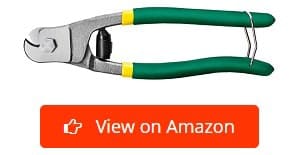 JCOLUSHI's cable cutter is a stainless-steel tool, which is specifically designed and created for cutting cable housing and cables. I like that it can easily cut wires and cables, so anyone looking for a handy repair tool will not have a hard time using it.
I also noticed that this product is made of tough CR-V chrome vanadium steel, which adds to its toughness and strength in cutting cables. In addition, it works well with cables and wires within the range of 0-5mm.
More so, the cable cutter works well in precise and smooth cuts; thus, buyers will not get frayed ends or flattened wires. It is a high-quality blade cutter at an affordable price and can help bike owners come up with clean cuts. No more distorted wires or cables.
The cable cutter is also heavy-duty to keep up with one's daily repair tasks. It is also portable because it has a small and compact size. Thus, it can also be placed well inside the pocket or toolbox without any difficulty.
The cable cutter bicycle is also highly recommended for its suitability for different bikes, including road bikes, MTB, kids' bikes, and folding bikes. It is also designed with a wire latch to hold the cutter together when not in use.
Heads-up:
Buyers should note that the accessories kit might arrive with missing components.
What We Liked:
Portable with its small and compact size
Ideal for most bike types
Wire range from 0-5 mm; provides clean cuts
CR-V chrome vanadium steel for cutting strength & a wire latch for security
Heavy-duty and quality repair tool that's easy to use
What We Didn't Like:
Might not arrive with all accessories
Bottom Line:
But overall, I liked this repair tool for its ease of use, portability, and performance. It is also handy and can help with general cutting tasks. It is a must-consider when choosing this type of product.
9. BOAO Stainless Steel Bicycle Cable Cutter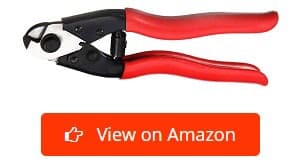 Bike owners looking not just for a cable cutter might want to check out this bike brake cable cutter that includes a whole lot of accessories, including 10 pieces of shift cable, 10 pieces end ferrules, 20 pieces end caps, and five pieces O-rings.
People who don't want to buy these items separately might want to check out this kit containing all these. But that's not all because it also comes with a functional cable cutter, which has been engineered to cut the wire and cable housing effortlessly.
It can also work well with a steel wire up to 5/32-inch. I also noticed that it does not smash or ruin wire ends or fray them. Instead, it can cut precisely and cleanly as I expect it to. Plus, this cable cutter works well for grommet removal.
This kit also offers a wide range of uses because it is suitable for most bikes, including road bikes, MTB, folding bikes, and more. It includes practical and useful accessories for a more rewarding cycling adventure.
In terms of value for money, this kit offers a great one. It comes with shift cables that can fit the front and rear brake and gear. They are long enough for use when needing replacements or spares. Users can easily cut them with the cutter to suit their needs.
The shift cable is made of 12 wires and zinc-coated, offering durability, corrosion resistance, and seamless movement.
Heads-up:
But then, there were some complaints about the inaccurate product photos. Anyone considering this item should focus on the description instead.
What We Liked:
Comes with useful and practical accessories
Shift cables with durability and corrosion resistance
Suitable for most bike types
No fraying, good for removing grommets and making clean cuts
Can work well with a steel wire up to 5/32 inch
What We Didn't Like:
Inaccurate product photos
Bottom Line:
Overall, the bicycle cable cutter kit is one of the best picks for cyclists that want to get more out of their spending. It comes with practical and useful accessories for replacement and spare parts.
10. Cozysmart Stainless Steel Wire Rope Cutter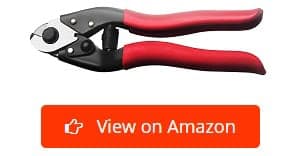 The Cozysmart Wire Rope Cutter is an effective cutting tool that users can trust for fixing their bike cables. It has strong and sharp blades, which can offer users excellent and clean-cutting results. The blades even provide an effective, precise cut. The quality stainless steel also adds to the item's strength.
This bike cable cutter alternative is a good replacement for my old and usual rope and wire cutter. It is simple and easy to operate, saving bike owners a lot of time and effort. Everyone can operate it with only one hand.
It is also made with tough chrome and vanadium steel, adding to the toughness and quick-cutting results. Its knife edge also has undergone heat treatment to ensure its durability to last longer.
This model is also suitable for installing 1/8-inch cables for railing projects besides cutting bike cables. It can also cut through different metal cables, such as copper and aluminum as well as wire rope and aircraft cables, and that's also thanks to the strong blades. It can handle wires up to 5/32-inch and remains sharp even after a while.
I also love that it does not fray or smash the ends of wires and cables, but it cuts precisely and cleanly. It also works perfectly well for grommet removal and cutting cutaway ripcords and cables.
Heads-up:
However, this product may arrive a little oily. Users might have to clean it before use.
What We Liked:
Chrome-Vanadium steel & heat treatment for durability
Wide range of uses that also includes grommet removal
Strong and sharp blades
Clean and precise cuts
Can be operated with one hand
Bottom Line:
Overall, this cable cutter is an excellent choice for its durability and a wide range of uses for home and industrial applications. It is also for bike owners who need a handy tool for everyday repairs.
11. IceToolz Cable Cutters Range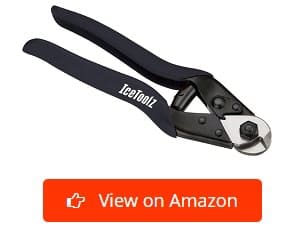 This cutter is versatile in that it can be used at a cutting range between 0 and 7 millimeters, making it handy and a must-have in someone's toolbox, especially for bikers that want a dependable tool for their repair task. It can cut through wires and cables with ease and comfort.
Another thing worth noting about this tool is its brand. Ice Toolz has been manufacturing and supplying high-quality bike repair tools and mechanic tools at affordable prices.
I'd also like to highlight that this product has been designed to cut most housing, wire, and cable easily and quickly. Someone who wants to save time and effort while ensuring clean cuts can depend on this cable cutter.
The ergonomic design is also something to appreciate. It's designed with a thumb-lock closure for an easy and quick opening, while also working as cutter protection when the tool is not in use. It also helps prevent injuries or accidents especially if there are children around.
Heads-up:
In addition, the lightweight repair tool is made with the finest materials, like premium steel. It adds to the precision and strength of this tool, resulting in a clean cut all the time. Its sharpness also remains for a long time with a little maintenance
What We Liked:
Great value for money with its wide diameter range
Lightweight and sharp
Premium steel construction adds strength
Thumb-lock closure for quick opening and protection when not in use
Can cut most wires, housing, and cables easily & cleanly
Bottom Line:
Unfortunately, this tool has no crimping feature. Nevertheless, it is a great value for the money because of its versatility and wide range. It is also handy, portable, and not as heavy as its counterparts are.
12. SHIMANO TL-CT12 Cable Cutter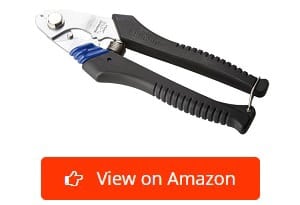 The Shimano cable cutter is a slightly updated version of its predecessor. As part of the improvement, this model is built with sharper blades, so cutting is easier and faster. The cutting edges also do not become dull so easily, unlike others that I have tried before.
Shimano's cable cutter is also with a chrome-plated carbon steel construction, making it tough in handling wires and cables. This also adds to the durability and longevity of this product. This is the right tool to have in one's kit because it can give better value for money.
The one-size cutter has a smart construction, which makes it an ideal choice among bikers that want an easy-to-operate tool. It has refined and strong edges and can cut through with much ease.
The Shimano cable cutter is also equipped with a needle and a crimper. These features allow users to shape a bike's housing easily.
It also has latch handles, which lock them securely if the cutter is not in use, preventing someone, especially children from using it and getting injured in the process. So, when it comes to safety, this tool is also commendable.
Heads-up:
However, this Shimano cable cutter is only in a single size. Those looking for more versatility might not find it good enough.
What We Liked:
Made of premium carbon steel for added durability
Built with latch handles to lock the cutter securely
Added strength with its chrome coating & sharper blades
Easy to operate
Built with a needle & a crimper for reshaping when needed
Bottom Line:
Overall, the TL-CT12 bike cable housing cutter deserves to be on this list because of its durability, latch handles, chrome coating, and excellent design.
What to Look for When Buying Bike Cable Cutters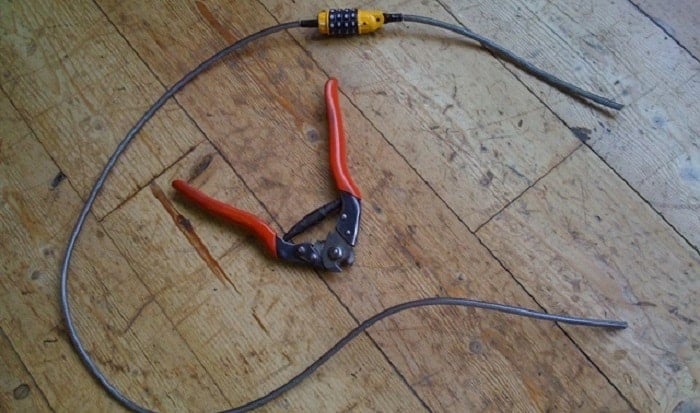 Maintaining or upgrading your own bike can be quite a tiring feat, especially when you don't have the right tools to adjust specific parts, like using scissors or large saws to cut something as small as the bike's cables.
Choosing to buy the proper tools for specific tasks is a great investment, like using an actual bike cable cutter crimper to deal with old wires or upgrade them for better performance.
However, even choosing a bike cable cutter and crimper can be difficult because so many brands advertise their own as being the best in the world, making it confusing for shoppers like you to simply pick one and get on with your biking journey.
This article will break down the necessary information that you have to be equipped with before buying a bike cable cutter, so as to help you cut down the unnecessary information that can appear on advertisements to trick you into buying low-quality products.
The three major factors you need to consider when buying the most trusted bicycle cable cutter are its sharpness, ergonomics, and functionality.
You obviously wouldn't want to buy a dull bicycle cable cutter. Otherwise, it would only give you a harder time and cause unneeded stress just to cut some worn-out wires.
To make sure the chosen piece can cut bike cables just fine, like the Lifeline pro cable cutter, test out how sharp the product is just to make sure that you're not getting scammed into buying a useless piece of junk.
It would also help to know that what you're investing in is also a bicycle cable housing cutter, as the cable housing is the first obstacle you'd have to overcome before actually cutting or trimming down the actual wire.
Ergonomics still plays a role in such a small tool, as the outstanding brands take into consideration the comfort you have while using their products.
You can't make a bicycle cable cutter work properly if you can't even have a proper grip on it, so choose a handle that allows for easy gripping but doesn't apply too much friction on your own hands to prevent calluses.
Clippers and cable cutters without springs are way outdated, as manually having to widen and clamp these tools can cause quite the fatigue, especially since your fingers will be placed in an awkward position.
Try to see if you can acquire cable cutters with an opening spring in between the handle so you won't have to widen the tool yourself.
The cable cutters do more than just cut cable, as they can be innovatively integrated with crimpers. Make sure you choose the proper tool for your task.
Buying a bike cable cutter with a built in crimper is a good investment since you won't need to spend too much on separate tools, look for each one in your storage box, and pick up one or the other every time you use one.
If you find that it is too difficult to visit a hardware or bike store to get your tools, then you can easily order one online and check the reviews before pressing "add to cart".
You can also start your research into bicycle cable cutter crimpers by visiting websites like Amazon and eBay.
What Can I Use to Cut Bike Cable
When your bike's cable is already frayed, sticky, and worn, it might be time to replace it. However, you must be careful in doing so, especially when your bike cable is fitted with wires.
Improper cutting will result in frayed ends or the spreading out of the cable's wires. When this happens, you'll have a difficult time inserting them into the fittings, or worse, end up damaging them.
Using cable cutters will mitigate this problem since it applies equal pressure on both sides of the cable, resulting in clean and precise cuts. For the best results, use a spring-loaded type with a sharp enough edge.
What Types of Wires Can I Cut with the Wire Cutter
Most bike cable cutters can cut through various types of wires, including but not limited to durable materials like aluminum, bronze, copper, steel, and the like.
When cutting, ensure that the bike cable cutter is large enough to comfortably accommodate the thickness of the material you desire to cut. Moreover, make sure that the cutter is sharp to prevent the wire from fraying or splitting.
How Do I Stop My Bike Cable From Fraying
Stopping a bike cable from fraying requires a bit of maneuvering. But the process is simple enough that even an inexperienced biker can do it with a bit of patience and effort.
My preferred method starts by locating some top-notch electrical tape. It'll need to be strong enough to withstand regular wear and tear.
I'd recommend 3M Safety's Scotch Vinyl Electrical Tape. It has been a godsend for me and offers everything you'd want in this situation. Once acquired, it's time to wrap it around the cable, and the fraying should stop.
Below is a video on another method for fixing frayed cables. It's a bit more involved than my fix, as it'll require pillars and end caps. However, it does an excellent job of stopping this nuisance.
Can Wire Cutters Cut Bike Locks
High-quality wire cutters shouldn't have much issue cutting bike locks. For instance, I would be fully confident in the Cal Hawk Tools 7.5″ Steel Wire Cutter ability to do it. It has a reputation for cutting bike locks among users on Reddit who've bought it.
It's also worth noting that the best bike cable cutter would do the job. These products are made for cutting bike cable housing and work within these settings. So there's no reason a solid option wouldn't make quick work of a cable bike lock.
Honestly, they don't even need to be large cable cutters. Most handheld bike cable housing cutters will get through these kinds of locks in seconds. An excellent example would be Zoostliss' Stainless Steel Bicycle Cable Cutter.
How Long Does a Bike Cable Cutter Last
Bikers can expect a quality bicycle brake cable cutter to last more than a decade. In some cases, it even approaches 20 years without needing a replacement. But this longevity is only possible with top-tier products.
So it's vital to find durable bike cable cutters/heavy-duty wire cutters. Otherwise, a poor choice may need replacing much sooner than expected.
A good starting point would be looking at an option like Park Tool'sTool's CN-10 Pro. These cable cutters for bikes have a solid reputation for lasting a long time, even with regular use.
How Do You Cut a Bike Cable without Fraying
First, determine the cable type. Bike cables differ in their thickness and usually come in two types – brake cables and shifter cables.
Regardless of their type, both cables come with an outer covering called housing.
After cutting the cable, you'll notice a little piece of metal sticking out. You can either choose to push it back in place or push it out using an awl or a similar object and cut it off.
Meanwhile, the bike's inner cables are easier to cut since they are thinner. Thus, they require no further prep or clean-up.
Many users recommend replacing the housing when you cut off the inner cables since the wire's housing is often quite damaged.
How Often Should Bike Cables be Replaced
Many users recommend inspecting your bike's cables frequently after every ride to know when your bike cables need replacing.
Examining the cables is vital, especially after riding 1,500 to 2,500 kilometers and when you are riding at a speed of 10KM or higher.
If you notice any shifting problems, then it might be time to replace your bike's cables.
Detecting shifting problems can take some time to get used to, but you'll be able to notice the tell-tale signs over time. However, under normal circumstances, you'll have to replace your bike's cables every two to three years.
if you have found a satisfactory cable cutter. You can learn some more essential cleaning tools for your bike, for example bike chain degreasers and bike chain cleaners.
Conclusion
Without having the best bike cable cutter, it might not be easy to fix frayed cables and cable housing needing replacement. But with the buying guide and reviews earlier, we hope we've shed some light and helped you choose among the top-rated products on the market.
Nevertheless, look for features, including sharpness, ergonomics, and functionality for the best results. Finally, compare your choices well and select the right cutter based on your personal preference.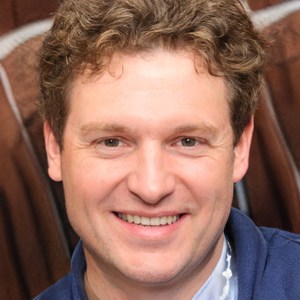 "Bike commuting should be the trend for the next few years, and it is a convenient and eco-friendly way for us to travel. And we are here to make it a bit less troublesome for people who want to maintain their vehicle for a long time. So, the content I expect to put out here is offering help for bikers who are facing issues with parts of their bikes once in a while. Let's have fun and protect the environment together!"