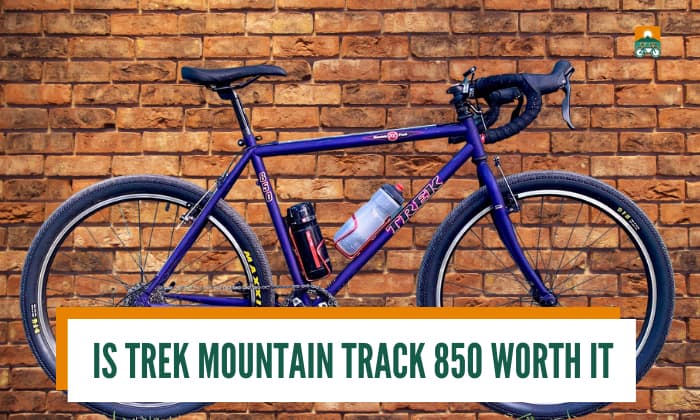 If you plan to purchase a Trek Mountain Track 850, you have to make sure that it's worth your hard-earned money.
So, let's get right to it–is Trek Mountain Track 850 worth it? The short answer is yes. This is if you're looking for an entry-level mountain bike or a great bike for regular commuting.
But what makes this specific mountain bike a worthwhile purchase? Let's start with the basics.
Check out this basic table that specifies the bike's overview.
| | |
| --- | --- |
| Frame | ALUXX-Grade Aluminum (Metallic Black bike or Metallic Blue bike) |
| Fork | Chromoly |
| Shifting Levers | Shimano (STX-RC) or RapidFire (SL) |
| Pedals | Wellgo (LU-945) |
| Tires | 26 x 2.10inch Trek Kahuna |
| Bottom Bracket | Cartridge |
| Handlebar | Aluminum material |
| Crankset | Shimano Alivio with 24, 34, or 42 teeth |
| Brakes | Shimano Alivio (M-System) |
| Casette | 7-speed with 11 – 30 teeth |
| Weight | 35 lbs (15.8 kg) |
| Weight capacity | 300 lbs (136 kg) |
Notable Features of Trek Mountain Track 850
1. Performance and Design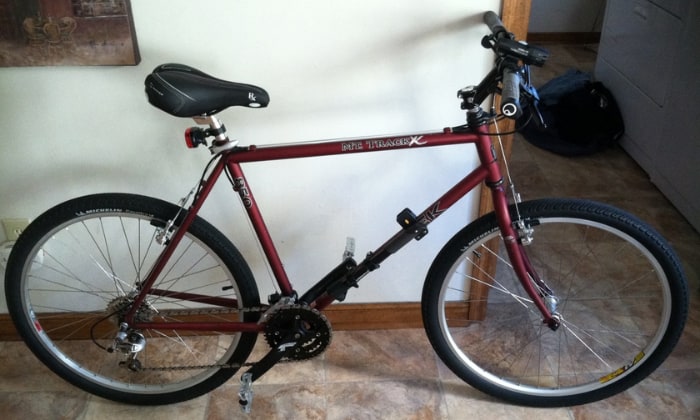 No shock fork – One unique thing about its design is that, unlike other mountain bikes, it doesn't include a shock fork. Therefore, it's more suitable for road biking.
Aluminum frame – The frame is made with aluminum material, and you can be assured that the durability and sturdiness of the structure are top-grade. Some of their frames are specifically known as Alpha Aluminum Frames, which is known to boost a biker's comfort.
Carbon fiber frame – They also offer frames made out of carbon fiber with high precision and stellar aerospace quality. Plus, internal cable routing and storage compartments are both incorporated inside the frame, providing a systematic and clean look.
Geometric design – The geometric design of the Trek Mountain Track 850 is similar to any other Trek bike, which is inclusive with a universal geometry, ensuring that everyone can have a perfectly-sized bike for their needs. They offer small, medium, and large options.
Its design is almost as comparable to a road bike! But does it compromise the performance of the mountain bike? For entry-level mountain biking, it's okay, but it's pretty exceptional for regular commuting.
2. Components and Specifications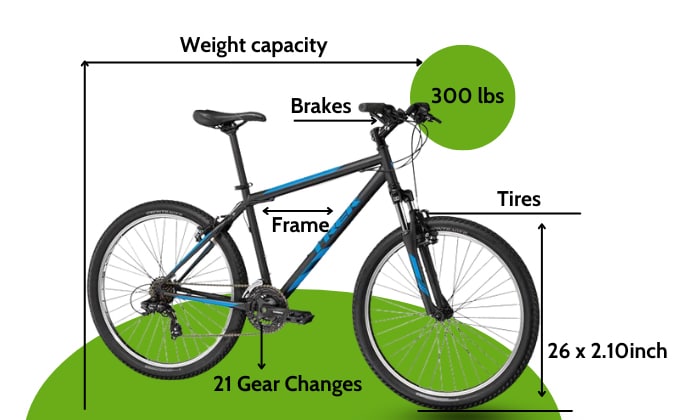 1. Gear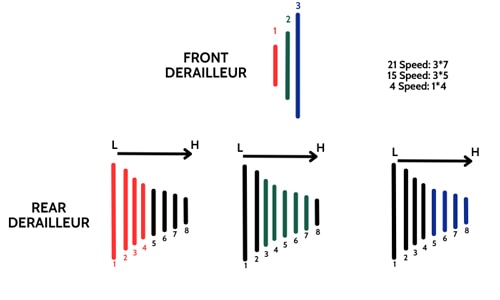 Now, the components of Trek Mountain Track 850 offer about 21 gear changes, providing a sufficient number of options for mountain cyclists and commuting bikers. It's also safe to say that the shifting process is smooth and well; they efficiently get you from point A to point B.
It utilizes Shimano's gears, but despite this, it still isn't considered a mid-range type of mountain bike. So expect less when you're on the road for some mountain action.
2. Brakes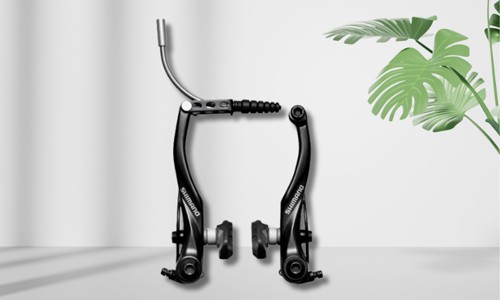 Its brakes are Shimano Alivio M-System brakes which rate an average of 3.5 out of 5 based on user's satisfaction. What makes the not-so-high review is the slight screeching sounds heard when users push on the brakes.
Users also report frequent brake adjustments that should be done to keep the brakes in good condition.
3. Tires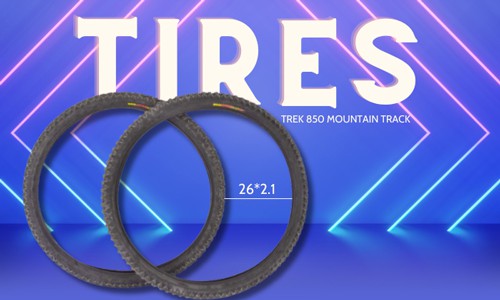 Featuring 26 "Trek Kahuna tires, it's ideal for mud riding because this specific tire is known to have a relatively big grain tire knob that helps prevent mud from sticking to the tires.
It's also great for commuting as the wide tires perform with less tire traction, boosting the bike's speed.
4. Suspension Technology
The absolute best thing about the Trek Mountain Track 850 is its suspension technology. It is a distinctive suspension structure called a Full Floater suspension system; it comes apart from the bike frame.
It allows the shock to be incorporated into a singular point between the rocker link and the swingarm. Instead of the shock being absorbed by the frame, it's separated for an independent movement.
Therefore, it offers less sensitivity when riding on terrain, so users feel a floating sensation when riding their bike.
3. Prices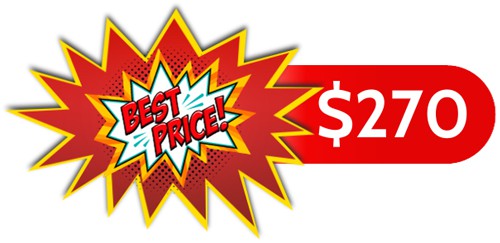 For the price, you can get this mountain bike for $270 or even lower. Back in the 90s, this mountain bike used to cost around $400. However, as new models have been released with better performances for mountain biking, the demand for this bike lessened, resulting in its discontinuance, leading to its affordability.
4. Pros & Cons
Pros
Wide range of gears
Durable aluminum frame
Affordable price
Great tire grip
Comfy geometry
Excellent suspense technology for smooth rides
Ideal for commuting and road biking
Cons
Weak and low-quality brakes
The front fork is rigid and has no shock
Not as good for mountain biking
Is Trek Mountain Track 850 Bike Any Good?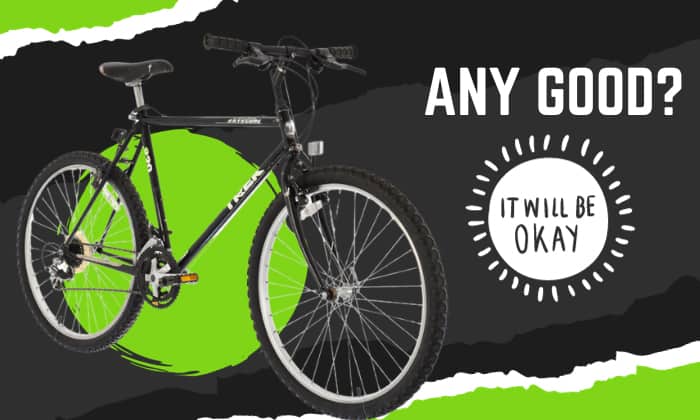 It's an okay bike if you're looking for affordable and reliable performance. It's excellent for day-to-day biking, but you may want to look for other options when it comes to mountain biking.
It's more suitable for beginner bikers who prioritize its basic functions, such as control and comfort. While Trek aimed to boost user satisfaction by releasing another version–the Trek 850 Antelope, the only significant improvement users saw was a faster, steep uphill ride.
Overall, for $270 or less, you definitely get what you're paying for.
Conclusion
So Is Trek Mountain Track 850 worth it? From its frames, specs, and parts, we provide it all to help you decide!
After reading this article, we hope that your decision to purchase this bike is made clearer. At the end of the day, you know your needs more than anyone.
Share this article with your biker friends and let them in on all the important information about the Trek Mountain Track 850 bike!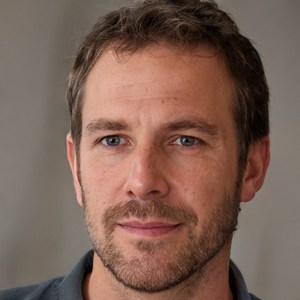 "I ride my bike to work for years, but is that enough? Our carelessness towards our surroundings has taken a toll on the environment. And now, everyone is responsible for changes; even the most minor contribution is counted. With this hope and spirit, I started with my partner to establish Biketoworkday to help more individuals commute to their work sites on their bikes."