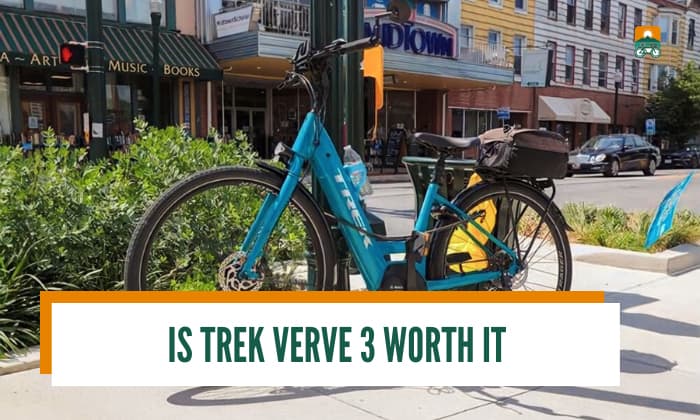 Thinking of buying a Trek Verve 3? Well, before you do, it's a good idea to research thoroughly.
So, is Trek Verve 3 worth it? The straightforward answer is yes! This hybrid bike provides comfort and is equipped with high-quality features. Plus, with its price point, it's a good purchase. Now, what makes the Trek Verve 3 worth the splurge anyway?
Let's talk about it.
This basic table shows its bicycle components, specs, and everything you need about the Trek Verve 3.
| | |
| --- | --- |
| Frame | Alpha Gold Aluminum |
| Fork Material | Alloy |
| Shifting Levers | Shimano (EF65) |
| Tires | 700x45c, Bontrager H5 Hard-Case Ultimate |
| Bottom Bracket | Cartridge |
| Handlebar | Alloy material (Bontrager IsoZone) |
| Crankset | Shimano Acera (M371) |
| Brakes | Tektro (alloy linear-pull) |
| Casette | 9 speed with 11-32 teeth |
| Weight | 29.19 lbs (13.24 kg) |
| Weight limit | 300 lbs (136 kg) |
Notable Features of Trek Verve 3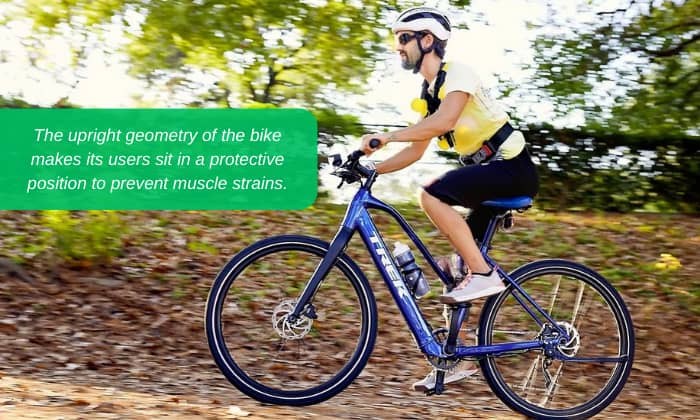 1. Performance and Design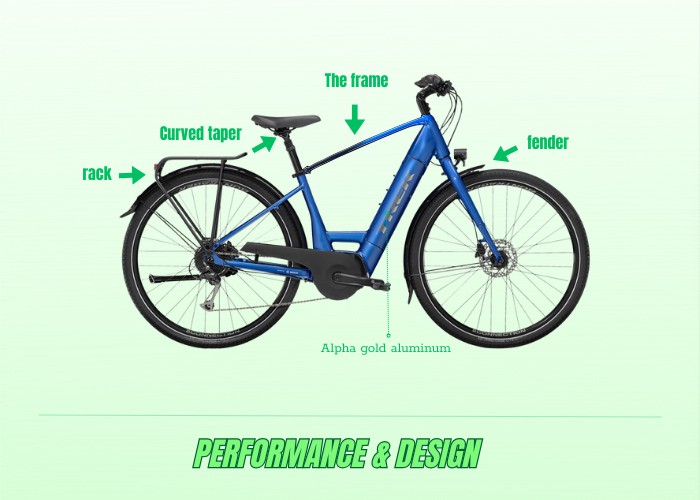 Durable frame – The frame of the Trek Verve 3 is made out of alpha gold aluminum, ensuring its users a durable frame while also prioritizing versatility and comfortability.
Upright geometry – Posture is another important aspect of biking. With the Trek Verve 3, bikers are encouraged to the proper biking position. The upright geometry of the bike makes its users sit in a protective position to prevent muscle strains.
Curved taper – Furthermore, a distinct attribute of its design is the curved angle of the tapers right near the seat post. Since it prioritizes its users' comfortability above anything, the curved angle tapers prevent users from straddling too much, giving them all the riding comfort needed.
Storage space – How about storage space? You have everything you need and more with the Trek Mountain Track 850. Incorporating racks and fender mounts to the bike, it's easier to bring your stuff to work, school, or wherever. It's less thinking and more convenience.
Shifting gear – It also does an excellent job in terms of its performance. The shifting gears perform very well with little to no jarring.
Bike speed – Its chain boosts the speed of the bike, too, so you don't have to worry about speed.
2. Components and Specifications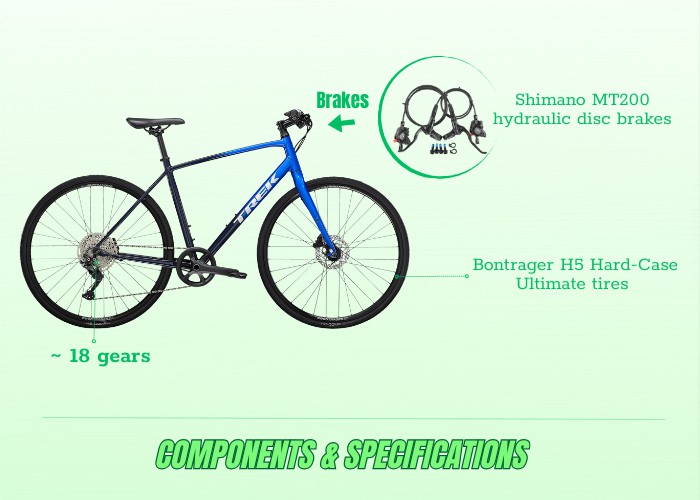 The Trek Verve 3 comes with a wide range of gears appropriate for basic commuting as well as mountain climbing. Specifically, it has about 18 gears to choose from.
Plus, it offers about 27 speeds along with the variation of gears provided.
The Trek Verve 3 features Shimano MT200 hydraulic disc brakes. While they are known as mid-range brakes, they still perform relatively well.
There's never a need to go full force with the brakes. Just a little pressure on the brake lever already sensors a full stop, ensuring both safety and effortless braking for its users.
Bontrager H5 Hard-Case Ultimate tires are what the Trek Verve 3 provides its users. There are absolutely no doubts about the durability of these tires.
With a width and size of 700x45c, it's considered wide tires. So, always ensure that it's packed with lower tire pressure.
Why? The rule of thumb for large tires is to have a lower tire pressure to sustain a proper ratio of tire width to contact patch. This allows the tires to work effectively and to function exactly as they're designed.
Another advantage is that it is a puncture-resistant tire, so if you're thinking of longevity, this tire won't give you many headaches and may last you a long, long while.
The only downside about the Bontrager H5 Hard-Case Ultimate tires is that it isn't a vacuum tire. Vacuum tires are types of tires that do away with inner tubes. Instead, rely on a vacuum seal to keep the air in place.
What makes a non-vacuum tire a disadvantage? Well, many users prefer a vacuum tire rather than a non-vacuum one. So, a bike with a non-vacuum car is usually considered a part of a bike's cons.
It's hard to blame the users for this preference. Vacuum tires are ideal for any bike because they're less likely to explode, their impact resistance is better, plus they are lighter and more durable.
3. Prices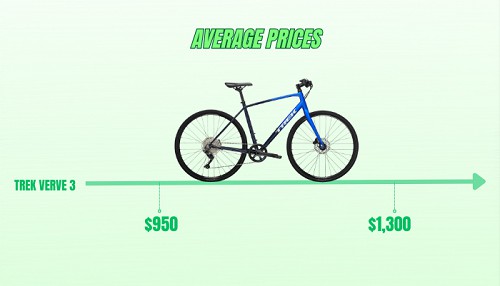 In terms of price, let's get straight to the price. How much does a Trek Verve 3 cost? On the Trek website, it retails starting from $950.
Usually, regardless of where you buy, a Trek Verve 3 doesn't cost anywhere above $1,300. For a hybrid bike with grade-A quality and performance, it's reasonably priced.
4. Pros and Cons
Very durable and puncture-resistant tires.
Comfortable and upright riding
Light and durable aluminum frame
Offers a lot of storage space
Relatively fast for a hybrid bike
Offers a lifetime warranty
Doesn't perform well for performance-oriented riding
Seats are not as soft
The drivetrain needs frequent lubrication.
Is Trek Verve 3 a Good Bike?
Based on its features, components, and some Trek Verve 3 reviews, it's a good choice for a commuting bike. It garnered a rating of 4.5 – 4.7/5 from its users on various commercial sites.
It has excellent features that make riding much more convenient. So, if you're looking for a bike that can withstand harsh conditions, know that its durable components and favorable features prove the test of time.
And for a casual rider, you'll reach destination to destination quicker, safer, and comfier. With that said, here's the 411–a hybrid bike that deserves the attention it gets. Especially with a price that doesn't make your wallet cry, there are more chances of you raving about this bike rather than regretting it.
Conclusion
Is Trek Verve 3 worth it? With everything you just learned about this article, you can say that purchasing a Trek Verve 3 Disc isn't such a bad idea.
But of course, you have all the freedom in the world to check out more options that you find more suitable for you.
When it comes to the world of bicycles, just know that what comes first is your comfort and your preference. If the Trek Verve 3 is a match for you, we suggest you go for it. After all, the functional value exceeds its price point!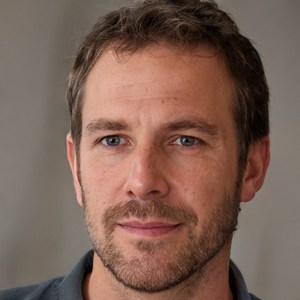 "I ride my bike to work for years, but is that enough? Our carelessness towards our surroundings has taken a toll on the environment. And now, everyone is responsible for changes; even the most minor contribution is counted. With this hope and spirit, I started with my partner to establish Biketoworkday to help more individuals commute to their work sites on their bikes."