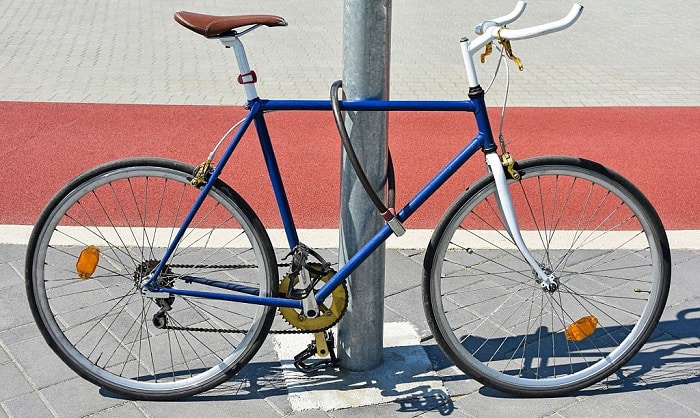 Bike locks are some of the greatest inventions in the biking industry. It does only protect your bike from bike theft but gives you a sense of peace when you are away from your bicycle. Getting the best bike lock is always a major concern among bikers. Hence, many companies offer different kinds of bike locks in the market to keep bicycles from being stolen.
However, as reliable as your locks are, there will come a time that you need to keep them safe as well. When you are on the road, and it is no longer necessary to use a bike lock, where is the best place to keep the lock safe and protected?
Well, there are plenty of places where you can put your bike lock. You can mount it on your, inside your pannier, or a backpack. For full details, read our guide about where to put your bike lock while riding here.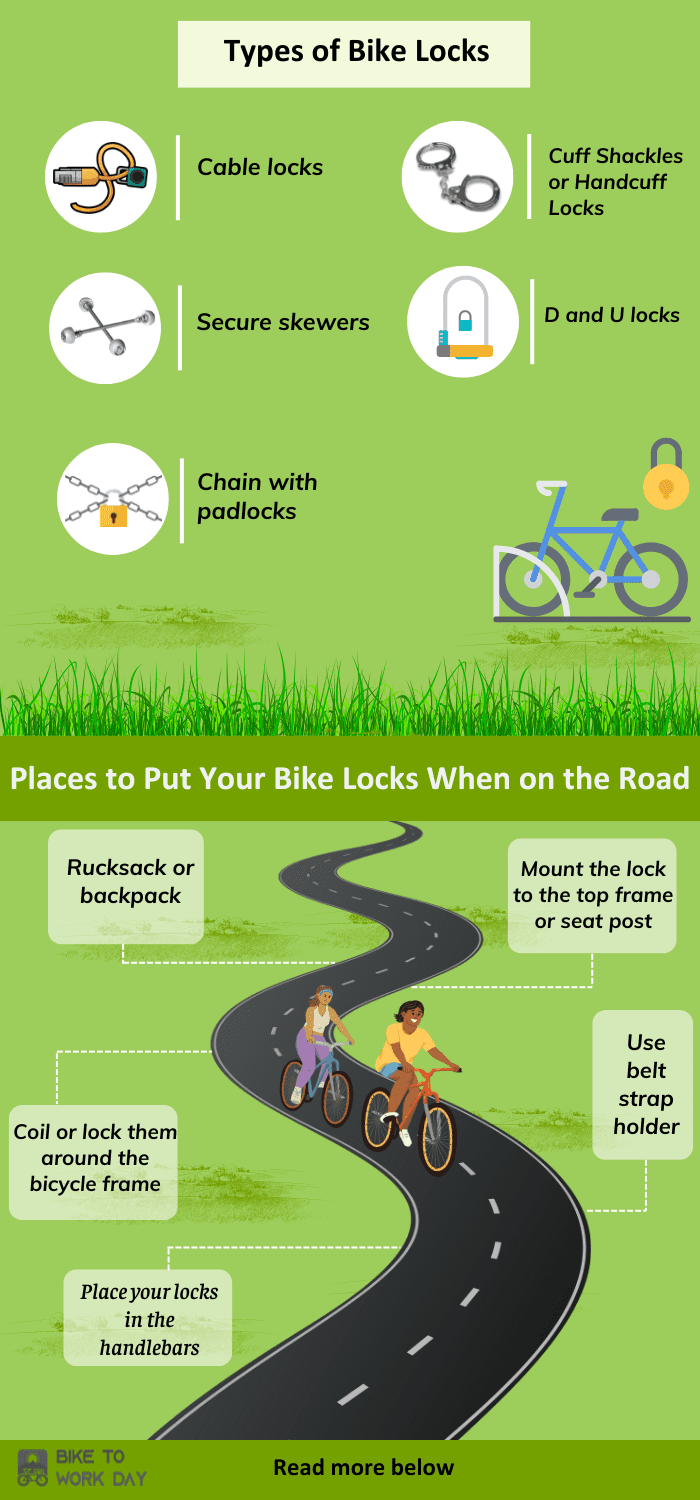 What are the Different Types of Bike Locks?
If you need to lock your bicycle, bike locks can come in various forms. Each type provides a specific kind of protection to your bike while being parked. At the same time, every bike lock has a unique method to keep them. Thus, it is important to identify the kind of bike lock you have, and how to safeguard it properly.
1. Cable locks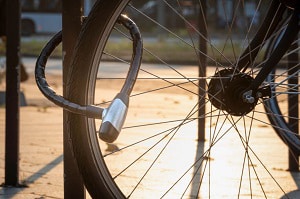 Cable locks are some of the most preferred cycling locks among bikers. Aside from being affordable, it is easy to install around your bike. It has two ends that join together to lock your bike. One end of the cable can be inserted into the lock and the key is turned to secure the attachment.
There is also a cable lock that uses combination keys or letters for the locking system. It is easier to use compared to a cable lock that still requires a key to be turned on.
Cable locks are not difficult to install. You can use it with a stationary post; roll the cable around your bike wheels and the post. In this way, the thief will not be able to steal your bicycle.
2. Chain with padlocks
This type of bike lock appears the same as the cable lock. It varies depending on the weight, link size, locking mechanism, and weight of the chain. Based on your needs and the size of the bicycle, you can choose a chain with padlocks as thick as 8mm+. This kind of thickness already offers maximum security when locking your bike.
The chain is hard to cut and highly resistant to levering. With this type, thieves will get frustrated cutting the chain and be discouraged from stealing your bike. Most chains are also covered with protective fabric or plastic to prevent them from rust or any form of corrosion.
For better protection, you can use a Sold Secure Silver or Gold Rated chain when protecting your bike. Nevertheless, you have to take note that higher security chains are much heavier compared to others, and storing them can also be tricky.
3. D and U locks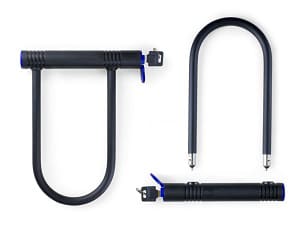 Using D and U lock for your bike security is also widely preferable. When you carry u lock on bike, you need to be more careful because the lock is way heavier compared to other types.
The D or U lock is made of hardened steel shackles that come in different lengths and sizes.
Most often than not, D and U-locks tend to be pricier compared to the first two that we mentioned. They are more sophisticated in design as well. For D and U-locks, you can fix the locking body to one end of the shackle for security.
The lengths or widths of the shackle you use enable you to lock the bike in a manner where you can ultimately minimize the gaps between the lock and the post or furniture you lock it with. As a result, it minimizes the chance where the thief can lever or cut your locks. When choosing this type of lock, always look for the Sold Secure rating like Bronze and Gold.
Related: How to lock a bike safely
4. Cuff Shackles or Handcuff Locks
Another option that you can choose for locks is the cuff shackles or usually referred to as handcuff locks. For this type, you can attach one end of the lock to a post or stationary furniture when parking your bike. Then, for the other end, you can use it to secure and attach the wheel or frame when locking the bike.
For cuff shackles, it normally contains a ratchet lock where you can tighten around the locking point, and lessen the chance of cutting or levering. Most cuff shackles are short and very limited in size, so you need two or more shackles to safely lock your bike wheel or frame. Unlike chain lock or cables, carrying cuff shackles is easier as well.
5. Secure skewers
Skewers are lightweight to carry unlike the rest of the bicycle locks that we discussed. Skewers are normally used to replace quick release and bolt fixings for both wheels and seats. They can securely lock your bike and are not very easy to remove.
You cannot remove the skewers with conventional hands. It would require you to use the right tools including Allen keys or spanners. In this way, the thief will feel discouraged to steal the bicycles. With the use of skewers, your bike is permanently secured without having to carry heavy chains or cable locks.
Places to Put Your Bike Locks When on the Road
1. Rucksack or backpack
Using a rucksack or backpack is helpful, especially when you are bringing heavy locks. The rucksack or any kind of bag can provide enough storage space for the bulk and weight of the bike lock.
The cable and chain with padlocks are the heaviest types of locks we stated above. Meaning, carrying them when you are biking could be a hassle. They are not just heavy but bulky as well. They can add a significant amount of weight when you cycle.
It is recommended to put them inside your backpack or rucksack when biking. In this way, you will not get disturbed by its weight when you attach it to your frame when on the road. The lock will only be placed comfortably inside your bag along with other essentials you carry.
2. Coil or lock them around the bicycle frame
If you do not have a bag or any storage space when biking, you can choose to coil or attach your bike lock around the bike frame. Hence, you need not carry u lock or any kind of lock with your hands while you get busy navigating the road.
Coiling the locks around the bike frame can also save space and will not give you much disturbance when biking. We recommend locking your cable or chain lock to the top bar of your bike when you are out navigating the road. When you store u lock on bike, you can place them around the seat or saddle too.
3. Mount the lock to the top frame or seat post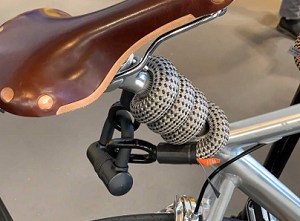 Another way to get creative when placing your bike lock is bike lock mounting. U-locks and D-locks are easy to mount and provide a pleasing aesthetic to your bike. These kinds of locks are more sophisticated and will look well when mounted.
If you want to keep your bike steady and balanced, you can mount the locks at the center of the frame, so the gravity or weight of the lock is well distributed.
4. Place your locks in the handlebars
If you want your locks to be visible when you are cycling, you can place them on the handlebar. In this way, you can keep an eye on them, and at the same time, you can store the lock properly. If the lock is made of steel and heavy metal, it will sit well on your handlebar. You will not be worried about the locks swaying back and forth while cycling because of the weight from the metal material.
5. Use belt strap holder
If you want to keep the lock on your body while going to your destination, you can use a belt strap holder for storage. In this way, you can just wrap the holder around your waist and tuck in the lock properly. You will not be worried that the lock will fall off because it is securely fastened on your body. Thus, you can still navigate the road confidently.
Conclusion
Safeguarding your bike at all times is very important. As a responsible biker, you are aware that having the right bicycle lock is essential in protecting your bike. However, when you are on the road and cycling, and you have no use of a lock, keeping this bike accessory is vital as well.
Storing and putting the locks in a secure place should also be your major concern. It will give you peace of mind when you ride and remove unnecessary disturbances.
May this simple guide give you great ideas about where to put your bike lock while riding. They are very straightforward suggestions and have proven to be highly effective.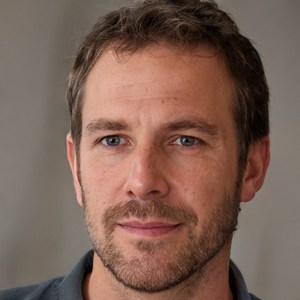 "I ride my bike to work for years, but is that enough? Our carelessness towards our surroundings has taken a toll on the environment. And now, everyone is responsible for changes; even the most minor contribution is counted. With this hope and spirit, I started with my partner to establish Biketoworkday to help more individuals commute to their work sites on their bikes."