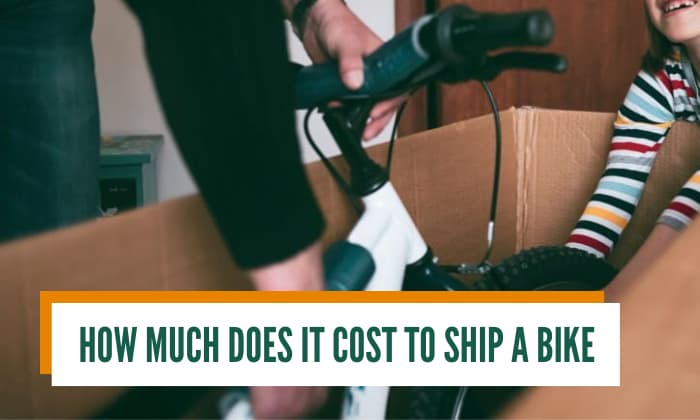 Shipping a bike cross country or shipping it from one place to another is a hassle. This is why you need all the nitty gritty details before you get your bike prepped & ready to go. First of all, how much does it cost to ship a bike?
When it comes to pricing, expect everything to cost around $50 to $250. However, the price may vary depending on numerous factors such as the distance, packaging, and of course, the expedition of shipment.
Cost to Ship Bicycle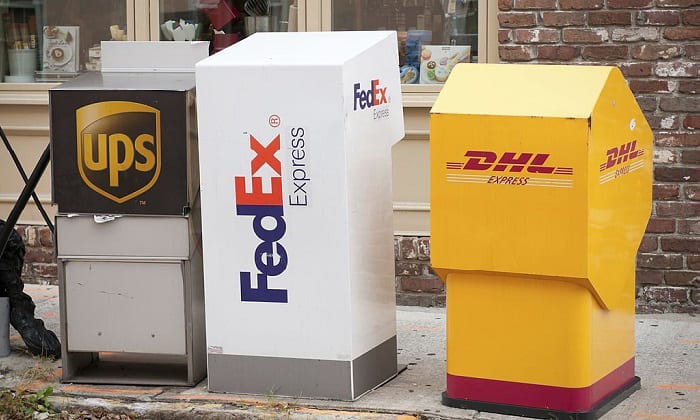 One of the most contributing factors to its price is, of course, the type of bike shipment options you will choose. You've probably heard of the common bike shipment options all around the world such as FedEx, DHL, UPS, and others.
Bicycle shipping cost greatly varies on the courier. For example, UPS bike shipment rate is shown to be the cheapest among the three next to DHL while FedEx bike shipping rates are on the pricier side.
Here are the typical rates of these logistic companies:
| | | | |
| --- | --- | --- | --- |
| Logistics Company | Weight | Location Shipment | Price |
| FedEX | 50 lbs | New York – San Francisco | $58 – $281 |
| DHL | 50 lbs | New York – San Francisco | $92 – $208 |
| UPS | 50 lbs | New York – San Francisco | $47 – $100 |
When shipping bikes, you have to consider not just the fee itself but also the packaging. For this, there are shipping companies that specialize in bike shipping service. Some examples are bike flights and Ship Bikes.
These companies save you from all the hassle with their service that goes above and beyond the shipment itself as they also handle the packaging too!
Here are the rates for logistic companies that specialize in bikes:
| | | | |
| --- | --- | --- | --- |
| Logistics Company | Weight | Location Shipment | Price |
| Bike Flights | 65 lbs | New York – Los Angeles | $160 |
| Ship bikes | 65 lbs | New York – Los Angeles | $134 |
The cost to ship a bike cross country isn't as expensive if you're flying on a plane with your bike. Here are some the rates of airlines that do offer bike shipping service:
| | | |
| --- | --- | --- |
| Airline | Weight | Price |
| Lufthansa | 70 lbs | $146-$287 |
| Air France | 70 lbs | $75- $150 |
| Air Canada | 70 lbs | $50 |
| American Airlines | 50 lbs | $30 |
Bike Sizes and Weights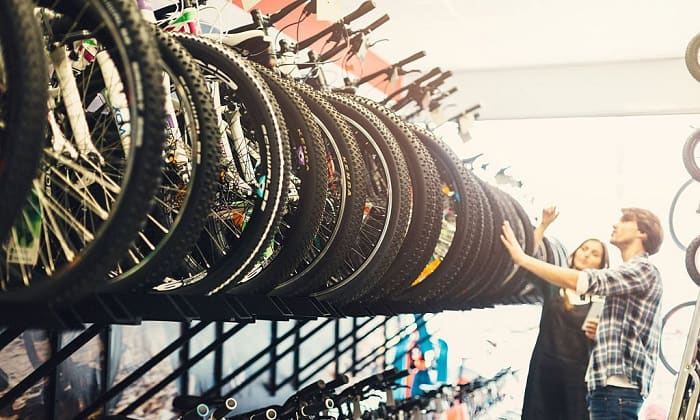 Usually, a bike weighs about 17 lbs to 80 lbs. This, of course, depends on the style and the type of bike. What you need to know is that the heavier and larger the size of the bike, the pricier it may cost.
This is why when it comes to bikes, it's recommended to choose UPS as your courier simply because as compared to the other usual couriers, the cost of shipping a bike UPS is a lot cheaper.
The maximum weight acceptable for shipment for UPS is around 150 pounds.
For FedEx, the maximum weight for bicycle shipping is 95 lbs.
While DHL can only ship items not weighing higher than 154 lbs.
UPS doesn't necessarily base its rate on the weight of the parcel. Rather, it is based on its dimensional weight. This basically means the amount of space the parcel is going to take up in the shipping vehicle.
On a simpler note, it's safe to say that the cost to ship bicycle is dependent on the size of the box needed for your item, not the actual item itself & its weight. With that comes the importance of packaging.
Ship a Bike Internationally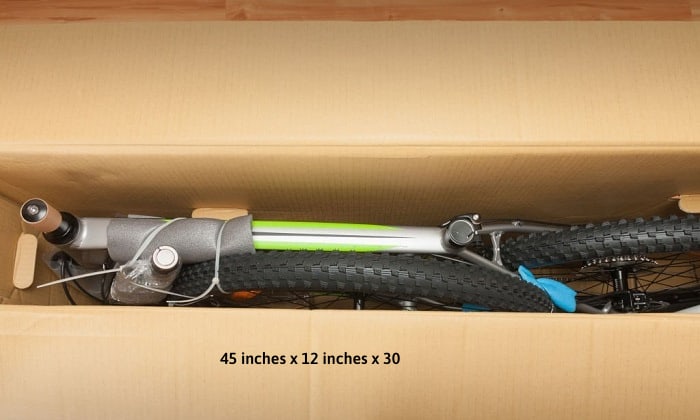 Some airlines offer services for passengers that bring along their bikes to other countries. Of course, this also comes with an insurance fee. You might need to pay from $300 – $800 to ship your bike, depending on its weight and size.
If you ship a bike with a value of $1000 and in a box size of 45 inches x 12 inches x 30 inches, and its weight is about 50 lbs, you need to spend over $700 to ship it from New York to London.
1. Packing bikes for shipping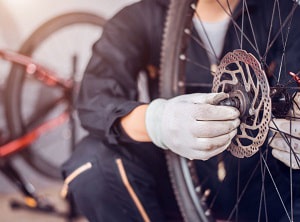 Most bike packaging comes in the dimensions 54 x 28 x 8″. Now for this specific dimension, they have a weight of about 30 pounds. For instance, if you're shipping it from New York to Los Angeles, the overall cost may be around $100 to $150.
Bikes are always packed using large to extra-large boxes which are considered "irregular packages." Why? Simply because they are normally packed in larger sizes in contrast to other parcels.
Take note that for irregular packages, there are surcharges that add to your bike postage. You may recognize these surcharges being called additional handling for length.
Some couriers offer bike packaging services for their customers for just an added fee to it. UPS, FedEx, Bike Flights, and Ship Bikes offer these types of services that leave the packing to the pros.
If you would rather pack your bike on your own, purchasing a large box is the number one step for you to take. You may purchase one from any place near you or you may directly go to bike shops where boxes made specifically for bikes may be available.
In disassembling your bike, remember that it isn't required for you to disassemble everything. Disassembling parts that will make it perfectly fitted for your box is the goal. You may remove the seat, and the front wheel, the pedals, or whichever part you prefer.
2. On receiving the bike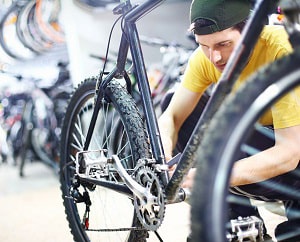 There are two options for receiving the bike; the usual wherein the bike will be received disassembled inside a box or having the bike shipped to a bike shop wherein it can be professionally reassembled.
The usual way may provide just a slight hassle as it is up to the recipient to assemble the bike on their own. One tip is to mark the bike's parts and spots to know how it used to be put together. For example, you can mark how far the seat post goes on top of the frame.
For the latter, as you travel, the bike is being reassembled. Once it's received, it's already good to go for a ride to wherever!
Frequently Asked Questions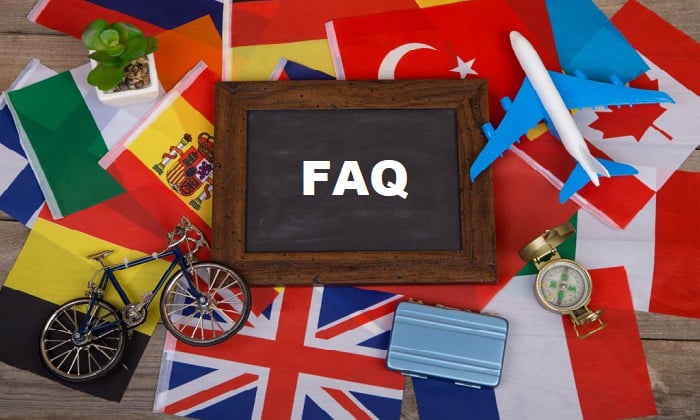 What mistakes do people make when transporting bicycles?
The most common mistake when transporting a bicycle is not thoroughly researching the best options available for them. Some people have no idea that there are couriers specifically made for transporting bicycles, saving them from all the hassle.
What is the cheapest way to transport a bike?
Aside from UPS, the cheapest way to ship a bike is using a trunk-mount car rack. This allows you to strap your bicycle to your car using a bike rack to bring it with you wherever you go.
How much does it cost to ship a bike using USPS?
To ship a bike using USPS, it may cost around $150 to $200 and above considering that it has a weight of under 70 lbs and is packed properly.
Where can I buy a bicycle transport box?
You can buy a transport box from the courier itself, you may purchase one from your local bike shop, and lastly, you can also buy from Amazon which offers some of the cheapest prices for bicycle boxes.
How do I pack a bike for shipping?
To pack a bike for shipping, first remove the pedals, then the saddle, the front wheel, the rear wheel, then go on to secure the frame using a bubble wrap or whichever you prefer, then turn the handlebars to align with the frame.
Make sure to secure the bike parts to avoid any movement that may potentially cause damage to the bike, You may do this by using cable ties.
Put your bike inside the box and fill everything in with Polystyrene or recycled packaging chips to prevent any scratches. Lastly, secure the box with a seal and you're done.
Conclusion
how much does it cost to ship a bike
Shipping your bike isn't all too hard. Now with whatever you surf online, whether it's from a highly reliable website or even if it's just on reddit, any information about shipping bikes will always be to your advantage.
And especially with this article, we hope that we've provided you with the sufficient knowledge you need to get ready for your bike's shipping!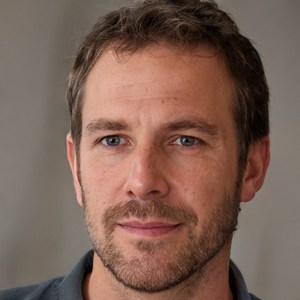 "I ride my bike to work for years, but is that enough? Our carelessness towards our surroundings has taken a toll on the environment. And now, everyone is responsible for changes; even the most minor contribution is counted. With this hope and spirit, I started with my partner to establish Biketoworkday to help more individuals commute to their work sites on their bikes."