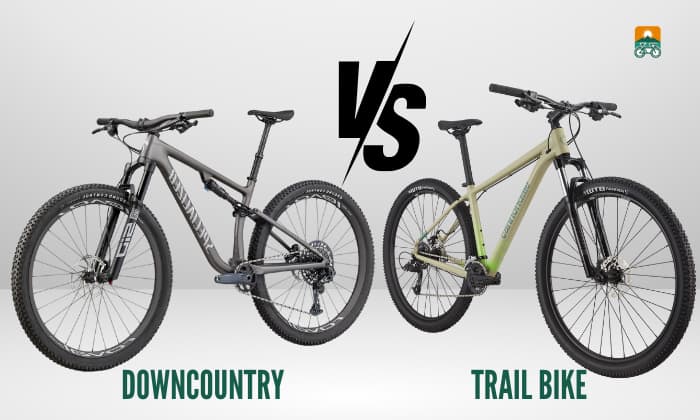 If you're thinking of purchasing a new bike to cover long miles quicker? Then you must be pondering over which is better, a down-country bike or a trail bike. We totally get it if you can't make up your mind.
It's a no-brainer that these are two great bikes for long rides, and they're almost the same, but which one is worth the splurge? In this article, we'll walk you through a battle of downcountry vs trail bike.
From its pros, cons, bike specs, and all of its similarities and differences, we'll put an end to your confusion!
| | | |
| --- | --- | --- |
| Characteristics | Downcountry Bike | Trail Bike |
| Specialty | Best for short-range rides | Best for long or daily rides |
| Wheels Sets | Lighter wheels | Heavier but has a lot more grip |
| Wheels and Tires | Smaller and Lighter | Bigger and chunkier |
| Speed | Faster (17 to 30 mph) | Fast (10-15 mph) |
| Travel Range | 120-130mm | 140-160mm |
Overview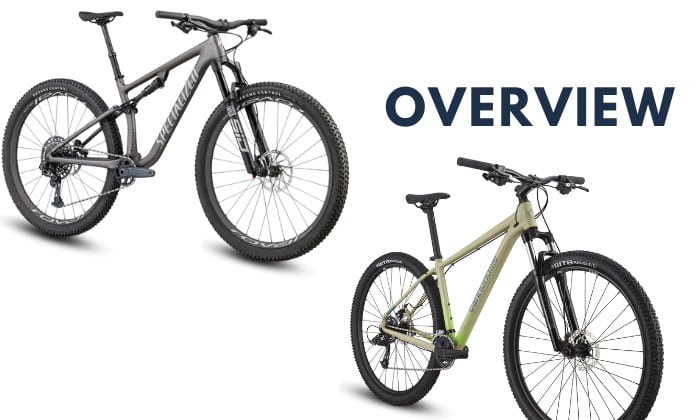 Trail bikes are among the widely-loved mountain bikes that feature the rowdiness of enduro bikes and the elegance and smoothness of cross-country bike rides.
Meanwhile, a downcountry bike is designed for lightweight climbing and satisfying chops when riding downhill.
If there's one thing that sums it all up into one shorter brief, it's that downcountry bikes are trail bikes that have lost a little weight.
Aside from the weight differences, a downcountry bike can do most of the things a trail bike can do, but of course, with just slight tweaks from here and there.
The truth is that it all depends on the user's preference and purpose of purchasing a bike. And now that you know the gist, let's get right into the specifics.
About Downcountry Mountain Bikes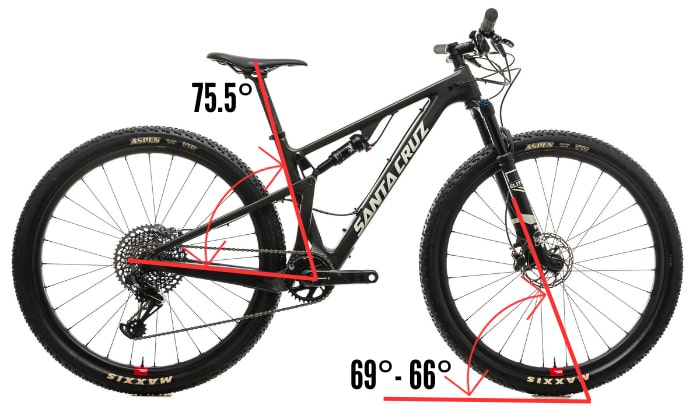 A downcountry bike is used for short-travel mountain rides. It's the go-to if you want to cover more miles in a shorter period while also having the power to ride up and down mountains.
It isn't a cross-country bike, but it can do the job if the situation calls for it. What makes a downcountry bike interesting is that it can bring you up and down the hill, but its weight is still lighter compared to other bikes. This means it's easier to bring along, comfortable, and the convenience just sticks with you.
Design-wise, you can see the slacking angles in these bikes, as their big features allow better stability and high speed. In fact, its head tube angles range from 69° to 66°, while the seat tube is about 75.5°.
Pros
Relatively lightweight
Versatile and agile for mountain climbing
Powerful enough for steep riding
Allow smooth and satisfying downhill chops
Slack angles design for better stability for technical riding courses
Cons
Descending capacity isn't as good as a trail bike
Ideal for only short-travels
Less tire traction
May struggle with bumpy terrain
About Trail Bikes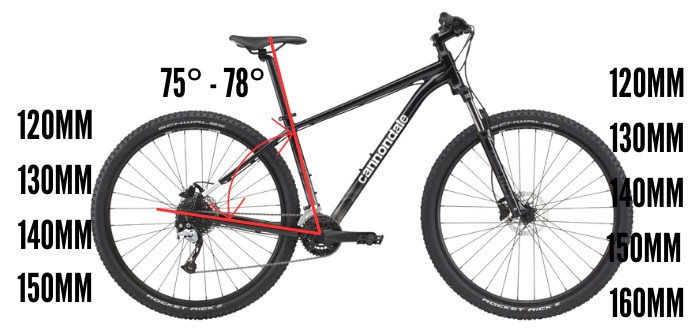 A trail bike is exactly what a mountain biker needs. It's a bike with great performance on technical trails and climbing and descending capacity.
It belongs just in the middle of a cross-country bike and an enduro bike. What makes it different? Its geometry. For its geometry, you have a lot to choose from.
Some lean towards a more cross-country style: large wheels with light frames. On the other hand, some variations are specialized for faster long-travel riding.
For variations like this, you'd notice that it has a bouncier flow and performs a steeper descent.
Its seat tube for trail bikes is about 75° – 78°, meaning they feature stretched and slack design. This effective tube angle is to enhance the athletic performance of the rider.
Furthermore, most trail bike designs come with a front travel of 120mm to 160mm, while the back is about 150mm.
Pros
Great control for rocky and difficult terrain
Slack and long geometry
Features high-spec materials and parts for challenging mountain rides
Comfortable design for rides that require huge endurance
Climb and ride downhill pretty efficiently
Cons
Requires more maintenance
Heavier than down mountain bikes
Which Bike is Right for You?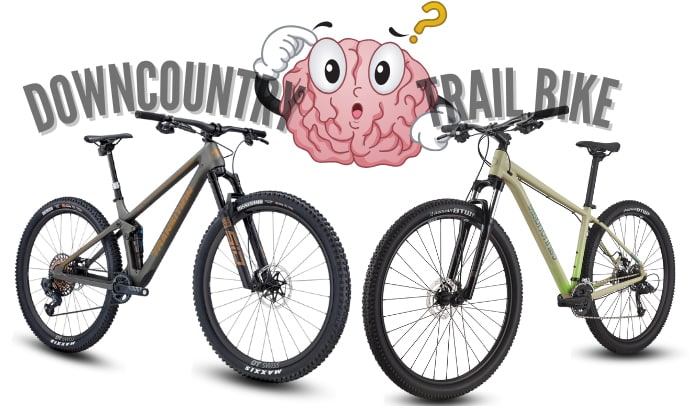 The main difference between the two is their weight and the purpose they serve.
For a downcountry bike, if you're into versatile bikes that can handle smooth and rough terrains and both climbing and downhill rides, you'll love a downcountry bike.
With its not-so-heavy weight, you'd be surprised to know that it can perform aggressive rides similar to a trail bike.
How about a trail bike? A trail bike is all about that long-range cross-country biking trip. If you're an avid mountain biker constantly biking up and down mountains, this is definitely the one for you.
Yes, a downcountry bike can do that too, but the catch is that a downcountry may fail you regarding long-travel rides.Compared to a trail bike, it doesn't cover a lot of miles. Generally, it's good, and you can definitely use it for riding up mountains, but it's just not an all-in cross-country (XC) bike.
A trail bike is your best pick for all the jibs and jabs of rough terrain. Undoubtedly, they have the best control in handling bumpy terrains.
Will Downcountry Make Trail Bikes Obsolete?
The straight answer is no; downcountry bikes will not make trail bikes obsolete.
While the versatility and weight give some plus points for convenience, when it comes to full-on trail biking, the safety net it offers isn't as reliable compared to the usual trail bike.
The geometry of a downcountry bike also won't be the competition for trail bikes. Downcountry bikes are designed for short-trail rides; their position is slightly slug.
Yup, they are on the rise and won't be slowing down anytime soon. They're advancing their features and broadening their variations. They even have downcountry mountain bikes now!
But it still won't be a replacement for trail bikes. Not unless a downcountry bike finally exceeds the power and range of a trail bike, the enduro crowd may still need to hold on to their trail bikes.
Conclusion
Depending on your purpose, budget, and preference, it's up to you which one has won your heart but to sum it up, their main difference is their weight.
If you prefer a lighter bike, a trail bike may be the one for you. On the other hand, if you need a bike that's ideal for extremely long rides, count on a down-country bike to give you zero worries.
When it comes to the battle of downcountry vs trail bike, as a user, you get to say which one will best suit your needs!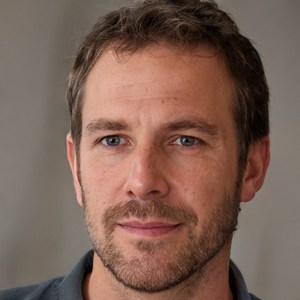 "I ride my bike to work for years, but is that enough? Our carelessness towards our surroundings has taken a toll on the environment. And now, everyone is responsible for changes; even the most minor contribution is counted. With this hope and spirit, I started with my partner to establish Biketoworkday to help more individuals commute to their work sites on their bikes."