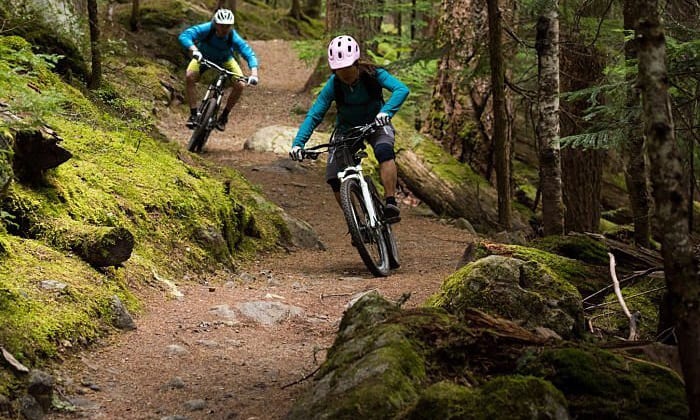 What is XC Mountain Biking? If you've been hearing about this term for a while but never had the chance to fully explore this new breed of cycling activity, lucky you, for you have stumbled upon a treasure!
Crosscountry cycling, also known as XC MTB for short, is a type of riding activity that differs from traditional downhill trips.
It is an entirely different cycling category that involves swerving winding trails, traversing forest terrain, and riding on singletrack roads. Compared to downhill cycling, it has a bigger focus on speed.
Read this ultimate guide to XC sport and be a brand new XC racer superstar!
An in-depth Guide to XC Mountain Biking
XC mountain biking has become popular over the past years among recreational mountain bikers, and it is now one of the most popular types of cycling.
Cross country mountain bike racing has made its name known thanks to its appeal as an endurance challenge and a competition that requires tactics.
Brief History
XC mountain biking has taken its roots in the world of cycling and was popularised with its first racing event that took place from Crested Butte to Aspen, Colorado back in 1978.
During those times in the 80s, the Olympic structure for cross-country racing was created on the West Coast of America. As the world of XC racing developed, bicycles for cross country and track that were challenging became popular to riders.
Due to its rising popularity, in 1990, mountain biking was recognized as a discipline by the UCI.
Associations were made, and basic rules were established, but it was not until 1996 that XC MTB became an Olympic sport in Atlanta, Georgia, and was divided into men's and women's categories.
Types of XC Racing Disciplines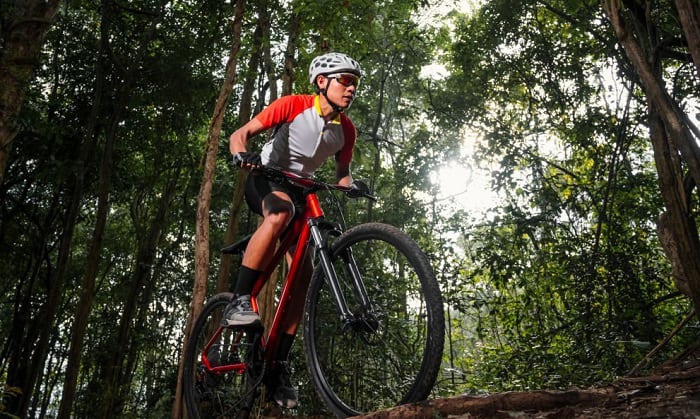 The letters XC stand for Cross Country, meaning the journey during the race does not happen on regular roads or paths but open countryside instead.
But even XC mountain racing has different types of races that can be determined by their rules.
1. XCE or Cross Country Eliminator
The XCE format is where four riders compete on a very short course that usually takes a maximum racing time of 60 seconds. This type of race eliminates two riders in the first round while the other two advance to the second round.
2. XCO or Cross Country Olympics
The Olympic version of XC racing includes multiple laps through an undulating course that's about 4 to 10 km long. Apart from the twisty paths and obstacle courses, paved roads must make up 15% of the total course or less.
3. XCC Cross Country Short Circuit
The cross country short circuit format, as the name implies, is a much shorter version of XCO. The race is typically done within a short course of 1 – 2 km circuit with a time duration of 60 minutes or less.
This type of race is usually used by Olympic event planners to arrange the players before the Cross Country Olympics race.
4. XCM or Cross Country Marathon
The XCM, as the name implies, is for long-distance bicycle racing. The race track is typically 65 to 100 km long with various terrain changes that challenge the endurance of bikers until they complete the race.
Unlike the XCO or XCC, this format doesn't involve laps since the track is long.
Types of Equipment Used by XC Riders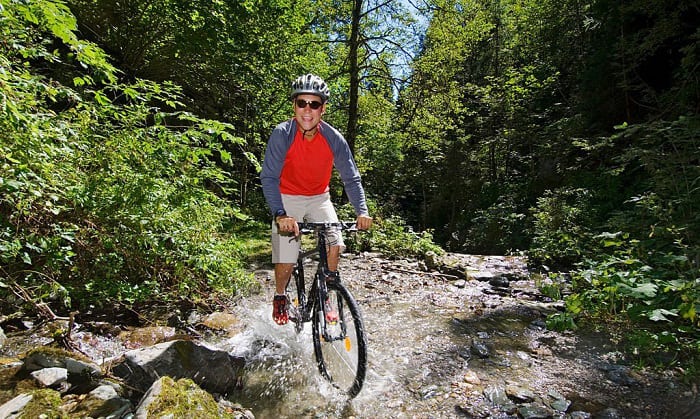 For some time now, MTB riders have been challenging themselves with advanced technology and equipment to compete in the toughest and most unforgiving terrains.
This competitive level of mountain biking has spawned a sport called XC biking and given birth to bikes for cross country riding.
An XC mountain bike specifically needs to be flexible enough to endure varying road conditions. XC riders typically use hardtail mountain bikes with the following characteristics:
Carbon fiber frame – A lightweight material with preferred stiffness for some parts to help riders maintain control over their bike while making sharp turns.
Suspension Fork – You'll also want to look for a bike that has a clearance of at least 4 inches so that you can navigate smooth trails and hills easily. XC bikers often use full-suspension rigs as well.
Compatible rider-bike size – Look for the bike with the ideal height-to-frame Double check the standover and the reach to see if you are comfortable riding it.
A fully equipped mountain bike for XC is not cheap. Depending on the brand and the materials used, you can get your very own MTB for $1,000 up to $10,000
Wheel Sizes
As with other cycling disciplines, you should spare no effort in choosing the wheels that will carry you if you want to win XC races.
The wheel size that is commonly used in XC is the 29-inch wheel, also known as twenty niners (29ers). This bigger-sized wheel can traverse over rough terrain perfectly and can easily roll over small obstacles.
The fact that its diameter is also bigger helps in reaching longer distances quickly.
FAQs
Trail vs XC vs Enduro MTB: What's the difference?
The terms XC and trail are often used interchangeably, but the differences between them are important to understand.
XC mountain bikes are designed for twisty paths with a mix of uphill, downhill, and obstacle courses, where you can go light and fast. They're designed for cross-country singletracks, as well as technical downhill terrain.
By contrast, trail hardtails are designed for rougher terrain than XC bikes or roads that require more technicality. As a result, trail bikes can be ridden more aggressively.
Although some may find this confusing at first, but an XC bike is a type of mountain bike that focuses on versatility and flexibility.
If we compare an XC bike with an all-mountain bike, the latter has more suspension (120 to 160 mm vs up to 120 mm).
XC Biking Vs Enduro Mountain Biking
Cross Country bicycles are built for speed and maneuverability on different (largely) smooth terrains, but an enduro is designed for one thing – going fast on a single track which is mostly downhill.
Its format is simple enough for amateurs to try: You just have to go on top of an uphill terrain and race other bikers as you ride down.
Read more comparisons between enduro bikes and trail bikes here.
XC Bike vs Gravel Bike: What's the Difference?
The only difference between the two is the type of path that you can ride them on. An XC bicycle is for remote riding on different terrains while the gravel bike is fit for gravel paths only.
Can you ride XC bike on trails?
Yes. An XC bike setup can be used normally on trails, be it downhill or uphill, and even on fire roads. Although meant for a different terrain than trail bikes, cross-country bikes and riders can also enjoy some climbs and leaps that trail models provide.
That said, if the trail requires great stability and you're not well-versed in handling tough terrains just yet, trail bikes are the better choice.
Conclusion
After reading this, you might have a better idea of what is XC mountain biking.
The good news is that anyone – even a complete beginner – can ride a bike, and XC bikes are no exception.
Thanks so much for reading. Don't forget to share this article with your friends if they want to know more about Cross Country biking!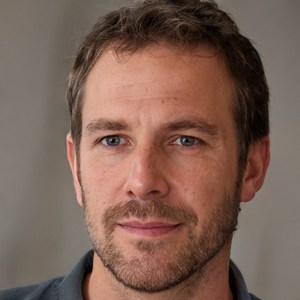 "I ride my bike to work for years, but is that enough? Our carelessness towards our surroundings has taken a toll on the environment. And now, everyone is responsible for changes; even the most minor contribution is counted. With this hope and spirit, I started with my partner to establish Biketoworkday to help more individuals commute to their work sites on their bikes."