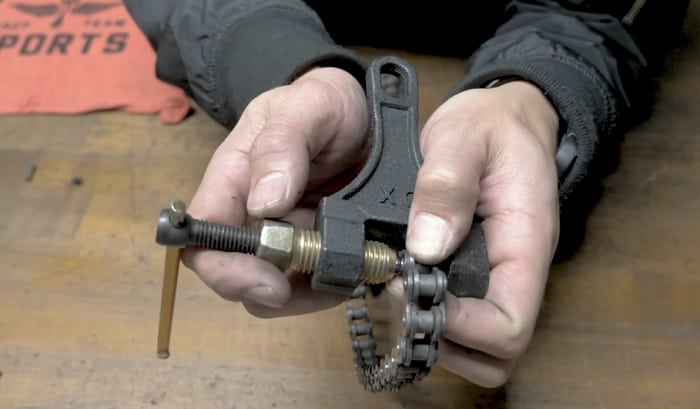 Have you wondered about "how to use a roller chain breaker" to easily fix your bike's chain yourself? Well, few of us think it's doable and instead least others do it.
Known as a chain adjuster, splitter, or chain tool with rigid built to help get a clean break or cut. It can repair old yet usable chains, shorten new ones, or assemble a chain set.
These roller chain cutter tools are vital for a bike mechanic or part of a home mechanic toolkit. Read more details about these roller chain tools in this review and Do-It-Yourself the right way.
Clever Ways to Use a Roller Chain Breaker
What To Prepare
First, before cutting a chain of your bike or for industrial use, get suitable tools at hand to ease the process. Doing the preparations makes the process more workable even for beginners.
Roller chain breaker tool
Chain puller
Chain set and connection links/ rivets and pin
Pen marker
Safety gears.
The Types of Roller Chain Breakers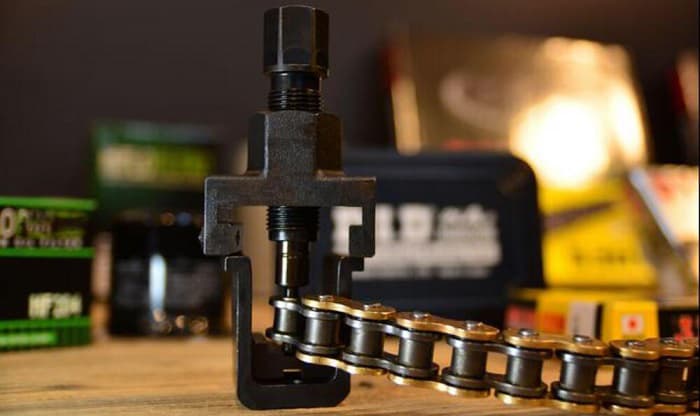 These chain breakers come in many names and are known as chain tools, adjusters, detachers, or chain splitters. Breaking a chain without a chain tool is possible but with undesirable results. It's the reason enough chain breakers are made instead of using multi-purpose tools.
These roller chain breaker tool sets are:
Hand-held Roller Chain Breakers – The base kit and simplest hand-operated chain link removal tool for different critical chain sizes. They can be included as a bicycle chain breaker that simply uses manual force and with a handle pull.
Stationary Roller Chain Breakers – The most stable chain breakers that are best to deal with heavier applications. They can be hand-held as well, like a roller chain breaker 25-60 or a hydraulic pump for customs application.
Hydraulic Pump Chain Breakers – These are high-quality chain tools equipped with a hydraulic air pump for a quick and effortless clean break. They have hydraulic hand pumps and can be hand-held or stationary for heavy-duty applications.
You can use a chain breaker depending on your purpose, as they can vary in size, weight load, and application types.
As you choose a chain breaker type, you should consider the roller chain loads, whether light, standard, heavy-duty, custom attachment, or application-specific.
Step-by-Step Guide to Using a Roller Chain Breaker
You can easily use your chain tool with these detailed steps to repair or cut your roller chains.
Step 1. Ensuring Safety First!
Wear your protective gear before repairing, cutting, or breaking the chain.
Take caution and use only the right tools for each roller chain tool application to prevent injuries.
Check that every roller chain equipment is switched-off, power is shut down, and no longer tensioned.
To confirm zero tension, you can use a chain puller with various sizes and design specifications.
Step 2. Using The Chain Breaker To Fix Or Cut The Chain
Ensure the chain breaker tip is aligned to the pin to precisely clamp it to the entire roller chain.
Rotate the crank clockwise to push the pin out and break the rivet of the roller chain.
Repeat the steps until the second pin is removed from the connector link's plate.
Doing so prevents damaging the chain breaker's tip and saves time fixing, breaking, or cutting the chain.
Step 3: Removing The Roller Chain Link
Check that the rivets on each chain side are broken, then remove the pin out of the link.
Better understand each chain breaker type and how to use them to effectively perform these detailed steps.
Hand-held Roller Chain Breakers – This hand-operated roller chain breaker is as simple as holding it right onto the connecting link and clamping them entirely.
Using this chain tool, you can easily split the roller chain apart without needing a mallet or hammer and punches.
Stationary Roller Chain Breakers – This stationary roller chain breaker ensures a stable roller chain adjustment or cutting process. These tools are faster and may last only a few seconds when done properly.
Hydraulic Roller Chain Breakers – Removing or repairing chain sets is easier using these hydraulic chain breakers than using wheel cutters.
Step 4: Adding Chain Links With A Roller Chain Breaker
Most roller chain breakers have their distinct design and precision features to make a mechanic or bike owner's life easier. Know the way how they are used to understand installing or repairing chain sets the right way.
Replacing, or breaking chain links or pins with chain breakers lead to the best results and prevent damage. Here are the most recommended tips for adding links with a roller chain breaker.
Good timing in twisting it, getting the pin out, and adding the link and pin is crucial. The same is needed for a new or replacement chain set that will effectively add or replace chain links.
Ensure your tool works well, especially in clamping the whole chain links effectively and not just part of the link. You'll end up using pliers or vice-grip to enforce it when your chain breaker is not a good fit.
Hold the chain breaker in a way that you clamp each link completely before rotating or twisting it and pop out the pin completely
A pen marker is useful to indicate the link of the chain before twisting and popping out the pin.
Avoid forcing the chain breaker's crank to ensure there is no bending or damage to it.
How to Choose the Correct Type of Roller Chain Breakers?
1. Hand-held Roller Chain Breakers
Here are some of their standard or heavy-duty features:
The components are durably forged steel tip, screw, nut, and crank or handle for easy grip and rotation.
These flexible chain breakers install or disassemble rivet-type roller chains of bicycles and motorcycles with effortless and strong applications.
These hand-operated chain breakers are proven effective with roller chain size range of #25 up until #100 or even #160.
The most practical tool for use with less-frequent removal of riveted roller chain pins, and even with heavy-duty loads.
Made of heat-resistant and high-carbon steel material for standard duty applications.
After the successful removal, breaking, or cutting of roller chains, links are easy to split using the tool and can fit with other applications.
It is considered the base chain breaking tool ideal to work effectively with frequent roller chain applications. Getting these chain breakers as part of your hand tools at home or when on travel is a smart decision.
2. Stationary Roller Chain Breakers
Consider the use of a stationary roller chain breaker for a more stable roller chain adjustment or cutting process.
It is normally mounted on a workshop table for a better hold of the chain connector rivet or pin link.
Easy to install and has no complex assembly as it is already designed for ease of use.
These chain breakers are especially useful when you are adjusting or reducing the length of newly bought roller chain sets.
You can make new chains with this stationary roller chain splitter to maximize unused new parts of pre-cut chain lengths.
Quick to set with chain pin and connecting link working in one direction with the breaker's clamping tip.
Does not twist or bend the chain so there is no potential harm to the plastic part of the chain.
Each component of stationary chain breakers is like a die set of high-quality materials built of forged steel.
Their highly durable and easy-to-change parts or components are available from any maintenance store or hardwares near you.
3. Hydraulic roller chain tools
These tools can best deal with a wide range of roller chain sizes and even heavy-duty applications.
These chain adjusters are engineered to work as an effective chain press-fit kit for excellent chain assemblies and maintenance tasks.
Requires no other handy tools or additional equipment to do it yourself every chain set cutting or adjustments.
Using the hydraulic hand pump component of these chain breakers prevents your hands from being hit by a hammer or punches tool.
Moreso, these tools reduce time consumption and prevent downtime with the use of their hydraulic component.
These chain breaker types can do light or standard applications and even make them handy for larger or bulk chain sets.
A hydraulic roller chain breaker tool can easily and quickly cut sizes 25 to 80 roller chain sets. without any effort with a safer process.
Though hydraulic roller chain breakers are stronger and more durable for extremely heavy-duty applications, they are less dangerous and damaging.
These roller chain splitters are more compact, safe, and environmentally friendly to use.
Conclusion
Use these practical tips on "how to use a roller chain breaker" that is simple and effective for chain repairs.
Getting the right way to fix your roller chains and reuse old chain links is what this review aims for. We are glad to know you are able to maximize the use of a roller chain breaker to your advantage.
Choose the roller chain breaker type that fits your purpose for an easy and effective repair of your roller chains. Enjoy an effortless and smart use of a roller chain breaker to save you time and prevent roller chain downtime.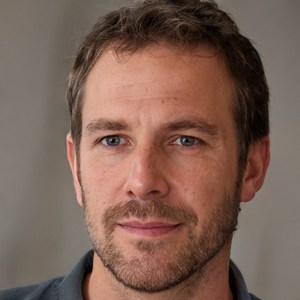 "I ride my bike to work for years, but is that enough? Our carelessness towards our surroundings has taken a toll on the environment. And now, everyone is responsible for changes; even the most minor contribution is counted. With this hope and spirit, I started with my partner to establish Biketoworkday to help more individuals commute to their work sites on their bikes."