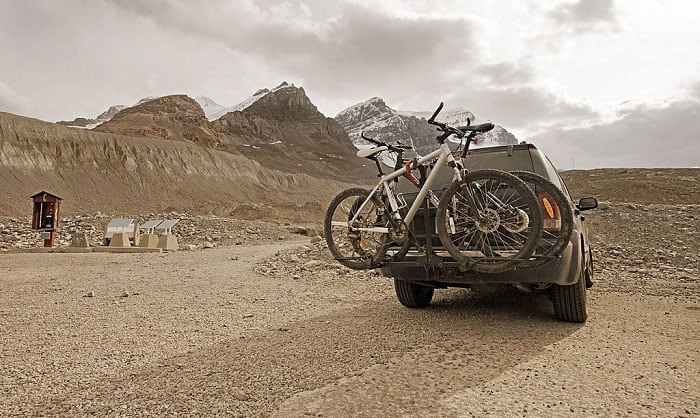 It gets frustrating to know that your bike doesn't have enough room in your car when you go on a road trip. Although you might be tempted to throw your bike in your trunk together with your luggage, it is not advisable. I've been there, done that, and all it left me was a disaster—no room for more luggage, and needless to say, damaged car interior and bikes. So, my advice is to invest in a quality bike rack. It ensures enough space for everything—passengers, baggage, and of course, your bike.
How to install bike rack on SUV? Installing a bike rack is a straightforward process, which even beginners can quickly master. All you need to do is determine where to install the bike rack, whether on the roof, trunk, or hitch. Select the most appropriate bike rack and place it in your selected location. After that, mount your bike on it, and you're ready to go! Read further to learn the detailed procedure.
This article includes a step-by-step guide to installing a bike rack on SUVs and the importance of having a bike rack. Aside from that, I will cover some pointers that you can consider when choosing a bike rack.
So, let our cycling journey begin!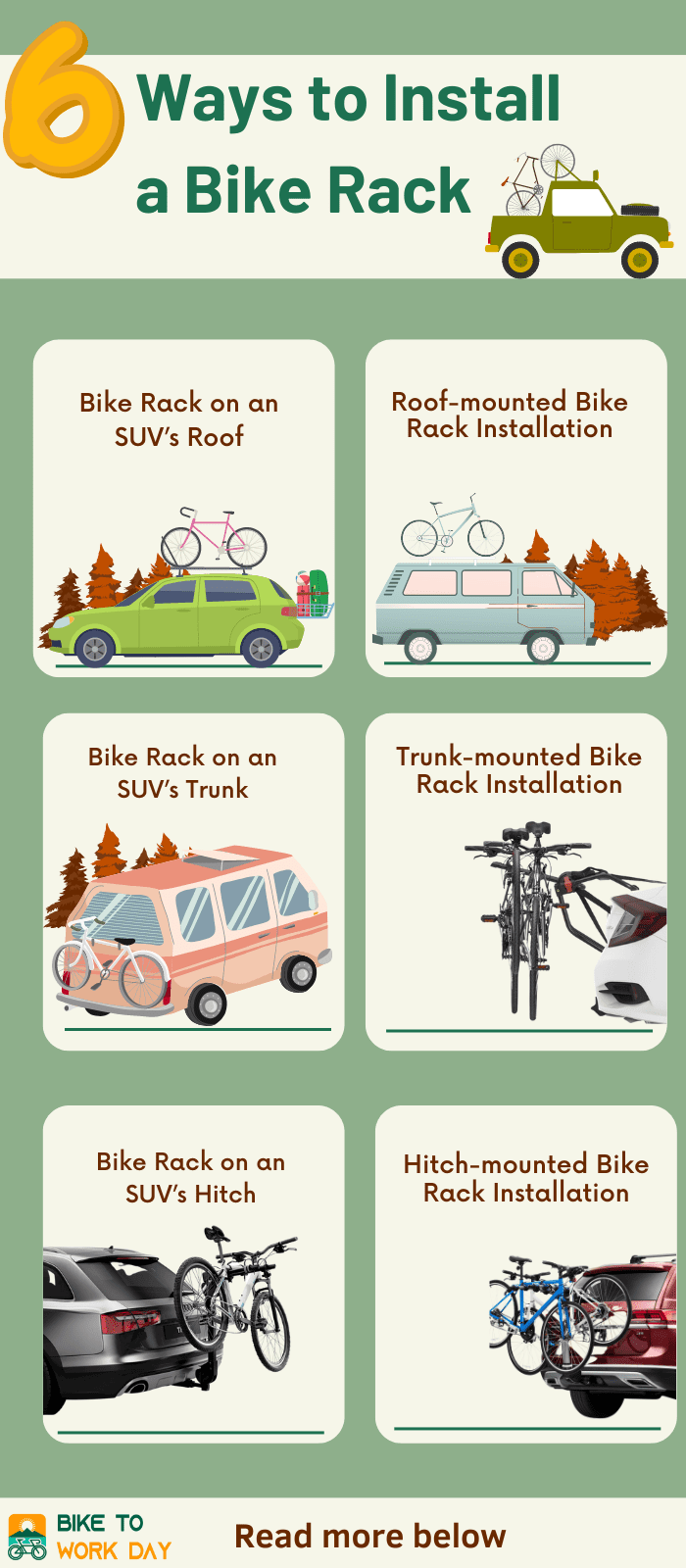 What Do You Need When Installing a Bike Rack for SUVs?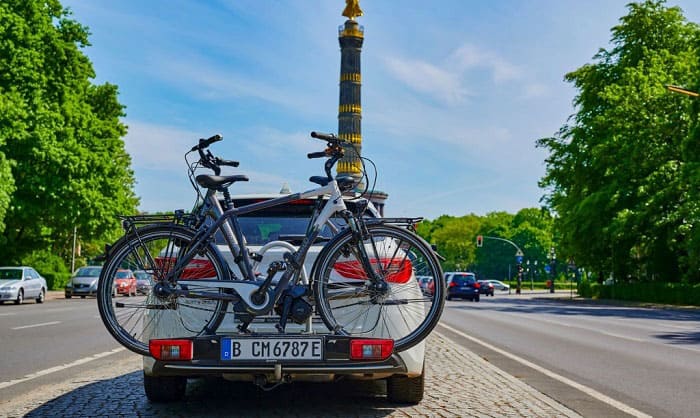 Bike racks in the market today offer easy assembly and installation. Generally, installing a bike rack on an SUV doesn't require any tools and equipment. However, if you're opting to put the bike rack on the roof or hitch, you may need the following:
Measuring Tape – to measure the width and length of your crossbars for appropriate bike rack selection.
Cutter/Scissors – to cut off excess rubber on crossbars to give enough space for your bike rack.
Marker – to mark the points that you should cut.
Wrench – to tighten or secure the bike rack's position.
Ladder – to serve as a stepping platform for easy access of your SUV.
Simple Ways of Bike Rack Installation
Once you determine where you will place the bike rack and prepare the materials you need, it is time to assemble and install it on your SUV. I know I've said before that installing a bike rack on SUVs is straightforward. However, the entire process varies from one brand to another. The type of bike rack will also play a significant part in the process.
Let's take a closer look at how you can install your bike rack depending on each style.
Bike Rack on an SUV's Roof
The first and most common type of SUV bike rack is the roof-mounted bike rack. This allows you to place your bike on top of your vehicle and create more room for your luggage. However, this is only applicable for SUVs with crossbars as this rack is hooked onto these bars. If you don't have one, you can install crossbars separately at an additional cost and time.
Pros
Additional cargo space
Unobstructed rear view
Cons
Cannot pass under low bridges, garages, or enclosed parking lots
Bikes are exposed to foreign elements like wind and debris
Roof-mounted Bike Rack Installation
Step One : Measure the width and length of your crossbars to identify which bike rack fits on your SUV. Although most roof-mounted racks are universal, you still have to consider their predetermined range.
Step Two: Prepare all the materials you need. I also advise you to take out all the parts from the box and lay them down on the ground. Simultaneously, read the manufacturer's instructions or manual to keep track of the assembly process. This also ensures that all pieces are complete.
Step Three: Assemble the rack on the ground. Once done, position it on your crossbars to determine its place. Ensure that the front part is facing towards your windshield and that the rack is straight. From there, mark the points where your rack would be. Using a cutter, cut off excess rubber on your crossbars to give space for your bike rack.
Step Four: Slide the rack through your crossbars and place a fitted rubber padding back in. After that, push the rack's latch down to lock it in place.
Step Five: Lift the adjustable bar and mount your bike onto it. Adjust the bar towards your bike's down tube and lock it by pulling the buckles or twisting the crank. Tie the straps around the wheels and rack's frame to secure the bike.
Tip: When you are looking for a roof-mounted bike rack for SUVs, Thule is among the most reliable brands to consider. Some best-selling models are Thule ProRide, Thule UpRide, and Thule TopRide.
Bike Rack on an SUV's Trunk
The next type of bike rack for SUVs is the trunk-mounted bike rack. Unlike roof-mounting frames, these racks are easier to install. It is also perfect if you're passing through low underpasses and tight parking spaces. More so, it is the least expensive option if you want a bike rack on your SUV.
Pros
Convenient and easy to use
Offers more storage room on the roof
Ideal to use on compact or tighter space
Cons
Trunk carrier interference
Obstructed rear view
Can damage your car's trunk
Among the most commonly asked questions I receive is about the Schwinn 2 bike trunk rack installation on SUVs. I must say that this rack offers versatility as it fits most passenger cars. What's more, it has a quick installation process.
Trunk-mounted Bike Rack Installation
Step One: Read the manufacturer's instructions or manual before assembling the rack. Trunk-mounting racks, like the Schwinn, come in one piece and are ready for installation. If assembly is necessary, follow the provided guide or manual properly.
Step Two: Open or extend the rack until the pins are fully engaged, and then position it on your SUV's trunk.
Step Three: Hook the security straps onto the sides of your trunk. If you are unsure where to wrap the straps, look for the label on the straps to know its position, whether side, top, or bottom. Ensure to use the corresponding belt to avoid damages on both your vehicle and bike.
Step Four: Tighten each strap by pulling its buckle. Belts are usually stretched when they are already secured. So, if the straps are still loose, try to pull them tighter to set the rack in place.
Step Five: Load your bike onto the rack. Place the top tube over the lock and wrap the straps around it. Repeat this step for the next bicycle. After you mount all the bikes, check carefully if the bike and rack remain in their place.
For more detailed installation, please watch this video tutorial by South Tweed.
Tip: Trunk-mounting racks are divided into two sub-categories: standard trunk-mounted racks and compact trunk-mounted racks. Compact trunk racks provide an easy on-and-off feature and are more perfect for tight spaces compared to standard trunk racks.
Bike Rack on an SUV's Hitch
If you plan to put bike racks on SUVs, a hitch-mounted rack could be your best option, that is, if your vehicle has a pre-installed hitch. A hitch is designed to withstand heavy loads, which is perfect for carrying weighty bicycles. Additionally, this rack type is more stable than trunk-mounted racks.
Pros
Simple assembly and installation
Can offer the largest bike load capacity
Cons
Rear door blockage
Expensive
Hitch-mounted Bike Rack Installation
Step One: Unpack the rack and lay down its parts to ensure that there are no missing pieces. Then, read the manufacturer's manual and start assembling the frame.
Step Two: After that, insert the pole into your hitch and secure it by twisting the knob on the rack. From there, you can mount your bikes onto the frame by extending the rack's carry arm until the pins are fully engaged.
Step Three: Load your bikes one at a time. Place the top tube over the lock and tighten the straps around it. To complete, check that the rack is secured in place.
For more detailed installation, please watch this video tutorial by allensportsusa.
Tip: If you're looking for a high-quality hitch-mounted rack, install Allen bike racks on SUVs. These stands provide excellent capacity and security. However, you still need to check the maximum load capacity of your hitch to ensure that it wouldn't break after carrying a full load.
Importance of Bike Racks
Bike racks are essential to secure your bicycles whenever you are traveling. They also provide additional room for your luggage. If you and your family love to go on road trips, investing in a premium bike rack is an excellent choice.
What to Look for in a Bike Rack for SUVs
Convenient to assemble and install
Offers maximum weight load capacity
Foldable and easy to store
Provides excellent bicycle security
Features versatility
Conclusion
Installing a bike rack on vehicles may appear overwhelming, but you will have no problems when putting up a bike rack with adequate procedures like the process mentioned above. If you still have questions on how to install bike rack on SUV, ask yourself the following:
What type of bike rack do I need?
Will it fit my vehicle?
Can my preferred bike rack serve its purpose?
Furthermore, we have put together some tips related, such as how to put a bike on a bike rack and how to put a bike rack on a car. In case, the rack is unavailable, you can still transport your bike, check it out the detailed instructions here.
Answer these questions, and it will be easier for you to narrow down your options.
Meanwhile, I hope you find this article helpful, and I would love to hear your thoughts. Please let me know about your take or experiences on installing a bike rack on SUVs in the comment section.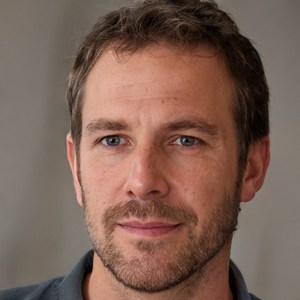 "I ride my bike to work for years, but is that enough? Our carelessness towards our surroundings has taken a toll on the environment. And now, everyone is responsible for changes; even the most minor contribution is counted. With this hope and spirit, I started with my partner to establish Biketoworkday to help more individuals commute to their work sites on their bikes."